| | |
| --- | --- |
| | |
February 27, 2014 - March 5, 2014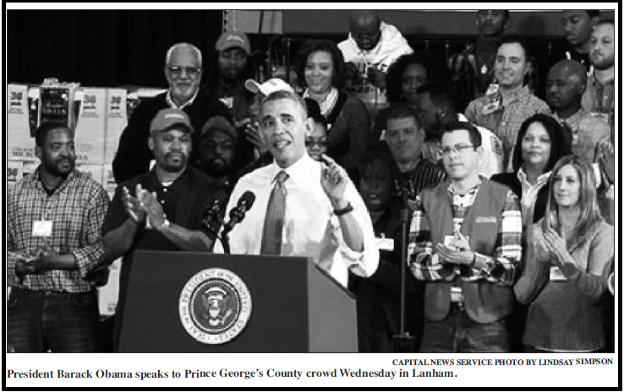 Obama Promotes 2014 Agenda in Speech at Lanham Costco
By Justine McDaniel
Capital News Service
LANHAM – President Barack Obama called for a higher federal minimum wage and more economic opportunities for ordinary Americans in a speech at the Costco in Lanham Wednesday morning, reiterating messages from his State of the Union address the night before.
"I'm choosing this to be a year of action, because too many Americans are working harder than ever just to get by, much less get ahead," Obama said, in the 20-minute-long address.
Speaking just 12 hours after his annual address to Congress, Obama used the backdrop of a company that he has frequently praised for its higher wages and health benefits to bring home points about rewarding hard work with a living wage.
Congress must decide whether "they're going to waste time creating new crises for people and new uncertainty, like the shutdown, or are we going to spend time creating new jobs and new opportunities?" Obama said.
Continuing the theme of strong executive action he presented in Tuesday's speech, Obama laid out the "opportunity agenda" he says can bring concrete change in the coming year.
His four-part plan includes creating more new jobs, training workers to give them necessary skills for employment, and giving every child access to a "world-class" education, in addition to raising the minimum wage.
He repeatedly mentioned the need for Congress to take up these issues, but focused on what he will do without their help.
"America can't just stand still if Congress isn't doing anything. And I'm not going to stand still either," he said.
Nena McNeil, a Prince George's County employee who supports Obama's proposals, said she was so excited to see the president she was shaking.
"A lot of people these days are really struggling. Even if you have two family household members that are currently working, it's still hard to make it," McNeil said.
Obama will soon issue an executive order increasing the minimum wage in future federal contracts to $10.10 per hour, a move he announced in the State of the Union that won't require approval from Congress.
On Wednesday, he asked citizens to call on Congress to "give America a raise" and encouraged mayors, governors and state legislators to raise wages in their areas rather than wait for Congress to pass a federal bill.
Rep. George Miller, D-Calif., and Sen. Tom Harkin, D-Iowa, proposed a bill in March to raise the federal minimum wage from $7.25 to $10.10. It is set to come to the Senate floor in the coming months, but Republicans have indicated they will oppose it.
Greenbelt Mayor Emmett Jordan said before the Costco speech that he believed a minimum wage increase was overdue.
"This is the metropolitan area of Washington, D.C. The cost of living is pretty high, and even… if you're making $10 an hour and you're renting an apartment or you have a small mortgage, that is just barely enough to scrape by," he said.
Obama called restoring opportunity for every American the "defining project of our generation."
"The economy has been growing for four years now… but the wages and incomes of ordinary people haven't gone up in over a decade," he said.
This makes for less consumer spending, fewer customers, less hiring and less investment, hindering the economy, Obama said.
As he did on Tuesday, Obama said that women deserve equal pay and opportunity. Women make 77 cents for every dollar men make, and they also hold the majority of minimum wage jobs in the U.S.
The president's energetic, upbeat speech drew loud cheers and applause from the crowd in Prince George's County, where Obama remains extremely popular. His brief mention of the Affordable Care Act elicited one of the loudest responses of the morning from the spectators, many of whom were Costco employees.
Gov. Martin O'Malley rallied the crowd in remarks before the president's speech, saying the country must respond to Obama's appeals. O'Malley vowed to raise the state minimum wage to $10.10 per hour this year in his State of the State address last week.
In Lanham, O'Malley stressed the connection between a strong middle class and strong economic growth. Marking Maryland as a leader in economic growth, among other things, he said people all across the country are working too hard while living in poverty.
"While it's right for us to consider ourselves the most important star in the flag, we are one star among the 50 states and we all rise and fall together. So that's why it's so important that we be about the business that the president called us to last night, which is to build our economy from the middle out and the middle up" O'Malley said.
Obama praised O'Malley as a champion of working families in America, and said he supported efforts by Prince George's County, Montgomery County and the District of Columbia to raise the region's minimum wage.
Sen. Ben Cardin and Rep. Donna Edwards, both Maryland Democrats, were also in attendance.
Obama's speech kicked off a short tour designed to promote his State of the Union proposals, a presidential tradition. He was scheduled to speak in Pittsburgh Wednesday afternoon.
Acidic Levels in the Chesapeake Bay Water Could Threaten Oysters

By Brian Compere
Capital News Service
COLLEGE PARK – As the world's oceans get more acidic, Chesapeake Bay oysters could be at risk.
A more acidic bay could make it more difficult for mollusks, such as oysters, to build their shells through a process called calcification. But it could help crustaceans, such as blue crabs, build their shells more quickly, said Justin Ries, a professor at the Marine Science Center at Northeastern University in Boston.
This could disrupt the evolutionary balance of the two, Ries said, because blue crabs prey on oysters.
Ries reached these conclusions after growing oysters and blue crabs under lab conditions of high carbon dioxide (higher than found in nature now). This research doesn't mimic nature, Ries said, but it does provide clues to how increased acidification in the bay could affect the two organisms in the future.
Typically, about 30 percent of carbon dioxide in the atmosphere is absorbed into oceans, where it becomes carbonic acid and makes the water more acidic. As carbon dioxide becomes more prevalent in the atmosphere, more of it ends up in the ocean as well.
Atmospheric concentrations of carbon dioxide have increased by about 36 percent – from about 280 parts per million to 400 ppm – in the past 200 years, said Whitman Miller, a research scientist with the Smithsonian Environmental Research Center.
The last time atmospheric carbon dioxide levels increased by 120 ppm was in the pliocene era – 2.6 to 5.3 million years ago – and that increase took 10,000 years, Miller said.
Since the Industrial Revolution, which began in about 1760, the ph level – the scale of how acidic water is – of the world's oceans has decreased by 0.11, indicating a 28.8 percent increase in acidity, according to the National Oceanic and Atmospheric Administration's Pacific Marine Environmental Laboratory. Further decreases in the ph level of 0.1 to 0.5 are expected during the next 100 years, according to a 2009 paper by Miller.
Ninety-seven percent of climate scientists agree that climate change trends over the past century are caused by human activities that are adding carbon dioxide to the atmosphere at historically high rates.
In the Pacific Northwest, oyster larvae have already been struggling to build their shells, according to the Ocean Conservancy, a nonprofit group advocating for healthy oceans.
Coral is also vulnerable to acidification; a 2009 Oceanography Society study found that an increase in ocean acidity will make it harder for coral to grow.
It's more difficult to predict how acidification will affect the bay, Miller said. Things get more complicated when saltwater and freshwater meet in the bay, and there are other complicating factors, such as how deep the water is in different parts of the bay.
"The Chesapeake Bay is a really complicated system," Miller said. "When we think of acidification, we've got to think about it differently than we do in the open ocean because the sort of absence of this really convenient equilibrium."
State Delegate Eric Luedtke, D-Montgomery, is sponsoring a bill that would require the Maryland Department of the Environment to evaluate probable effects of acidification in the bay and other state waters and include recommendations about how to address the issue in a 2015 report.
Luedtke said acidification could "absolutely" hurt watermen who make their living from the oyster and crab industries in the bay.
"It creates a real change in ocean ecosystems for shellfish," he said, "and Maryland being a state that is very oriented towards the water, I think it's important that we sort of develop a strategy at the state government level to deal with the consequences of this."
Little research on acidification in coastal systems has been done, and it's badly needed, Miller said. In order for the Maryland Department of the Environment report to be successful, he said the report must be assembled by a wide range of people, including scientists, policymakers, watermen and people who manage natural resources.
Some watermen, however, are skeptical that the bill would help identify negative effects of acidification and ways to combat them.
Tim Devine, owner of Barren Island Oysters in Hoopers Island, said he hopes his oysters can be resilient against acidification because he feels helpless to do anything about it – even with Luedtke's bill.
"There's nothing a group of politicians comes up with that's going to end up helping us out. That's just the way it goes," he said. "By the time it gets agreed upon, it doesn't do anything."
Steve Allen, of the Oyster Recovery Partnership, said Luedtke's bill could help improve understanding of acidification in the bay.
The "single best" way to combat acidification in the long term, Luedtke said, is to reduce greenhouse gas emissions. But, he added, there's lag time associated with this; even if greenhouse gas levels were cut, it would take a long time for the effects it could have on acidification to be felt.
The effects that acidification could have on the bay and its inhabitants are unclear. But he believes that better understanding of the phenomenon – whether or not Luedtke's bill facilitates this – is possible.
"Because of its complexity, it means it's a headache to work in some respects," Miller said. "But if we can understand what's happening in the Chesapeake Bay, we can understand what's happening in almost any coastal system just by means of its complicated nature."
Moms Ask Congress to Pass Tougher Gun Control
By Brian Compere
Capital News Service
WASHINGTON – Touting a report showing 44 school shootings nationally in the past 14 months, Maryland moms joined others on Capitol Hill Wednesday morning urging lawmakers to take action on gun control.
The event, sponsored by Moms Demand Action for Gun Sense in America and Mayors Against Illegal Guns, featured an analysis of school shootings since the tragedy at Sandy Hook Elementary School in Newtown, Conn., in 2012.
The report documented 28 deaths and 37 non-fatal injuries in school shootings since Sandy Hook.
It also said that in the first six weeks of 2014 alone there were 13 school shootings, including one eight-day period in which there were four shootings in K-12 schools.
The groups want to tighten background check loopholes and give law enforcement more tools to combat gun trafficking.
Jenifer Pauliukonis, chapter leader for Maryland's Moms Demand Action, who brought cupcakes and Valentine's cards for lawmakers, said Wednesday's event was inspiring and she is optimistic that Congress will pass gun control laws.
"Change is going to come, maybe not with this Congress. We might need some people to get voted out, but the change will come and lives are going to be saved," Pauliukonis said.
Despite the optimism of gun control advocates, the fact remains that Congress has failed to pass any gun control legislation since Sandy Hook.
Sen. Chris Murphy, D-Conn., said Congress' inaction is unacceptable and Americans should be outraged.
"The response from Congress is at best indifference and I would argue at times complicit," Murphy said.
He said the Senate is debating a bill to allow individuals to bring guns into post offices.
"In the face of record numbers of shootings on public property the response of the United States Senate might actually be to increase the ability for individuals to bring guns on to public property," Murphy said.
Where Congress has stalled, Maryland has succeeded. Maryland passed a new gun control law that became effective on Oct. 1. The law, considered one of the toughest in the nation, requires handgun purchasers to get fingerprinted and take gun safety courses.
Michael Faith, marketing director at Hendershot's Sporting Goods in Hagerstown, said his company took a big hit on its handgun sales after Maryland's law passed.
"In September we had our best month ever in handgun sales. In October we had a 99 percent reduction in handgun sales. We still have not recovered those sales," Faith said.
Faith thinks there are controls already in place that are working at the state level. He also said that most pro-gun people would agree with background checks and most don't mind having a seven-day waiting period.
"If you want to do something meaningful right now you have to address the mental health aspect," Faith said.
Moms Demand Action launched 14 months ago, following the school shooting in Newtown that resulted in the death of 20 children and six adults. The group claims 150,000 members nationwide, about 700 of them in Maryland.
In December, the group joined with Mayors Against Illegal Guns, a gun-control group founded and financed by former New York Mayor Michael Bloomberg. Baltimore Mayor Stephanie Rawlings-Blake and Laurel Mayor Craig Moe were among the handful of Maryland mayors who signed on to the group.
"The citizens of Baltimore know all too well the tragedy and grief caused by gun violence. We must stay committed in our mission to end gun violence in order to make every city and town in America safer," Rawlings-Blake said in an email.
In 2008, while pregnant with her son, Jennifer Stapleton of Cheverly was carjacked.
"That experience showed me that it is way too easy for violent people to get hold of a gun," Stapleton said.
Stapleton too is convinced that change will come and lawmakers will have no choice but to pass gun reform laws.
"There are millions of moms across the country. We will continue to put pressure on legislators," Stapleton said. "We are committed to keeping our kids safe. We know this is a long-term fight and we know we are up to it."
Boosting Security in a Cyber World
By Lyle Kendrick
Capital News Service
"All of this growth in the cybersecurity field will need an educated workforce," said Patrick Gallagher, director of the National Institutes of Standard and Technology.
Mikulski said Maryland's federal assets, community colleges, public university system and Johns Hopkins University are among the reasons Maryland would make a strong national center for cybersecurity.
Isiah Leggett, Montgomery County Executive, signed the agreement and said it is a highly important partnership for creating jobs in Montgomery County.
The signing comes after high-profile cybersecurity incidents, like last year's cyberattack on the retailer Target. Hackers stole about 40 million debit and credit card numbers from the company's servers, according to Target officials.
Mikulski said hacks like the one on Target, as well as cybersecurity breaches on retailer Neiman Marcus and Michael's, an arts store chain, are national disasters for the corporations and their credit holders.
"We have to protect dot com," Mikulski said.
O'Malley said that civilization has worked to control land, water and air, and cybersecurity is the next domain the state plans to increase its investment in.
In addition to signing funding for the center, O'Malley has also proposed increasing the cybersecurity tax credit which are available for cyber start-up businesses from $3 million to $4 million for the next fiscal year.
Lack of Manpower at Food Bank Slows Flow of Donations to Pantries

By Megan Brockett
Capital News Service
A shortage of volunteers has left the Maryland Food Bank struggling to distribute generous holiday-season donations fast enough to meet increased demand at pantries around the state.
The Maryland Food Bank has put out a call for groups of volunteers to help sort the 500,000 pounds of food sitting in its Baltimore County headquarters. The Food Bank's other two locations, in Washington and Wicomico Counties, have also reported shortages of help.
"The food pantries are waiting for us to give the product, and we just don't have the manpower among our small staff to be able to get it out fast enough," said Yvonne Terry, director of development at the Eastern Shore branch in Salisbury. "We need to get it out. We don't want it sitting here. The food bank is supposed to be … a clearinghouse, and our goal is to get the food in, get the food out."
According to Kate Sam, director of communications in Baltimore, an average group of 15 to 25 volunteers can sort approximately 10,000 pounds of food in one 3-hour shift, and pantries will have it claimed in a matter of hours.
Demand for the food has been high this winter, with colder than normal temperatures driving up heating costs and families facing food stamp cuts that came in November with the end of a 2009 stimulus package provision that offered a boost to the Supplemental Nutrition Assistance Program.
Sam said the Food Bank receives daily calls from some of their partners requesting more supplies to meet the growing need.
At Fishes & Loaves Pantry in Baltimore, the number of monthly clients has doubled to 3,200 since the food stamp cuts went into effect, according to Rev. Andre Samuel, the pantry's director.
Samuel trekked to the Food Bank for supplies no more twice a week before the cuts. Now, he goes every day, waking up as early as 3 a.m. to check the online menu where the Food Bank lists the available items for the day, he said.
The menu has been scant lately, Samuel said, not because the Food Bank doesn't have the items, but because they don't have the volunteers to sort through them all.
"We feel the pinch of that," he said.
At the Crofton Food Pantry at St. Elizabeth Ann Seton Catholic Church, director Susan Bixby has also seen an increase in demand, with many clients citing food stamp cuts as the cause. The pantry, which is open three days a week and one Sunday each month, helped 171 families in December, the largest amount ever, according to Bixby, who has worked at the pantry since its inception 2008. Bixby gets most of her supplies from donations and the Anne Arundel County Food and Resources Bank in Crownsville, where executive director Bruce Michalec said he is grateful that he isn't short on help.
The backlog at the Maryland Food Bank is partly the result of the post-holiday dip in volunteers that comes each year when the facility needs the manpower most. October to December is "food drive season," according to Sam, when donations often flood into the distribution centers.
The bulk of donations, though, comes from retailers, like Giant and Wegmans, which donate several tractor-trailers full of food each month. These donations, known as "salvage," often come in large, mixed quantities that need sorting before they can be distributed to the Food Bank's partners.
"We break it all down so that when our pantries call us, they can get exactly what they need instead of the wide assortment," said Billie Bedregal, who works at the Western Maryland branch in Hagerstown.
The smaller Western Maryland warehouse can only accommodate five volunteers a day, but the other branches prefer larger groups of volunteers who can deal with mass quantities of food quickly.
The Eastern Shore branch, which serves eight counties, is restructuring its program to attract more groups to help with tasks like marking up barcodes on meat donated from retailers, a required step and an added reason for urgency with the perishable nature of the product, Terry said.
The branch has four or five groups that come in on a regular basis, and it hopes to double that number, she said.
"Until we can get enough volunteers to help us mark all of those out, then the food just sits in the freezer, and it's not doing us any good to help people if it's just sitting there," Terry said. "We have a backlog of that food that we need to get out. We need to get it out soon."

Would you like to subscribe?
Please contact our office:
15207 Marlboro Pike
Upper Marlboro, MD 20772
Tel: 301-627-0900
Fax: 301-627-6260
---
The Prince George's Post is made up of a small staff, including:
Publisher, Legusta Floyd, Sr.

Editor, Legusta Floyd, Sr.

General Manager, Brenda Boice

Legal Advertising Manager, Brenda Boice
Production, Robin Boerckel
Circulation and Production, Elizabeth Brandenstein
Paper delivery,
James and Betty Murphy
Web Master, Kyler Kamp