May 18 - May 24, 2017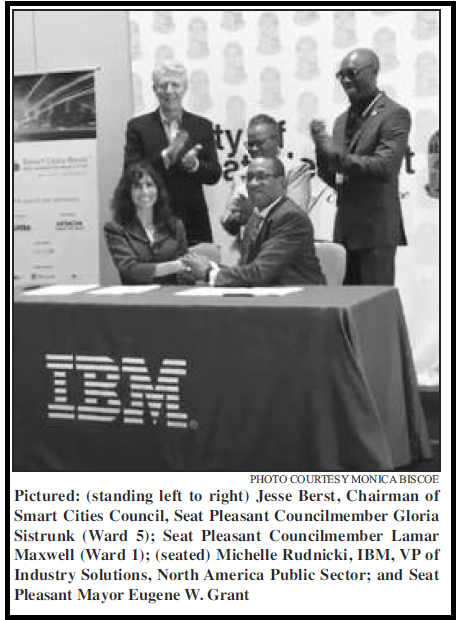 City of Seat Pleasant and IBM—A Smart Partnership for a Smart City

By Monica Biscoe
Mason-Dixon Consulting
SEAT PLEASANT, MD—During Smart Cities Week Silicon Valley, Seat Pleasant, MD announced that they have selected IBM as their partner to build the foundation establishing Seat Pleasant as a Smart City of Excellence. Cities are just now tapping into data to improve city operations and to deliver services in a digital way. These cloud-based services will provide personalized experiences for the constituents and will optimize program delivery and service outcomes for city services.
IBM will deliver both a public-facing and a city operations capability during the initial phase of this project.
• "My Seat Pleasant" Mobile App—a public-facing mobile application providing direct benefits to Seat Pleasant residents, businesses, and city employees. Built by preferred business partner Purple Forge, an IBM Business Partner, this mobile application will provide a host of features, including (but not limited to) service requests, a library of city codes, a city document library, a city directory, on-demand broadcast (push) notifications, garbage/recycling and snow removal schedules, city job listings, online payments, events and activities listings. Additionally, the system will feature a natural language question and answer service based on IBM Watson technology.
• Intelligent Operations Center—IBM Intelligent Operations software empowers City managers and leaders by providing a holistic, operational view of the City across all departments. Initially, the center will connect the Department of Public Works, Code Enforcement, and Police Department with real-time information to facilitate cross department decision making, coordination of events, communication, and collaboration, which can lead to improvements in operational efficiency, public safety and the quality of service to citizens.
Seat Pleasant is joining other Smart Cities who use data to improve outcomes in security, safety, resilience, and social services. What makes Seat Pleasant unique is that they are a small municipality with the bold vision to deliver services that were previously limited to much larger cities.
"Seat Pleasant will offer Smart City services that are better, faster and more personalized making it a 'City for Me,'" said Mayor Eugene W. Grant. "Furthermore, we will be better at delivering services to our citizens and faster in keeping pace with an ever-changing world and that is tailored specifically to the needs of our constituents."
"Smartphones are increasingly the preferred channel for citizens to gain access to government related information and services," said Brian Hurley, President and CEO of Purple Forge. "The 'My Seat Pleasant' Smart City App will make it easy for residents to stay up-to-date and engaged right from their smartphone at any time, from anywhere."
Seat Pleasant's concept going forward is to create a shared hub and to extend these services to other small cities providing them access to the same analytics resources as big cities. Modern cloud-based solutions allow Seat Pleasant to obtain a wider range of advanced, cognitive solutions at a fraction of the cost of traditional on premise deployments.
The implications of cloud-based Smarter Cities solutions are immense, with more services becoming more affordable to smaller municipalities nationwide. This critical factor will allow Seat Pleasant to realize their potential as "A Smart City of Excellence."
PG County's Plan 2035 Receives National Award for Excellence
By Press Officer
MNCPPC
Upper Marlboro, MD—The Prince George's County Planning Department of The Maryland-National Capital Park and Planning Commission (M-NCPPC) was recognized for excellence in comprehensive planning by the American Planning Association's (APA) Sustainable Communities Division with a national award for Plan Prince George's 2035, the General Plan for the County. One of only 13 community projects around the country to be recognized, the County's adopted general plan is considered an excellent example of comprehensive planning for sustainable communities. The award was formally presented at the APA'S annual conference in New York City on May 8.
Plan Prince George's 2035 Approved General Plan (Plan 2035) specifically earned accolades for its efforts to seek diverse participation in the planning process, including targeted outreach to immigrant communities and the use of
a wide range of communications platforms to inform and engage community stakeholders through the planning process. Reviewers also found the plan's presentation to be clear and compelling. The "Why Does this Matter Section" was specifically noted as effective at communicating the plan's contents.
"The Prince George's County Planning Department is honored to have been recognized for doing what we feel is natural-engaging our community in envisioning its future," said Andree Green Checkley, Planning Director. "Community engagement is not only a key component in any successful planning process, but lays a foundation for our communities to work together for years to come."
Submitted plans were reviewed and scored based on three factors: the principles, processes and attributes of comprehensive plan standards. The principles focus on a livable built environment; harmony with nature; resilient economy; interwoven equity; healthy community; and responsible regionalism. The processes looked at the preparation and implementation of the plans. The final factor looks at the attributes that shape the content and characteristics of comprehensive plans.
Plan Prince George's 2035 presents an innovative and bold blueprint for the long-term growth and development of Prince George's County, Maryland. Developed with input from thousands of citizens, businesses, elected officials, property owners and other stakeholders in the County, the Plan looks broadly and strategically at how the county should continue to grow and strengthen over the next 20 years both as a community and as part of the greater Washington metropolitan area. The Plan's goals include capturing a greater share of the region's forecasted job growth, creating walkable urban places, meeting the needs of the county's changing population, and preserving valuable natural and historical resources. To learn more about Plan Prince George's 2035 visit www.pgplanning.org.
Dual Enrollment Student Named Student Commencement Speaker
By Press Officer
PGCC
LARGO, MD—Prince George's Community College (PGCC) is pleased to announce that Kyshira Simmons, a dually-enrolled student at the college has been chosen as the 2017 Student Commencement Speaker. Simmons, attends the Academy of Health Sciences at Prince George's Community College, and will receive both her high school diploma and associate degree on May 25, 2017.
"The committee chose Ms. Simmons not only because she exceeded the criteria for selection, but also because her transformation at Prince George's Community College is a direct result of being a student in our Middle College Program," said Clover Baker-Brown, Professor and Immediate Past President, Maryland Communication Association. "Hers is a testimony to the diversity of programs and course offerings at our college, and the Middle College Program was designed to ensure that the college is able to impact and affect students' lives even when they are in high school," Dr. Baker-Brown added.
Kyshira will attend Towson University in the fall where she plans to major in psychology and has aspirations of getting her Ph.D. and someday becoming a counseling psychologist. During her time as an Academy of Health Sciences student, she served as president of its National Honor Society and secretary of the CRU Christian organization.
Kyshira is also an active volunteer with more than 220 service learning hours. She has also participated in the Arthritis Foundation's Jingle Bell Run/Walk and volunteered at D.C. Central Kitchen, Pratt House for the Homeless, and PGCC's very own Children's Development Clinic.
When Kyshira isn't serving others, she's quite an active student. She has made the dean's list for both the fall and spring semesters of 2016 and maintained a 4.0 GPA. Kyshira also has earned numerous leadership awards and is a member of the National Society of High School Scholars and the National Society of Collegiate Scholars on PGCC's Largo campus.
In her spare time, Kyshira enjoys running and is learning to speak Mandarin.
Prince George's Community College's 58th Commencement Exercises will begin at 6:30 p.m. at the Showplace Arena and Equestrian Center in Upper Marlboro, MD This is an event reserved for graduating students and their family members. For more information please visit the website at www.pgcc.edu.
PGFD Assistant Fire Chief is American Legion "National Firefighter of the Year"
By PRESS OFFICER
PG County Fire/EMS
Largo, MD—For extreme personal risk and the highest degree of judgment, zeal and ingenuity, on April 26, 2017, County Executive Rushern Baker, III and Fire Chief Benjamin Barksdale bestowed on Assistant Fire Chief Darren O. Ware the Fire/EMS Department's Gold Medal of Valor. He was honored for his quick thinking and heroic efforts that saved the life of a female victim who was experiencing a medical emergency while trapped inside her burning SUV.
The award was presented at the 40th Annual Public Safety Valor Awards.
For Assistant Fire Chief Ware, Wednesday April 20, 2016, was challenging from the onset, as the Department was conducting funeral services for a member killed in the line of duty. Additionally, he was tasked with coordinating mutual aid resources and ensuring that personnel who do not work in our system or typically work together could do so safely and efficiently. Finally, upon concluding his shift and heading home, Chief Ware noticed smoke on the road ahead of him and suspected it was likely a vehicle fire.
Nearing the incident, Chief Ware's suspicion of a vehicle fire was confirmed. He was surprised, however, to discover an adult female driver still inside. After contacting Public Safety Communications for resources, he attempted to remove the victim from the vehicle. His efforts were unsuccessful, as all four doors were locked; and the woman was unresponsive to his instruction to open the door. With the fire beneath the vehicle was growing larger and progressing into the free burning phase, Chief Ware realized the increasing urgency of the situation. He hurriedly returned to his vehicle, surveying the immediate area and hoping to find an object suitable to force entry into the SUV. Things were happening quickly, but to Chief Ware it seemed like eternity in the face of the life-threatening situation confronting the victim.
Retired Fire/EMS Department Lieutenant Colonel Tyrone Wells, also returning from the funeral, spied the incident and stopped to provide assistance. A construction tool belonging to an unidentified bystander was used in a second attempt to access the SUV. Forcible entry was in progress when the victim inadvertently stepped on the gas pedal, driving the vehicle down the slope and off the shoulder of the road. The fire was now at a difficult angle with extension into the engine compartment, posing greater peril to an already demanding situation. The SUV's new position had rendered the driver's side inaccessible. It was imperative to affect this rescue immediately or prepare for a tragic outcome. Chief Ware and Colonel Wells, with the bystander's help, managed to get down the slope and access the passenger side of the vehicle.
The Prince George's County Fire/EMS Department isn't the only organization to commend Chief Ware's heroism, as he was also named the American Legion's 2017 National Firefighter of the Year. Notification of this honor came from George Wehrli, Chairman of the American Legion National Law and Order Committee, who stated, "To maintain law and order is one of the major objectives included in the American Legion's Preamble to its Constitution. As a National winner, you personify the meaning of America's Bravest. I wish you continued success in your career and look forward to meeting you at the National Convention."
In July, Chief Ware will travel to Ocean City, Maryland, where he will be honored by the American Legion at the state level. The following month, he will attend the organization's 99th National Convention in Reno, Nevada, for the presentation of the National Firefighter of the Year Award at the National Commander's Banquet.
In January 2017, Chief Ware was awarded Career Firefighter of the Year by the Knights of Columbus Sacred Heart Council No. 2577. In addition, in March 2017, the Largo-Kettering Veterans of Foreign Wars of the United States awarded him Outstanding Firefighter of the Year, and the National Firefighters Citation.
Congratulations, Assistant Fire Chief Darren! Your actions reflect well on you personally and professionally and exemplify the excellent caliber of service we strive to provide to the residents of Prince George's County.
PGEDC Announces Its Five Women's Excellence and Leadership Luncheon Honorees
Awards Luncheon to Recognize Local Businesses for Their Contributions and Dedication to PG County
By Lori C. valentine
PGCEDC
Largo, MD—The Prince George's County Economic Development Corporation (EDC) is excited to announce the award recipients of its Women's Excellence and Leadership Awards, honoring women who have made remarkable contributions in Prince George's County. Each of the honorees reflect this year's event theme, Yes! You Can Have It All. The Awardees will be honored at the EDC's 1st Annual Women's Excellence and Leadership Luncheon (WELL) which will take place on Thursday, June 8, 2017 at 10:00 a.m. at the MGM National Harbor Hotel.
"Prince George's County is fortunate to have so many dynamic and tenacious women as business leaders in our community," said Jim Coleman, President and CEO of the EDC. "These honorees all care deeply about people, and are a major force in helping businesses, communities, and the people they serve reach their full potential. These are fantastic role models for all women."
The primary motivation for the Women's Excellence & Leadership Luncheon is to inspire everyday business women in Prince George's County and the surrounding region, many of whom are testaments of success in their own realms. The WELL awardees were selected based on their outstanding accomplishments, contributions and dedication to Prince George's County.
The 2017 Women's Excellence & Leadership Award Winners Are:
Excellence in Partnership — Angela Franco
Angela Franco served as the President & CEO of the Greater Washington Hispanic Chamber of Commerce from 2009 to 2017. A true advocate of business-to-business networking and synergistic relationship building, Angela grew the Chamber's programs, trainings and matchmaking network resulting in the establishment and growth of hundreds of small and medium-sized businesses in Prince George's County and throughout the region. She has served as the EDC liaison to Hispanic businesses for several years and connected the it to Hispanic businesses for its Latin America trade missions.
Excellence in Leadership — Julie Lenzer
Julie Lenzer serves as Associate Vice President of Innovation and Economic Development and Co-Director of UM Ventures. Julie is charged with promoting and facilitating productive, university-wide collaboration to launch startup ventures based upon University intellectual property, as well as maximizing synergies the University of Maryland and other colleges and universities in the Region. Prior to this position, Julie was appointed to lead the Office of Innovation and Entrepreneurship (OIE) within the U.S. Department of Commerce's Economic Development Administration (EDA).
Excellence in Education — Dr. Debra Mahone
Dr. Debra Mahone currently serves as the director of State and Federal programs in Prince George's County, Maryland. She is a highly skilled educational leader, experienced in school reform, program and leadership development, and curriculum and technology integration. Among many other accomplishments, Dr. Mahone was successful in implementing the largest one to one, iPad deployments in the nation in 2013. Dr. Mahone serves as a true example of a trailblazer in the field of Education.
Excellence in Community Service — Lisa Liu
Lisa Liu is the Founder and Manager of Long River Realty, an international real estate company with residential and commercial clients in the United States, China, Korea, India and Europe. In addition to this, Lisa Liu serves as the Asian Business Advisor to the Prince George's County EDC, and has aided Prince George's County by creating mutually beneficial partnerships with the County and the local, Asian business community.
Excellence in Entrepreneurship — Sara Bahethi
Ms. Saraswati (Sara) Bahethi currently serves as the Corporate Secretary and Treasurer of Science Systems and Applications Inc., (SSAI). As the co-founder and majority owner of SSAI, which was founded in 1977, she is responsible for short-term and long-term cash management in addition to the overall fiscal control of the company.
Please join the Prince George's County Economic Development Corporation in applauding the accomplishments of these extraordinary women.
For more information about the Women's Excellence & Leadership Luncheon, please visit the website at www.pgcedcexcellence.com. To register for this upcoming event, contact Nichelle Holmes at 301-583-4650 or naholmes@pgcedc.com or visit www.pgcedc.com/events.