August 25 - August 31, 2016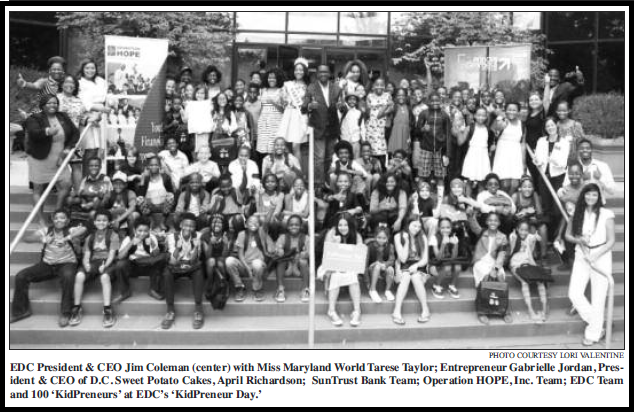 EDC's 'KidPreneur Day' Empowers Rising Stars of Tomorrow
More Than 100 Young Entrepreneurs Get Inspired to Dream Big, Start Businesses and Create Jobs
By Lori Valentine
PGCEDC
Largo, MD—On August 4th more than 100 young entrepreneurs were given the unique opportunity to start or build their businesses at the Prince George's County Economic Development Corporation's (EDC) first annual 'KidPreneur Day'. This event was hosted in partnership with Operation HOPE, Inc.; a global leader in financial literacy. Participants, ranging in age from nine years old to twelve years old were treated to a full day of pivotal information that they can use to make their young businesses flourish and to generate wealth for them and their families.
"I was twelve years old when my father made me the CEO of Coleman Crest, our family farm," said EDC President and CEO Jim Coleman. "The skills and experience that I gained at that age have made me the CEO that I am today. It is never too early to start your future, as these young people are demonstrating today. We are creating the next Mark Zuckerbergs and Milt Petersons of the world right here in Prince George's County. It is our responsibility to give our kids a leg up on their future!"
Mr. Coleman launched this one-of-a-kind initiative after meeting with young County entrepreneurs such as ten year old Ava Valentine and twelve year old Gabrielle Williams, whom he deputized as Co-Chairs of KidPreneur Day. Ava is an aspiring entrepreneur who is planning to be the CEO of her own fashion design company. Gabrielle is the President of Glorious Pastries by Gabrielle, and attended one of the EDC's Activate Prosperity Small Business and Job Seekers Summits earlier this year. As the only young person in a crowd of adults, Gabrielle stood out because of her determination to grow her business and to become a celebrity.
"I'm glad to be a part of KidPreneur Day. Today has been great because now I am thinking about whether I want to keep my baking my pastries at home or opening a bakery," said Miss Williams. "We have also learned a lot about financing today, which is an important part of my decision-making process. I have a lot more confidence that my business will succeed and I have made a lot of new friends."
Today, participants were given the opportunity to learn the fundamentals of business, develop their own business plans, develop a strong financial plan to launch their business, create their own business cards, and learn how to pitch their business through the teachers from Operation HOPE, Inc. The Operation Hope 'Business in a Box Entrepreneur Training Program' is a program designed to help young entrepreneurs turn their ideas and dreams of starting a new business into reality.
"I am glad that Operation HOPE had the opportunity to impact our youth to gear them towards success, create jobs, and show aspirations to be their best. The kids I have met are smart, excited and several of the entrepreneurs are already doing great things," said Dionne Waldron, Vice President of North Region, Operation HOPE. "We are happy about this great partnership with the Prince George's County Economic Development Corporation and excited to be able to interject our work into their KidPreneur program."
The day was filled with information and fun from a variety of business experts. Sixteen-year-old entrepreneur, best-selling author and motivational speaker Gabrielle Jordan also spoke to the youth about how she began her jewelry business, Jewelz of Jordan, when she was nine years old. She encouraged the KidPreneurs to have a vision and to dream big.
"Dare to dream big and don't let fear stop you from achieving your dreams," said Jordan. "Dreaming about your ideas, places you want to go, and people you want to meet is a process that can be frightening sometimes. But if you plan to succeed, you can push through any feat you have to achieve your dreams."
The children were extremely excited about the information and activities they participated in during the day. During the breakout sessions, several of the youth commented on how happy they were that someone was taking an interest in their futures.
"My parents knew that I was interested in starting my own business and so they brought me to KidPreneur Day to learn more about how to do business," said 10 year old entrepreneur Audre Dabney, owner of Car Realtor, a business researches and selects the perfect car for a buyer, without the stress associated with car shopping. "I'm glad I came here today. It makes me feel like I am important and that my thoughts can be shared without criticism. Someone is listening to our ideas and willing to help us."
Eleven year old Morgan Lytle, President of Morgan Camille Skincare shared with her fellow KidPreneurs'why she started her company.
"I started my company because a lot of people in my family have skin conditions and I wanted to help them. So I did some research and my products worked," said Lytle. "I am currently in the process of developing new butters and oils and even enlist my friends to help. I want to take my business international!"
Today's KidPreneur Day was the first of an annual event to highlight and empower the rising stars of tomorrow and was graciously sponsored by SunTrust Bank, Infinity Technology, Operation HOPE, Inc., Lyon Bakery, D.C. Sweet Potato Cakes, Costco, ExCel Youth Mentoring Institute, Safeway, Krispy Kreme Donuts, Mrs. K's Motel and Restaurant , PEPCO, and Ledo's Pizza. All of these local businesses demonstrated their commitment to creating great community leaders at an early age.
"SunTrust's whole commitment is in providing financial stability in families; and it goes without saying that our families start with our children, and our children are a part of our neighborhoods, our counties, our cities and our towns," said Muriel Garr, Vice President, SunTrust Bank Greater Washington. "As we look at opportunities to partner and create a win/win for all, we are glad to be a partner with the Economic Development Corporation and Operation HOPE, as it aligns with the collective to bring together for-profit, non-profit and government. Today's KidPreneur program is showing these children the power of working together and letting them know that they are in control of their own destiny."
Infinity Technology in McLean, Virginia was also very impressed with KidPreneur Day.
"We are very honored to be able to participate in KidPreneur Day, and I am overwhelmed at the participation, organization and energy of the children who are participating in this," said Richard J. Gordon, Chief Information Officer & Vice President of Infinity Technology. "What I see are future leaders, movers and shakers in front of me and I am delighted to be a part of it."
April Richardson, President and CEO of D.C. Sweet Potato Cakes also spoke with the participants about how her business took off because she believed in herself and surrounded herself with people who could make a difference in her business.
The day was concluded with words of congratulations and encouragement from Prince George's County native Tarese Taylor, 2016 Miss Maryland World, a demonstration from NASA's Heliophysics Science Division and a graduation ceremony for the participants.
For more information about how to start or grow your business, contact Kisha Logan, EDC Small Business Services Manager at 301-583-4650 or kvlogan@co.pg.md.us.
PG County Becomes A New ACA Consumer Assistance Organization
By Press Officer
PG County Government
Landover, MD—Prince George's County has been awarded $1.6 million for FY2017 by the Maryland Health Benefits Exchange (MHBE), the administrator of Maryland's health insurance marketplace, to provide enrollment assistance, education and outreach to Prince George's County residents as a newly established consumer assistance organization. The term of the renewable grant began July 1, 2016 and runs through June 30, 2017.
Known as "Prince George's County Health Connect," the program will be administered by the Prince George's County Department of Social Services (DSS); and is comprised of four primary partners: the Prince George's Health Department, the Primary Care Coalition (PCC), Mary's Center, and Health Care Dynamics International (HCDI); and four Prince George's County-based nonprofits: CASA, Community Clinic, Inc. (CCI), Heart To Hand, and Sowing Empowerment & Economic Development (SEED).
Prince George's County Health Connect joins seven other regionally-based MHBE consumer assistance programs across the state. Previously paired with Montgomery County as one operation, Prince George's County and Montgomery County will now operate independently but cooperatively. Both counties geographically comprise the Capital Region.
"We are excited about the award, and the opportunity for Prince George's to be a consumer assistance organization. We have one of the most diverse counties in the entire state. As a program, we will have enhanced flexibility to meet the diverse needs of our residents," said Gloria Brown, Director of the Department of Social Services.
The partner organizations will utilize certified navigators to provide in-person assistance to help residents learn about, apply for and enroll in health insurance, including Medicaid (MA), and the Maryland Children's Health Program (MCHP), as well as primary care insurers, specialty care insurers, dental insurers, and others. Navigators and community health workers will also educate residents on insurance usage. The free services are mandated by the state, in accordance with the Patient Protection and Affordable Care Act (ACA) law established in 2010.
"We're excited to add a partner with a history of great outreach work in Prince George's County that is committed to reinforcing our efforts to provide outreach and enrollment in that part of the state," said Carolyn Quattrocki, Executive Director of MHBE. "The partnership in this region, as well as others throughout Maryland, will allow us to better assist and inform communities across the state and to help ensure that everyone has access to affordable health coverage."
MHBE launched the connector program in 2013, the first year of open enrollment for health insurance under ACA. Since then, Maryland has been one of the fastest growing states in the country for health insurance enrollment.
According to MHBE, more than one million Maryland residents have been enrolled in health insurance, including Medicaid through the Maryland Health Connection, of which more than 140,000 of those who enrolled are Prince George's County residents. The next open enrollment period runs November 1, 2016 through January 31, 2017.
About Maryland Health Connection: Maryland Health Connection (MHC) is the state-based health insurance marketplace for individuals and families to compare and enroll in health insurance, as well as determine eligibility for Medicaid and other assistance programs, federal tax credits and cost-sharing reductions.
More Than 200 Veterans Attend the Economic Development Corporation Veterans Day
Jobs and Resource Fair Serves Those Who Have Preserved Our Freedom
By Lori Valentine
PGCEDC
Largo, MD—More than 200 Veterans came out to the Prince George's County Economic Development Corporation (EDC) as they celebrated Veterans Day and hosted a Veterans Jobs and Resource Fair, in collaboration with the Maryland Department of Labor, Licensing and Regulations (DLLR). The concept behind today's event was to address the issue of unemployment within the Veteran community. In Prince George's County alone, there are more than 2,700 identified unemployed Veterans. Today's Jobs and Resource Fair began with the Pledge of Allegiance led by Miss World Maryland, Tarese Taylor and kicks off the EDC's 'Operation 500'—an aggressive initiative geared toward securing high wage jobs for 500 Veterans over the next six months.
"It's Veterans Day at the EDC and we couldn't be more proud of being able to connect our brave men and women, who have served this country, with a good paying job and the resources they need to give them the dignity that they deserve," said EDC President and CEO Jim Coleman. "My team of 'Angels' have worked hard to coordinate partnerships with more than 20 local employers and resource partners to provide good jobs, training, and other resources our Veterans need. Not one of our employer business partners said 'no' when asked to participate in this important initiative. There is no excuse for a Veteran in Prince George's County to not be employed. This is how we do things in Prince George's County."
Congressman Chris Van Hollen, DLLR Assistant Secretary James Rzepkowski and Maryland Department of Veterans Affairs Outreach Director Dana Hendrickson were also in attendance at the Jobs and Resource Fair and provided encouraging words for the Veterans assembled. They also praised the business community and the resource agencies for making Veterans a priority in Prince George's County.
"I want to thank our Veteran community for serving our country in a way that puts them at risk defending our freedom overseas," said Van Hollen. "Beyond thank you, we are here with the Prince George's County Economic Development Corporation, the business community and our various partners on the State and federal level, working together for you just as you fought together for us."
Statistics have found that Veterans are often unaware of the support services available for them. In addition, many employers are also unaware of the available support services they can take advantage of for hiring Veterans. The Veterans Jobs and Resource Fair has provided a significant platform to generate awareness and provide training or employment opportunities for Veterans; many of whom walked away with jobs today.
"I have been to and worked at many job fairs, and this is the most informative, productive and customer-focused job fair that I have been to," said Valerie Stevenson, retired from United States Navy Aviation Electronic Technician, Desert Storm Recipient. "Companies were hiring and interviewing on the spot. Within 10 minutes of my arrival, the staff at the EDC introduced me to an employer who offered me a position and asked what needed to be done to bring me on board. I have a secondary interview on Wednesday to close the deal."
Walter Simmons, Acting Director of the EDC Workforce Services Division talked to the group about the importance of the partnerships with agencies such as DLLR, the Maryland Department of Veterans Affairs, U.S. Vets and Easter Seals in providing jobs, housing, healthcare and education the Veteran community. He also talked about the purpose of the 'Operation 500' initiative.
"'Operation 500' not only changes the lives of our current unemployed Veterans, it can also assist transitioning military personnel as they get ready to separate from the Armed Services," said Simmons. "We are grateful to be in a position to serve those who have preserved our freedom."
Stakeholder partners that participated in today's Jobs and Resource Fair were impressed with the breadth of skills and qualifications of the Veterans.
"Everyone that we met today has excellent job qualifications," said David Ramirez, Recruiter for BF Joy, LLC, a Veteran-owned small business in Hyattsville specializing in the installation, maintenance, and rehabilitation of underground infrastructure for the public and private sectors. "We have at least six people that we are bringing in tomorrow to talk with our hiring manager and move forward with the on-boarding process."
Other employers that came out with more than 600 current job openings to offer the Veteran community included MGM National Harbor, Reston Limousine, Lendana Construction, Dunbar Armored, CLP Resources, CVS/Caremark, Dimensions Healthcare System, Eaton Corporation, BF Joy, WMATA, Prince George's Department of Corrections, Marriott, Alban CAT, G,W. Peoples Contracting, Co., Randstad, Pepsi Beverages Co., and Ferguson Enterprises.
"As a Veteran and a recruiter, I try to pay if forward. I am grateful to be in a position to help my fellow veterans get the jobs they deserve," said Jimmy Inabinet, Army Master Sargent and H.R. Fellow for MGM National Harbor. "Today's event has been extremely rewarding. Most of my interactions are with Veterans who are in need of feedback on resume writing or job skills training. MGM has workforce diversity and business development programs that can be of great assistance to Veterans."
The EDC will host a Veterans Jobs and Resource Fair every month (except November) for the next 5 months until all Operation 500 Veterans are employed. The next Jobs and Resource Fair will be on September 12th at the EDC headquarters, 1801 McCormick Drive, Suite 140, Largo, MD.
Also place the following dates on the calendar for future Veteran Jobs and Resource Fairs: October 13th, December 5th, and January 9, 2017. To reserve your seat for the September Fair or any of the others, visit the website at www.pgcedc.com/events or call Nicole Edwards at 301-583-4650.
United Way of the National Capital Area Unveils Back-to-School Initiatives Targeting Region's Middle School Students
By Press Officer
United Way
WASHINGTON, D.C.—As thousands of middle-school students prepare to head back to school this year in Washington, D.C., Northern Virginia, and Maryland, United Way of the National Capital Area (United Way NCA), the region's preeminent convener, collaborator and catalyst for social change throughout the National Capital community, today announced Back-to-School initiatives to support the area's public schools.
As part of United Way NCA's five-year, $12.3 million Community Commitment, the nonprofit will be targeting 12,000 at-risk middle school students in the National Capital Area to help them perform at grade level and on track to succeed. Every year, 160,000 young people in Washington, D.C., Northern Virginia, and Maryland are dropping out of high school and research shows that those students most at risk of dropping out were also struggling in middle school.
"As our area's students prepare to head back to school, it is the United Way NCA's commitment to help them succeed by both getting them the school supplies they need while at school and the nutrition required at home," said Timothy Johnson, Vice President, Community Impact, United Way of the National Capital Area. "Students who start 9th grade on time, reading at grade level and with grade-appropriate math skills, are three times more likely to graduate from high school than students who don't. United Way NCA has made it our mission to focus our efforts on helping raise 12,000 at-risk middle school students back on a path to graduate on time."
Johnson continued, "As we approach the start of the 2016–17 school year throughout the metro region, we are focusing on these initiatives because no child in our area should have to go to school hungry or without the proper supplies they need to achieve their full potential."
As part of this recently launched Community Commitment goal, United Way NCA has unveiled new initiatives for the 2016–17 school year set to begin next week in the Washington, D.C. school district, and after Labor Day for students in Maryland and Northern Virginia.
Weekend Hunger Backpacks for Area Students
During recent middle school case studies, United Way NCA team found that too many area students were coming to school on Monday morning hungry and unable to concentrate on learning. United Way NCA's Weekend Hunger Backpacks program will provide meals to help those National Capital Area students get through the weekends during the 2016–17 school season, and come to class on Monday ready to learn.
Already, the program has launched over the summer at Francis C. Hammond Middle School in Alexandria, Virginia where in-school site coordinators have helped distribute backpacks to support over 50 students for the last six months.
During the 2016–17 school season, United Way NCA will be expanding this program to target students at:
• Buck Lodge Middle School, Prince George's County, Maryland
• John Hayden Johnson Middle School, Washington, D.C.
• Cardozo Education Campus, Washington, D.C.
• Kelly Miller Middle School, Washington, D.C.
Stuff the Bus Campaign
With a goal this year to help 24,000 area school children, veterans and people experiencing homelessness by June 30th, 2017, United Way NCA has launched the Stuff the Bus campaign. Each backpack will contain school supplies such as gift cards to Targets, Wegmans and Walmart, as well pens, pencils, scissors, erasers and other needed supplies to help middle school students succeed. The backpacks will also contain personal care items such as toothpaste, toothbrushes and food.
To date, more than 1,600 backpacks have been assembled by 180 volunteers and distributed to 9 schools and/or UWNCA member nonprofits in Washington, D.C., Northern Virginia, and Maryland. For example, 100 backpacks have already been delivered to Langston Hughes Middle School in Reston, Virginia.
Area residents can help support this effort by donating here, scheduling a collection drive or hosting a pack and sort party. Partners in the Stuff the Bus campaign include Staples and Kits for Kidz.
About United Way of the National Capital Area
Focusing on the critical areas of education, financial stability and health, United Way of the National Capital Area works to build a thriving community by addressing our region's most pressing challenges. United Way NCA has been improving lives by creating measurable impact in the District of Columbia, Northern Virginia, and Montgomery and Prince George's Counties for more than 40 years.
United Way NCA is rated Gold-level with GuideStar, the world's largest source of non-profit information that advances transparency and enables users to make better charitable giving decisions.
For more information about United Way of the National Capital Area, visit UnitedWayNCA.org.
Governor Hogan Requests Federal Disaster Declaration in Response to Historic Ellicott City Flooding
By Press Officer
MEMA
ANNAPOLIS, MD—Governor Larry Hogan today requested that President Barack Obama issue a Presidential Disaster Declaration for Howard County as a result of the floods that ripped through Main Street in Ellicott City on July 30, 2016. An approved disaster declaration would bring federal assistance to Howard County and Ellicott City through state and local agencies and public safety partners that served them during the storm.
"Our administration has made it clear that we will do everything we can, and coordinate with all levels of government to help the residents of Ellicott City and Howard County rebuild their community after the disastrous flooding that occurred," said Governor Hogan. "These federal funds will go a long way in helping residents and local businesses rebuild infrastructure and will also help with some of the costs associated with the initial cleanup efforts."
A storm cell dumped nearly six inches of rain in the area during a few hours on the evening of July 30, causing a wall of water to cascade down Main Street. Two people were killed in the storm, dozens of buildings—many a mix of business and residential—were damaged and about 200 vehicles were swept downstream or flooded. Ellicott City sits at the intersection of the West Branch of the Patapsco River and two smaller streams.
Eastern Howard County was severely impacted by this storm. Howard County Executive Allan Kittleman quickly declared a local State of Emergency for the county, and Governor Hogan followed with a Maryland State of Emergency for the county. The Maryland Emergency Management Agency (MEMA) coordinated the state response and recovery through the State Emergency Operations Center, and also coordinated the movement of resources from other jurisdiction in Maryland and from other states.
Governor Hogan designated MEMA as the state coordinating agency for the request. MEMA Executive Director Russell Strickland directed MEMA staff to work with Howard County staff and the Federal Emergency Management Agency to perform a damage assessment as the first step in seeking federal assistance. This process started several days after the storm, when building inspectors and public works officials declared the area safe.
"MEMA worked closely with Howard County and FEMA to jointly assess damages and costs incurred and initial estimates have validated the significant impact of this storm," said Director Strickland. "Many long-time residents said this flooding is the worst they have ever seen in that area. The amount of damage that the storm caused in just a couple of hours was devastating.