July 27 - August 2, 2017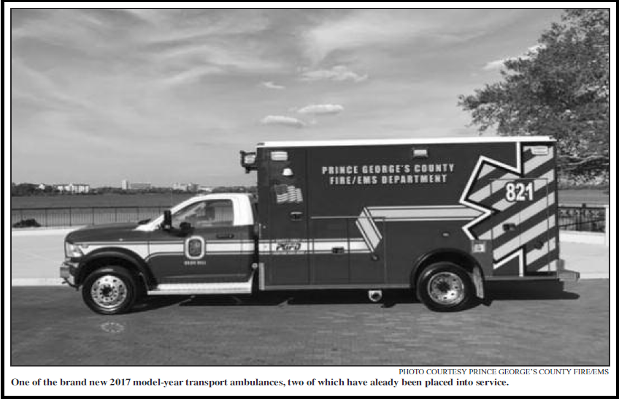 Prince George's Fire Department Accepts Delivery of New EMS Transport Units
By PRESS OFFICER
PG County Fire/EMS
Largo, MD—The Prince George's County Fire/Emergency Medical Services (EMS) Department recently accepted delivery of new transport ambulances with two already placed into service. A total of nine units will have been delivered by the end of the month with another eight being constructed and delivered later this year. The 17 new units will replace older units that will be deadlined or placed into the reserve fleet.
One unit already placed in service is at Fire/EMS Station 842 on Marcy Avenue in Oxon Hill, this unit will serve as a Basic Life Support ambulance. The second unit will be designated as a Paramedic Ambulance at Fire/EMS Station 821, located on Livingston Road.
The County's Fire/EMS Department is a combination career/volunteer agency that provides services to include fire prevention, fire protection, emergency medical services, and community outreach programs for residents of Prince George's County, Maryland. It is composed of 45 fire/EMS stations, of which some are all career, all volunteer, or a combination of both. Currently, there are 900 career and civilian employees and 1500 volunteer members. The Department covers a response area of about 500 square miles, protects close to a million people, and has an annual operating budget of 190 million dollars. Last year, the organization responded to approximately 150,000 calls, 80 percent of them were for EMS. At this time, the Prince George's County Fire/EMS Department is the largest and busiest combination department in the United States.
The 2017 model-year ambulances have been redesigned to the newest safety standards. Built on a Dodge 5500 Chassis and powered by a 6.71 Cummins Diesel Motor with a 6-speed heavy duty transmission, these units have safety features not currently available on the Department's past units. Additional vehicle features include a Liquid Spring Suspension to assist in a smooth ride for both providers and patients. The units are equipped with a Whelen LED Emergency Lighting package, custom PGFD door forward design, and custom exterior and interior design. This new design will put all medical equipment within reach of the EMS provider, allowing them to remain seat-belted while providing the highest quality of medical care to our patients. A Stryker Power Load System and Power Cot assists in lifting the patient into the treatment area of the unit and reduces injuries to providers.
This is the first time in over 20 years that the Fire/EMS Department has made such a dramatic change to its ambulance fleet. These units represent the most innovative pieces in the department's convoy and will replace transport units to be placed into the reserve fleet. Paramedic Ambulance 821 is built on a 4x4 chassis, while Ambulance 842 is built on a 4x2 chassis. The costs of the units are $277,000 and $272,000, respectively.
Five Bowie State Bulldogs Selected to Football Preseason All-CIAA Team
Bulldogs Picked to Finish Second Overall in Conference Play
By PRESS OFFICER
Bowie State University
ROANOKE, VA—The Bowie State University football team has been predicted to finish second overall in the CIAA but first in the all-important Northern Division according to the 2017 conference preseason poll, which was released in advance of football media day held July 20th at the Sheraton Roanoke Hotel.
The defending CIAA Northern Division Champion Bulldogs return 47 lettermen including 17 starters from last year's squad. Bowie State finished the 2016 campaign with an impressive 7–4 overall record, 6–1 mark in the CIAA and participated in the conference championship game for the second consecutive season.
Of the 27 member preseason team, Bowie State is represented by seniors Victor Tamba (OL—District Heights, MD), Daris Johnson (OL—Waldorf, MD), juniors Amir Hall (QB—Bowie, MD), Robert Chesson (RB—Annapolis, MD) on offense and senior Rahman Kamara (DB—Bowie, MD) on the Bulldogs defensive side of the ball. The conference Predicted Order of Finish and Preseason Team are voted on by the CIAA Football Coaches Association and conference Sports Information Directors.
For the seventh consecutive year, the defending CIAA Champions of Winston-Salem State University were selected to finish as the top team in the conference in 2017 followed by Bowie State University, Virginia State University, Virginia Union University and Fayetteville State University made up the top five teams. Chowan University was voted as the sixth overall ranked team in the conference followed by Elizabeth City State University, Saint Augustine's University, Shaw University, Johnson C. Smith University, Livingstone College and Lincoln University of Pennsylvania.
Bowie State will open up the season on September 2nd on the road at the Seton Hill University Griffins of Greensburg, Pa. at 3 pm. Seton Hill is a member of the Pennsylvania State Athletic Conference (West Division) and finished the 2016 season with an overall record of 5–6 (2–5 in the conference).
Predicted Divisional Order of Finish
Northern Division
1. Bowie State University
2. Virginia State University
3. Virginia Union University
4. Chowan University
5. Elizabeth City
State University
6. Lincoln (PA) University
Southern Division
1. Winston-Salem State University
2. Fayetteville
State University
3. Saint Augustine's University
4. Shaw University
5. Johnson C. Smith University
6. Livingstone College
Alzheimer's Association Walk To End Alzheimer's ® Announces Leadership for Prince George's County Event
By PRESS OFFICER
Alzheimer's Association
Fairfax, VA—The Alzheimer's Association invites Prince George's County residents to unite in a movement to reclaim the future for millions by participating in the Alzheimer's Association Walk to End Alzheimer's®—Prince George's County on Saturday, September 23 at the National Harbor in Oxon Hill.
Prince George's County Executive Rushern Baker III returns to serve as Honorary Chair of the Walk to End Alzheimer's in Prince George's County. In November 2012, Baker shared with the public that his wife had younger-onset dementia. Since then, Baker, his staff and members of the community have worked with the Alzheimer's Association National Capital Area Chapter to expand programs, services and support to county residents.
Joining Baker as Honorary Chairs are New Orleans Saints wide receiver Brandon Coleman and Dr. Rakesh C. Sahni of United Radiology. Coleman, a Prince George's County native who lost his grandmother to Alzheimer's, recently hosted the inaugural Memory Lane bowlathon to raise funds for his family's Walk team. Sahni is an interventional cardiologist practicing in Maryland and Washington, D.C.
Leading the planning committee for this Walk are Gloria Lawlah, Lisa Proctor and Dr. Milton Lawler. Each brings a deep and personal commitment to the fight against Alzheimer's. A former Maryland Senator and Secretary on Aging, Lawlah serves as CEO of Senior Family Supports and was recently selected by County Executive Baker to serve as the lead for the Dementia Friendly America Initiative in Prince George's County. As Marketing and Community Engagement Relations for United Radiology, Proctor brings over 17 years experience in public relations, marketing and advocating for seniors and individuals with developmental disabilities.
Lawler, a longtime Walk supporter and leader of one of the top Walk fundraising teams, is an adult educator and community advocate committed to increasing resources for caregivers.
More than 1,100 participants are expected to attend Walk to End Alzheimer's—Prince George's County at its new location at the National Harbor Carousel and to raise more than $115,000. Participants can learn about Alzheimer's disease and how to get involved with this critical cause, from advocacy opportunities and clinical trial enrollment to support programs and services. Walk participants will join in a meaningful ceremony to honor those affected by Alzheimer's, followed by their choice of a one-mile or three-mile walk. The event will conclude with a high-energy post-walk celebration with live entertainment. Participation is free. Participants are encouraged to fundraise. To start or join a team, visit alz.org/walk.
Now in its fourth year, the Walk to End Alzheimer's—Prince George's County has led to increased Alzheimer's awareness, programs and services for county residents. The 2016 event drew over 800 participants and raised more than $98,000 that helped to support the delivery of vital Alzheimer's Association free programs and services for the community, including seven ongoing support groups, the launch of four Memory Cafes for people in the early stages of the disease, 85 education workshops and conferences, and almost 600 calls to the Association's 24/7 Helpline.
For more information about Walk to End Alzheimer's®— Prince George's County, please contact LaKeysha Boyd-Moore by phone at 240.518.8496 or email atlmoore1@alz.org.
Alzheimer's Association Walk to End Alzheimer's®
The Alzheimer's Association Walk to End Alzheimer's is the world's largest event to raise awareness and funds for Alzheimer's care, support and research. Since 1989, the Alzheimer's Association mobilized millions of Americans in the Alzheimer's Association Memory Walk®; now the Alzheimer's Association is continuing to lead the way with Walk to End Alzheimer's.
Alzheimer's Association®
The Alzheimer's Association is the world's leading voluntary health organization in Alzheimer care, support and research. Our mission is to eliminate Alzheimer's disease through the advancement of research; to provide and enhance care and support for all affected; and to reduce the risk of dementia through the promotion of brain health. Our vision is a world without Alzheimer's. Visit alz.org® or call 800.272.3900.
Recipients of Community Partnership Grants (CPG) Announced FY 2017
By PRESS OFFICER
PG County Government
Upper Marlboro, MD—The Office of the County Executive is proud to announce this year's recipients of the 2017 Community Partnership Grants. The County Executive awards approximately $1.6 million in funding to eligible nonprofits that serve the residents of Prince George's County and help to improve the quality of live for those they impact. Local nonprofit organizations are encouraged to apply for funding to assist them in providing community-based programs and valuable services to support people in need.
"I am really excited about this year's awards and the services these organizations offer that enable our county to expand its impact on more communities said County Executive Rushern L. Baker, III. "I have always said that government can't do it alone and through these grants, each organization will help to extend the reach of the government."
Organizations that are interested in receiving CPG funds must submit an application and go through a very competitive review process. The Office of Management and Budget/Grants Management Unit reviews each application to ensure that all outlined eligibility requirements are met. Additionally, there is an Executive Review Panel that conducts a full evaluation of all complete applications.
County Executive Rushern L. Baker, III on the Passing of Former PG County Chief Administrative Officer Kenneth Glover
By PRESS OFFICER
PG County Government
Upper Marlboro, MD—Prince George's County Executive Rushern L. Baker, III released this statement following the passing of former Prince George's County Chief Administrative Officer (CAO) and Chief Executive Officer (CEO) for Dimensions Healthcare System.
"On behalf of the citizens and residents of Prince George's County, we extend our heartfelt sympathy to the family and friends of Kenneth Glover, former Chief Administrative Officer for the Prince George's County government under former County Executive Wayne K. Curry and also the former CEO of Dimensions Healthcare System.
We are grateful for Ken's service and commitment to our great County. In his role as Chief Administrative Officer for Prince George's County, during the Wayne K. Curry Administration, Ken played a significant role in the County's growth and development. He continued that engagement and progress as CEO of Dimensions Healthcare System.
We will miss Ken's quick wit, intelligence, and unselfish love for family and for our community. Ken will be remembered as a dedicated citizen and champion for Prince George's County."