June 22 - June 28, 2017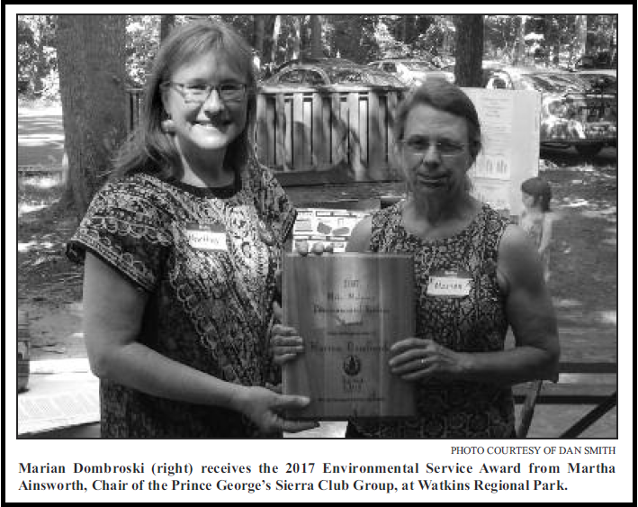 Prince George's Sierra Club Presents 2017 Environmental Service Award to Clean Water Advocate Marian Dombroski

By PRESS OFFICER
P.G. Sierra Club Group
College Park, MD (June 15, 2017)—Clean water advocate Marian Dombroski, of Cheverly, is the 2017 recipient of the Prince George's Sierra Club's Walter "Mike" Maloney Environmental Service Award. The award is presented annually to a County resident for excellence in environmental leadership.
The award recognizes Dombroski's leadership in engaging communities along the Anacostia River and its tributaries on clean water issues. "What stands out about Marian is her ability to reach out and work with the community, to help make the link between healthy rivers and quality of life, to engage the community as activists who take ownership of clean water and become stewards in the long run," said Martha Ainsworth, Chair of the Prince George's Sierra Club Group, in presenting the award.
In receiving the award, Dombroski proclaimed that "clean water is our right and responsibility." Dombroski is the founder of the Friends of Quincy Run Watershed (FQRW). The watershed includes parts of Cheverly and Bladensburg. Quincy Run joins the Anacostia River at Bladensburg Waterfront Park. Although the watershed is known for its high density of residential and industrial areas, there are fragments of natural and historic areas along the length of the waterway.
Efforts to restore Quincy Run have become a rallying point to educate and mobilize local residents about the importance of the Anacostia Watershed to the health of the community. In collaboration with residents, municipalities, the county, and other environmental groups, FQRW, led by Dombroski, has organized annual trash clean-ups, removed invasive species, improved infrastructure along the river, reduced impervious surfaces, planted native trees, and constructed rain gardens to reduce runoff and improve water quality.
Dombroski is the Project Manager for Rainworks, whose objective is to identify, design, and implement on-the-ground projects to reduce damage to streams and rivers caused by rainwater runoff from private property. With the Friends of Lower Beaverdam Creek as its financial agent, the Stormwater Stewards Grant Program, administered by the Chesapeake Bay Trust and funded by the Prince George's County Clean Water Fee, awarded the project a $115,000 grant in late 2015, for projects in the Quincy Run and Moss Run watersheds, both tributaries of the Anacostia. "This is a great example of our stormwater fees at work," Dombroski says.
Rainworks is being implemented in partnership with the "B5" initiative—Building a Better Bladensburg Block by Block and Business by Business—and with support from the Town of Cheverly. Dombroski has helped identify and find solutions to citizens' and businesses' stormwater runoff problems and connected them with resources to encourage water conservation while improving private property. The five Rainworks sites in Bladensburg and Cheverly were selected because they face highly problematic stormwater issues and solutions can be applied to other nearby areas.
Although her home is located near a steep slope, longtime Bladensburg resident Garrine Laney had never had water in her basement until recently, when stormwater came pouring in "like a waterfall" through a basement window. Dombroski not only helped diagnose the problem and bring resources to bear, "she took out her shovel!" says Laney. The problem was solved and Laney is now one of many resident clean water activists.
"Marian reaches out to residents to get them involved in ways that her projects become their projects. She is an inspiration, a hands-on doer who sets up workshops and goes yard to yard," said Dan Smith of Cheverly, founder of Friends of Lower Beaverdam Creek.
Throughout her life, Dombroski has been drawn to rivers. She launched her first river cleanup—along the Potomac—when she was in high school in 1970, two years before passage of the Clean Water Act. In 2010, after her studies, raising a family, and working at the University of Maryland as an architect, she enrolled in the Watershed Stewards Academy, with financial support from the Friends of Lower Beaverdam Creek. In 2012 she founded the Friends of Quincy Run Watershed.
The award was presented to Ms. Dombroski on Sunday, June 11, at the annual Prince George's Sierra Club picnic at Watkins Regional Park in Upper Marlboro.
The Prince George's Sierra Club Group established the annual environmental service award in 2005 to honor the late Walter "Mike" Maloney—a civic activist, County Council member, and attorney dedicated to the rights and the quality-of-life of everyday people. Nominees are County residents who have shown excellence in local environmental leadership. Previous winners include Thomas Dernoga (2005), Fred Tutman (2006), Imani Kazana (2007), Carmen Anderson (2008), Paul Pinsky (2009), Kelly Canavan (2010), Bonnie Bick (2011), Dan Smith (2012), Vernon Wade (2013), Jacqueline Goodall (2014), Mary A. Lehman (2015), and Lore Rosenthal (2016).
The Sierra Club is the oldest and largest grassroots environmental organization in the nation. Its mission is to explore, enjoy, and protect the wild places of the Earth.
Stolen Paychecks: How Immigrant Workers Get Ripped Off
By ALYSON KAY
Capital News Service
LANGLEY PARK, MD—Victor came to the U.S. 15 years ago looking for steady work. In many ways, the U.S. has met his expectations and he gets hired most days to do day labor for construction companies or commercial contractors. But one thing he may not have expected is that some employers wouldn't pay him what they promised.
Victor, an immigrant from Guatemala, says he's cheated on as many as 20 percent of the jobs he takes. "Sometimes it looks like a big contractor and then at the end of the day, they say, 'I'll call you in a week," to set up a payment arrangement. Frequently, he says, the call never comes. (Capital News Service is withholding Victor's last name to protect him from possible retaliatory actions by employers.)
Wage theft is a big and growing problem in the U.S. and affects a wide variety of mostly low-wage workers. It's an especially big issue in immigrant communities, where workers are often hired off the books and are vulnerable due to their legal status and limited proficiency in English.
In fact, attorneys who work with immigrants say that wage theft is one of the most common reasons why Latin American and other non-native workers seek legal services.
"It's not an exaggeration to say that day laborers are ripped off of millions of dollars of wages each year throughout the United States," says Steve Smitson, an immigration attorney in Ellicott City at Smitson Law LLC. "Day laborers are the most vulnerable workers because often they're least equipped to defend their rights and they're seen as easy targets for unscrupulous employers."
As cities and states across the U.S. move to increase the minimum wage, the number of employers violating the rules grows. According to the Economic Policy Institute, workers in the U.S. lose between $8.6 billion and $13.8 billion a year because they are paid below their state's minimum wage. That estimate—which includes all workers, native-born and immigrants—was extrapolated based on a study prepared for the U.S. Department of Labor of minimum wage violations in 2011 in New York and California, two states with relatively high minimum wage requirements. The study also found that non-citizens were 1.6 to 3.1 times more likely to be affected by minimum wage violations, according to the EPI.
Kim Bobo, the executive director of the Virginia Interfaith Center for Public Policy, said the numbers in the Labor Department study likely understate wage theft because they only included incidents that were reported and many immigrant workers don't report their grievances to the government. The data may also exclude incidents when workers aren't paid at all or what was promised, even if the amount was above minimum wage.
"If you are feeling vulnerable about getting or keeping a job, you will tend not to complain even when you know your employer is breaking the law," said Bobo, the author of the 2011 book, Wage Theft in America. Without complaints, she said, "most enforcement agencies don't investigate and wage theft continues."
It's not just businesses doing the cheating. CASA de Maryland, the largest Latino and immigrant advocacy organization in the Washington area, says homeowners who hire workers for landscaping and furniture moving jobs sometimes short-change workers, too. CASA legal services once spent two months trying to force a local homeowner to pay $60 to two workers who spent several hours laying mulch on her property. The homeowner promised to pay each worker $60, but after the work was completed, she paid the men half the agreed upon amount. After CASA threatened legal action, the homeowner finally paid up.
Economists say that wage theft drives poor families deeper into poverty, prompting them to apply for federal subsidies such as the Earned Income Tax Credit and free school breakfast and lunch for children. That hurts taxpayers to the benefit of employers that skirt the laws.
Maryland is especially ripe for such abuses, says Smitson, due to the large amount of construction taking place in the state. While wage theft occurs in many industries, construction contractors and subcontractors in particular use day laborers frequently and have more complaints against them.
Victor says employers find lots of ways to cheat. In December 2016, he was hired for a framing job that lasted three days. The employer agreed to pay him $300 for the work. At the end of the three days, the employer paid Victor with a check. But when he tried to cash the check, the bank said it wasn't negotiable. "When I go back and catch him to get my money, he said, 'No! I don't got money right now,'" said Victor. He didn't want to cause problems or bring attention to himself, and gave up trying to collect.
Attorneys at the Community Legal Services of Prince George's County say such stories have become common. Valerie Adeyeye, a worker's rights lawyer at the center, says wage theft cases are the most frequent that the center sees.
When a client comes to the worker's rights clinic, Ms. Adeyeye contacts the employer and tries to arrange a settlement. "We can write demand letters on their behalf," said Adeyeye. "We can help them file a complaint." Rarely do the cases go to court.
She also helps workers file complaints with the Maryland Department of Labor, Licensing and Regulation or the D.C. Office of Employment.
While stricter enforcement by the government could reduce minimum wage violations for most American workers, there is little that can be done to help undocumented immigrants. Bobo said while there is a need for more enforcement, employer groups and trade associations can play a part in the solution by setting higher standards for their business members. Consumers can also help, especially when people buy a contracted service.
"The consuming public needs to ask questions," Bobo said. "When we hire somebody we need to ask 'Are you paying your workers fairly? Do you pay them as employees? Do you pay them as independent contractors?' There are things that as consumers both as individual consumers, but if we're purchasing contracted services to our companies or to our congregations, we can be ethical consumers as well and ask questions."
Capital Area Food Bank Announces Free Summer Meals for Eligible Children in Prince George's County
By PRESS OFFICER
Capitol Area Food Bank
Washington, D.C.—Summer is a hard time for children who rely on school meals to receive the balanced nutrition they need to thrive. Continuing its commitment to providing access to good food in every community, the Capital Area Food Bank has announced that it will once again provide free summer meals to eligible children throughout the Washington metro area. The Free Summer Meals Program (FSMP), for which the food bank will be an acting program sponsor, is funded by the US Department of Agriculture.
Over 137,000 residents of Prince George's County struggle to get the food they need; of those, 15% are children. Food insecure children are more likely to experience stomachaches, headaches, colds, ear infections, and fatigue. They are sick more often, recover more slowly, and are more likely to be hospitalized.
During the school year, The Capital Area Food Bank operates afterschool and weekend meals programs called Kids Cafe® and Weekend Bag. Both of these programs fill meal gaps, supplementing school-based federal free or reduced price breakfasts, lunches, afterschool snacks and dinners. Meal service is extended in the summertime with many sites offering daily breakfasts, lunches, snacks and suppers. Additionally, the CAFB's Weekend Bag program provides bags of pantry staples and fresh produce for children and their families over the weekend when school is out of session.
Children who are part of households that receive Supplemental Nutrition Assistance Program (SNAP) or Temporary Assistance for Needy Families (TANF) benefits are automatically eligible to receive free meals. To be eligible to receive free meals at a residential or non-residential camp, children must meet the income guidelines listed in the attached chart for reduced-price meals under the National School Lunch Program.
Acceptance and participation requirements for the Program and all activities are the same for all regardless of race, color, national origin, sex, age or disability, and there will be no discrimination in the course of the meal service. Meals will provided at the sites and time as outlined in the chart to the right.
About the Capital Area Food Bank
The Capital Area Food Bank is the largest organization in the Washington metro area working to solve hunger and its companion problems: chronic undernutrition, heart disease and obesity. By partnering with nearly 450 community organizations in D.C., Maryland and Virginia, as well as delivering food directly into hard to reach areas, the CAFB is helping 540,000 people each year get access to good, healthy food. That's 12 percent of our region's mothers, fathers, sons, daughters, sisters, brothers, and grandparents. To learn more, visit: capitalareafoodbank.org, or find the Capital Area Food Bank on Facebook at facebook.com/CapitalAreaFoodBank, and Twitter at @foodbankmetrodc.
In accordance with Federal civil rights law and U.S. Department of Agriculture (USDA) civil rights regulations and policies, the USDA, its Agencies, offices, and employees, and institutions participating in or administering USDA programs are prohibited from discriminating based on race, color, national origin, sex, disability, age, or reprisal or retaliation for prior civil rights activity in any program or activity conducted or funded by USDA.
Persons with disabilities who require alternative means of communication for program information (e.g. Braille, large print, audiotape, American Sign Language, etc.), should contact the Agency (State or local) where they applied for benefits. Individuals who are deaf, hard of hearing or have speech disabilities may contact USDA through the Federal Relay Service at (800) 877-8339. Additionally, program information may be made available in languages other than English.
The Capital Area Food Bank is an equal opportunity provider.