November 24 - November 30, 2016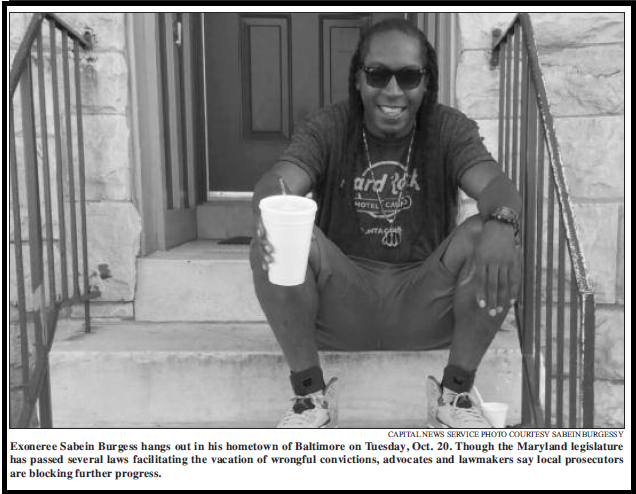 Here in Maryland, Efforts to Streamline Exonerations Stymied
By Eleanor Mueller
Capital News Service
ANNAPOLIS, MD—Sabein Burgess wasted no time trying to prove his innocence.
Convicted of first-degree murder and sentenced to life in June 1995, the then-24-year-old waited just 10 days after his trial before filing a motion for a new one.
The act was his first step in a battle that would last 19 years, during which the Baltimore resident would spend the prime of his life in a jail cell.
"From the day I was locked up, I was saying I was innocent," Burgess, now 46, said. "From the night I spent in homicide to the day I came home (from prison)."
Baltimore City prosecutors had charged Burgess with the murder of his then-girlfriend, Michelle Dyson, whom he discovered fatally shot in the basement of her Baltimore home that fall. Evidence against him included gunpowder residue discovered on his hands; none was ever found on his body or clothes, according to the National Registry of Exonerations.
"It was a heart-wrenching experience," Burgess, who was holding Dyson's body when police arrived, said. "Nobody can really understand what it's like to be innocent and still go about your daily activities as if you were guilty."
Just three years after Burgess's conviction, a man named Charles Dorsey wrote multiple letters confessing to the murder, according to The National Registry of Exonerations, a law school project that tracks every known exoneration since 1989. He was then serving a 45-year prison term on different charges brought after Dyson's death.
However, it took 16 years—spanning multiple motions for new trials, the uncovering of new evidence, and the involvement of innocence advocates—before the prosecution agreed to vacate Burgess's conviction.
"To do something about him (Dorsey), they would've had to help me, and they didn't want to help me," Burgess said. "It wasn't in their best interest to admit they were wrong and I was right.
"You look back on all those years, and all the stuff they had," Burgess told Capital News Service. "People keep asking me all the time why they didn't do something—if I knew that, I'd be rich."
In Maryland, prosecutors and judges make it unusually difficult to overturn wrongful convictions, lawmakers and advocates say. Though the state boasts a Democratic electorate and a progressive legislature, its judicial and prosecutorial climate is surprisingly unconducive to securing exonerations for the wrongfully convicted; meaning cases take far longer than expected.
"It is, for some reason, incredibly hard in Maryland to get prosecutors or judges to admit that people who are innocent get convicted," said Shawn Armbrust, executive director of the Mid-Atlantic Innocence Project, an advocacy group that helped Burgess become exonerated. "It's surprising, because it's Maryland—the legislature has been great, it's a progressive state—but there's not much enthusiasm in other areas of the system.
"If we were talking about Alabama, this wouldn't be a story. But we're not."
Not Alabama
To the layman, Maryland may appear poised to be a nationwide leader in exonerations.
Some of the most high-profile cases took place here; Marylander Kirk Bloodsworth became the first American to be spared the death penalty by DNA evidence, in 1993.
Most critically, its Democrat-controlled legislature is one of the most progressive in the country on the topic.
Since 2008, some members of the Maryland General Assembly have worked closely with innocence advocates to push through some of the most exoneration-friendly laws in the nation, among them progressive policies concerning eyewitness identification, false confessions, and post-conviction DNA testing.
In 2009, lawmakers enacted a statute that permits a convicted person to file a petition for a "writ of actual innocence" based upon a claim of newly discovered evidence—a relatively low bar, experts say.
However, these efforts have been stunted by state prosecutors and judges who appear unwilling to entertain the possibility of actual innocence, advocates and lawmakers say.
"The intent of the legislature has been to provide a mechanism for people who have been wrongfully convicted to have their cases heard and heard in an expeditious manner, but we don't see that happening," said Michele Nethercott, director of the University of Baltimore Innocence Project Clinic. "The legislative branch has been quite responsive; however, other players in the criminal justice system have not been."
This contrast is unique to Maryland, said Rebecca Brown, policy director for New York-based advocacy group Innocence Project.
"It's extremely rare that all of the innocence-related activity is centered in the legislature," Brown said. "Usually it's a cumulative effort."
In illustration, Armbrust points to neighboring Washington, D.C., where its Superior Court initiated forming a committee to examine wrongful convictions, and nearby Virginia, where she says multiple prosecutors are "more receptive to these cases."
Utah, Alaska, Indiana, Maine, Massachusetts, Minnesota and New Jersey also have courts that have issued rules to streamline the exoneration process, Brown said.
"That hasn't happened in Maryland," Armbrust said.
Enormous delays
As a result, trying to secure exonerations for those wrongfully convicted takes longer than it does in other states.
The nation has seen 1,913 exonerations since 1989, according to the National Registry of Exonerations. Maryland has seen 24, and neighboring states Virginia and Pennsylvania have seen 43 and 59, respectively, in that time.
Those wrongfully convicted in Maryland have spent an average of 11.3 years locked up; almost three years longer than the national average of 8.8 years, according to the National Registry of Exonerations.
"We see enormous delays," Nethercott said.
State judges are hesitant to grant motions for new trials. And, when they do, they delay the docketing of the cases, Nethercott said.
Moreover, state prosecutors and judges frequently oppose the release—let alone the testing—of new evidence, one of the ways they can make it extremely difficult for defense attorneys to secure objects that may help prove their client's innocence, Nethercott said.
Malcolm Bryant, whose 1999 murder conviction was vacated in May, was also prosecuted in Baltimore City. It took him and his legal team eight years—and multiple trials—to obtain the release of the DNA evidence that proved him innocent.
"When the person is in the category of being wrongfully convicted, to put so many additional obstacles in their path is just immoral and counterproductive," state Sen. Delores Kelley, D-Baltimore County, said.
Slow-moving
"Often the response is not only surprising," Nethercott said. "The level of outright hostility we often encounter in connection with these claims—that's a little discouraging."
One possible reason prosecutors and judges could be so opposed is that vacating a conviction contradicts everything they work toward.
"It's hard for them to think, 'I did something that resulted in someone getting convicted,'" Nethercott said. "They view themselves as advocating on behalf of those victimized … the idea that they may have participated in bringing about an injustice is at odds with their self-concept."
Another potential explanation is that entertaining the idea of wrongful convictions would mean having to evaluate the effectiveness of the criminal justice system.
"There's a fear that if you admit innocent people are in jail, you open up the system to too many questions," Armbrust said.
Rather, prosecutors in Maryland "tend to like the status quo," said Kelley.
"They do what they think will keep everybody comfortable," Kelley said. "It's sad, but I think that's impacting (exonerations) significantly."
The state's prosecutorial and judicial communities are taking steps to address the issue of wrongful convictions—just at a slower pace than the legislature, said Lauren Lipscomb, chief of the Baltimore City Conviction Integrity Unit.
"We're moving in the right direction," said Lipscomb. "I just think that with most things in the criminal justice field, things tend to be slow-moving."
However, some prosecutors say the state already has "robust post-conviction procedures," rendering any further progress on their part unnecessary.
"There are a number of places to make sure that we have it right with the right defendants," said Baltimore County State's Attorney Scott Shellenberger. "A lot of things have happened. We've made a lot of progress."
Shellenberger says the legislature's progressive stance on exoneration means that action on behalf of the state's prosecutors is redundant.
"I don't know how much farther we have to go," Shellenberger said. "We got a lot of laws."
Former Maryland Attorney General Douglas Gansler says securing an exoneration isn't difficult—there just aren't any innocent people in jail in Maryland.
"It's not hard to get someone exonerated," said Gansler, who held office from 2007 to 2016. "There just aren't people who aren't guilty in jail."
When asked if he thought the state could use more Conviction Review Units like Baltimore City's, Gansler said Maryland doesn't need them.
"Every case that should be reviewed is reviewed," Gansler said. "There's no question of actual innocence."
The legislature is "skewed" to favor defendants, meaning that those accused are afforded so many protections that they are rarely—if ever—wrongfully convicted, Gansler said.
"There are just very, very, very innocent few people sitting in jail in Maryland," Gansler said. "There is nothing a lawyer would rather do than defend an actually innocent person, they are just extremely far and in-between."
Time for change
Looking back on that October night, Burgess says he bears no regret in remaining at the scene of the crime. If he hadn't, Dyson's young children would have discovered her body instead of him, he said.
"I slept well (in jail) every night because I did the right thing, even though it got me in a situation I had to endure," Burgess said. "Had I left, they would've had to have seen what I saw—and I wouldn't wish that on anybody.
"But that doesn't make what happened to me right."
D.C. Beauty Has Ties to Prince George's County

By Press Officer
mgmt@JasminerJones.com
Washington, D.C.—When Deshauna Barber of the District of Columbia won Miss USA 2016, the next to accept the Miss District of Columbia USA 2016 title was Jasmine Jones, who grew up in Upper Marlboro. She attended Shadyside Elementary French Immersion School and James Madison Middle French Immersion School. She is a 2007 graduate of Frederick Douglass High School, where she was a National Honor Society scholar, dance captain, and Class President. She is listed in Who's Who Among High School Students and the National Society of High School Scholars.
Before becoming Miss District of Columbia USA, Jasmine Jones demonstrated a sincere commitment to the community. She continues to promote literacy programs at elementary schools, donate to Special Olympics D.C., and collect soap and socks for the homeless. She also serves as a literacy club volunteer at Langley Residential Services, a non-profit that supports that quality of life of adults with intellectual disabilities. She plans to promote causes that impact both children and adults with intellectual disabilities and other developmental conditions during her term of service.
She serves as Goodwill Ambassador to the Republic of Sierra Leone and lends her French fluency to organizations as a translator and recently returned from France. She plans to earn her Master's in Business Administration degree in Paris.
Jasmine Jones and Miss USA Deshauna Barber are very good friends. According to Jasmine, "If you would have told me two years ago, when I began competing to represent D.C., that I would be crowned Miss District of Columbia USA while surrounded by my closest family and friends, sashed by Miss D.C Teen USA and crowned by Miss USA, my personal friend Deshauna Barber, I may not have believed you. I know that God answers prayers and fulfills promises in ways that are bigger than one could ever ask or think."
Economic Development Corporation Building Relationships to Build Ports in Liberia
"We're Bringing Jobs and Investments to Our 'Cousins' in Liberia," Says Coleman
By Lori C. Valentine
PGCEDC
Largo, MD—On October 12, the Prince George's County Economic Development Corporation (EDC) hosted a delegation of ten government and business leaders from Liberia who are looking to share investment opportunities with Prince George's County, specifically their vast port system. EDC President and CEO Jim Coleman and his executive team, along with EDC Board Member Eric Henderson, and local business moguls shared their insight regarding U.S. investment and trade in Africa. Through passionate dialogue, it became apparent that a partnership between Prince George's County and the Port Authority of Liberia will have very fruitful returns for both sides.
"I have a personal interest in helping to make Liberia's economy thrive," said Coleman. "When I learned of my family's direct connection to the very foundation of Liberia, I knew that there would be no better time for us to leverage our relationships and resources to find investment opportunities that will create jobs and rebuild a flourishing business environment in this port community. Today's discussion has helped us cross a bridge to bring my 'cousins' together with the resources we have in Prince George's County and in the United States."
Members of the delegation included Gabriel Williams from the Embassy of Liberia, Gerald F.B. Cooper, Planning Chair with Marylanders for Progress (Liberia) Inc., the Honorable John G. Bestman, Chair of the Board of the Liberia National Port Authority and David Williams, Managing Director of the National Port Authority of Liberia. Mr. Williams provided a detailed overview of the port system in Liberia and its value proposition for redevelopment.
"We are delighted to have been a part of today's briefing as we discussed how we can create a linkage between the Prince George's County Economic Development Corporation and the Port Authority of Liberia," said Williams. "This is an exciting time for Liberia as a result of the renaissance that has taken place in the country as a whole, but in particular the ports. We had a very interactive discussion about the port systems and how we can go about getting capital for some of the projects. We hope to establish a committee to have further discussions about collaborations that we intend to pursue. We are very glad to be here and express our gratitude to Mr. Jim Coleman and the entire EDC Team."
Members of the delegation were extremely interested in how the County and the U.S. can utilize its vast resources to bring foreign investors and better opportunities with key business owners to redevelop and diversify the ports of Liberia. During their lively discussion, EDC Board member Eric Henderson suggested that the group formally adopt a memorandum of understanding that specifically identifies the most profitable investment opportunities in Liberia. With this document in hand, the EDC will be able to share Liberia's value proposition in tandem with local investment opportunities.
"I'm excited to be here to promote the interest of the Sister/State agreement with Liberia," said Morris Koffa, Co-Chair of the Maryland Liberia Sister State Committee. "I think the discussion we had today was quite interesting and something that we can build on for the future. We hope to move forward with this program and shape other relationships with the help of the EDC. Together we can form a greater community for Prince George's County and Liberia."
The Sister State agreement was established in 2007 between Liberia and the State of Maryland to further enhance cultural and historic understanding and cooperation, and to promote international trade between the USA and Liberia. The MOU that will be created as a result of today's discussions will complement the Sister State agreement by stimulating the port economy and enhancing the quality of Liberia's imports.
Cal Ripken, Sr. Foundation and New York Life's Greater Washington Office Host Clean-Up Day at Langley Park Boys & Girls Club
More Than 100 Volunteers Participate in Clean-Up Day, Youth Sports Clinic and Equipment Donation
By Press Officer
Maroonpr.com
Hyattsville, MD—The Cal Ripken, Sr. Foundation (CRSF), New York Life's Greater Washington Office, the Home Depot Foundation and Aaron's, along with more than 100 volunteers, yesterday participated in a Clean-Up Day at the Langley Park Boys & Girls Club. The volunteer crew
provided the facility with outdoor landscaping, gymnasium enhancements, computer work stations, installation of a new TV, computer and printer, as well as new furniture, windows, lighting and plumbing throughout the club.
"Thanks to a team effort, kids in the Langley Park area now have a facility they can be proud of and where they can continue to play, learn and grow in a positive environment," said Steve Salem, president of the Cal Ripken, Sr. Foundation. "Because of dedicated partners and volunteers in New York Life, the Home Depot Foundation and Aaron's, we can continue to make a difference for our youth and inspire them to be catalysts for change within their respective communities."
The Clean-Up Day included guest speakers Ed Nemec and Scott Caggiano, Managing Partners, New York Life's Baltimore General Office; Tim Bauer, College Park Home Depot Store Manager, Aaron's; and Steve Salem, President, Cal Ripken, Sr. Foundation.
The refurbishments were made possible thanks to donations from The Home Depot Foundation and Aaron's. Following the Clean-Up, local youth participated in a sports skills clinic and received an equipment donation courtesy of BSN Sports and the Cal Ripken, Sr. Foundation.
"We are excited to be partnering with the Cal Ripken, Sr. Foundation once again to dedicate a day toward improving a space that impacts kids within our local communities," said Nemec.
To date, the Ripken Foundation has completed 60 multipurpose, synthetic turf Youth Development Parks in 16 states, including 13 throughout the Maryland-Washington D.C. region. Additionally, the Ripken Foundation continues to reshape the relationship between law enforcement and youth in Baltimore communities through its Badges for Baseball juvenile crime prevention program.
About the Cal Ripken, Sr. Foundation (CRSF)
For the last 15 years, the Cal Ripken, Sr. Foundation has worked tirelessly to implement youth development programs that directly address the problems facing at-risk youth in distressed circumstances across the country. Inspired by one of the most iconic baseball families, the Ripkens created the Cal Ripken, Sr. Foundation to honor the legacy of its family patriarch, longtime coach, and mentor, Cal Ripken, Sr. The Ripken Foundation use sports-themed programs to bring police officers, youth partners and underserved kids ages 8 to 14 together on a level playing field to learn invaluable life skills.
In addition, the Ripken Foundation's Youth Development Park Initiative creates clean, safe places for kids to play on multi-purpose, synthetic surface fields that promote healthy living in an outdoor recreational facility. In just five years, the Ripken Foundation has 60 completed parks across the country, impacting over 235,000 kids annually. In 2015, the Ripken Foundation impacted over 1 million kids nationwide through its Youth Development Parks and mentor programs.
About New York Life
New York Life Insurance Company, a Fortune 100 company founded in 1845, is the largest mutual life insurance company in the United States* and one of the largest life insurers in the world. New York Life has the highest possible financial strength ratings currently awarded to any life insurer from all four of the major credit rating agencies: A.M. Best (A++), Fitch (AAA), Moody's Investors Service (Aaa), Standard & Poor's (AA+). Headquartered in New York City, New York Life's family of companies offers life insurance, retirement income, investments and long-term care insurance. New York Life Investments provides institutional asset management. Other New York Life affiliates provide an array of securities products and services, as well as retail mutual funds. Please visit New York Life's website at www.newyorklife.com for more information.
William Doerner Appointed, A. Shuanise Washington
Reappointed to PG County Planning Board
By Press Officer
MNCPPC
Upper Marlboro, MD—On Tuesday, November 1, the Prince George's County Council unanimously confirmed the nomination by County Executive Rushern L. Baker, III of William M. Doerner, Ph.D. for appointment and A. Shuanise Washington for reappointment as members of the Prince George's County Planning Board and The Maryland-National Capital Park and Planning Commission (M-NCPPC).
Commissioner Will Doerner brings a combination of practical and academic experiences in local planning issues to the Commission. He has served for the past two years on the Hyattsville Planning Committee and has worked in property appraisal and valuation for both state and county agencies in Florida. While earning his doctoral degree, he designed and taught classes on housing markets and land use regulations. Currently, he works at the Federal Housing Finance Agency (FHFA) where one of his main responsibilities is to produce nationwide house price measures; he also conducts applied research to help inform policy decision-making in housing finance. Dr. Doerner has published over a dozen articles in academic journals on a range of topics like finance, housing, property taxation, and policy, and has presented at a number of national and regional conferences. He earned a Ph.D. and M.S. in Economics from Florida State University, and a B.S. in Mathematics-Economics and Urban Studies from Furman University. He was also a Rotary Ambassadorial Scholar in Guatemala, and is fluent in Spanish. Commissioner Doerner was appointed to fill the unexpired term of former Commissioner John Shoaff.
Commissioner A. Shuanise Washington is the president and chief executive officer of the Congressional Black Caucus Foundation, Inc. (CBCF) where she oversees CBCF's public policy, research, educational and fund raising initiatives, including the Annual Legislative Conference (ALC). She previously served as a member and Chairwoman of the Foundation's Board of Directors and Corporate Advisory Council. Prior to her appointment as president of CBCF, she served as Principal of Washington Solutions, LLC, a provider of management consulting services for small, medium and large businesses, governments, and non-profit organizations—an organization she founded after retiring from a distinguished career in corporate America. During that career she served as Vice President, Government Affairs Policy & Outreach and Vice
President, External Affairs, for Altria Corporate Services, and District Director, State Government Affairs for Philip Morris Management Corp. Commissioner Washington holds a B.S. degree in humanities and social sciences from the University of South Carolina, and a Cognate in mathematics. In addition to the numerous charitable efforts she undertakes, Ms. Washington is past chair of the board for the National Coalition on Black Civic Participation and is a member of The Future PAC, the Community Foundation Prince George's County and The Links, Incorporated. She has received numerous awards and has been featured in various national and local publications.
To learn more about the Prince George's County Planning Board visit www.pgplanning.org/Planning_Board.