August 27 - September 2, 2015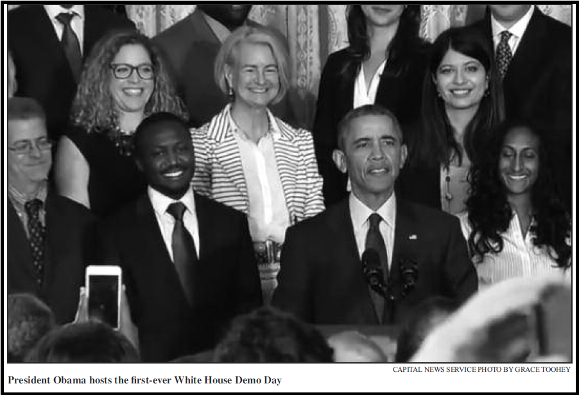 The Next Big Idea: Supporting Startups Across America
By Diana Doukas
Director of the White House Business Council
Whether it's a garage, a basement, a dorm room, or—if you're like me—a kitchen, a great idea can ignite just about anywhere. In America, those small sparks of innovation have defined who we are as people—creators, risk-takers, and boundary-breakers who know our unwavering commitment to a single dream can significantly reshape our reality.
In America, anyone with a good idea can grow into a successful entrepreneur. And it's so important that they do, because it is their small businesses that create jobs and drive our economy. However, when it comes to starting a business in America, we are currently ranked 46th in the world. It's time to change that.
Today, high-growth companies across the country are connecting with their Members of Congress in the third annual Startup Day Across America.
This event, championed by Congressman Jared Polis of Colorado, gives Members and entrepreneurs a chance to discuss the challenges small businesses face, and to identify ways that Congress can support the startup economy.
Startup Day shows that both ends of Pennsylvania Avenue understand the importance of innovation and entrepreneurship to the country's economy. President Obama has made supporting entrepreneurship a top priority—and under his leadership, we've worked to make sure every American innovator has the chance to get good ideas off the ground.
Earlier this month, we hosted the first-ever White House Demo Day, part of the President's Startup America initiative to celebrate, inspire, and accelerate high-growth entrepreneurship. The President welcomed dozens of startups from around the country to share their stories, showcasing the full breadth of the country's entrepreneurial talent.
The theme for Demo Day was Inclusive Entrepreneurship, working to make sure all talent in our country has access to the entrepreneurial ecosystem—an ecosystem that is the envy of the world. Today many women, people of color or those not in certain metro areas do not have access to the same growth capital and other important resources to support their startup to scale. Some people are not encouraged to start business or join in the startup economy.
As part of working to expand access for all entrepreneurial Americans, we announced specific new commitments on Demo Day, from 40 leading venture capital firms, over a dozen major technology companies, and more than a hundred deans of engineering schools, to promote diversity throughout the entrepreneurial ecosystem. We announced or extended programs from the Departments of Commerce, Energy, and Health and Human Services that support startup companies around the country.
We also announced grant winners in two new Small Business Administration programs: "Startup in a Day," and the Growth Accelerator Fund. Both programs are designed to spark inclusive entrepreneurship across the country, especially outside traditional centers for venture capital.
Startup In a Day has a simple goal: Help entrepreneurs find, understand, and apply to meet the requirements for starting a business—in less than one day. The SBA is partnering with 25 cities and two Native American communities to develop online tools that consolidate startup information and streamline permitting processes. Every community involved has pledged to share best practices through the National League of Cities, so cities and towns across the country can help their own entrepreneurs get off the ground more quickly.
The Growth Accelerator Fund supports "accelerator" organizations, which help startups obtain the capital, mentorship, and institutional support they need to grow. Through this fund, the SBA will provide selected accelerators $4 million to expand their efforts, helping more founders and small businesses get good ideas moving.
But our work to support entrepreneurs and small businesses isn't done. Updating our trade policy is another lever we can pull to help jumpstart American entrepreneurs. Here's why: 95 percent of the world's customers live outside the U.S. And when we compete for those customers on a level playing field, our innovators and small businesses are the far and away winners.
That's why President Obama is working to secure the Trans-Pacific Partnership—a high-standard, progressive trade agreement that can help level that playing field, open new markets, and set strong rules of the road that protect American businesses, workers, and values at home and abroad.
Entrepreneurship is more important than ever to the future health of the country's economy. President Obama will continue to work with Members of Congress like those celebrating Startup Day Across America today to give every American entrepreneur the opportunity to be a part of the country's success—because the next big idea can come from anywhere.
IAFC "Safety Officer of the Year" - PGFD Battalion Chief Sayshan L. Conver-White
By Press Officer
PG County Fire/EMS
The Prince George's County Fire/Emergency Medical Services (EMS) Department is proud to announce that one of our members has been selected by the International Associations of Fire Chiefs to receive one the organization's top awards.
Battalion Chief Sayshan L. Conver-White will be presented with the "Safety Officer of the Year Award," at the IAFC's annual convention, Fire-Rescue International (FRI). The event will be held in Atlanta, Georgia, August 26 -29.
Assistant Fire Chief Erroll George, Manager of the Department's Safety and Risk Management Office, nominated Conver-White for this prestigious award.
In his nomination letter, Chief George stated,
In 2007, Sayshan became the Department's first on duty Safety Officer. Her passion for firefighter safety led the Department to establish an Operational Safety office that now includes both a career and volunteer safety officers around the clock. Sayshan developed a safety program incorporating the National Fallen Firefighters Foundation's (NFFF) 16 Life Safety Initiatives, which are now incorporated into nearly every phase of our daily operations. This program has been viewed by surrounding jurisdictions as a model for their Safety programs.
She has developed a Departmental Safety Officer training program to ensure a succession plan for the Operational Safety office. She also initiated use of the Near Miss program to members of the Department. Several incidents have been submitted to improve firefighter safety nationwide. Her passion for firefighter safety has dramatically changed the safety culture within the Department. In fact, since 2013, the number of firefighter injuries has been reduced by 16 percent.
Sayshan's passion for firefighter safety goes far beyond her own Department. She chaired the Washington Metropolitan Council of Governments (COG) Safety and Health Committee from 2008-2015, and co-chaired the Maryland Emergency Services Life Safety Task Force from 2011-2015. Through these leadership roles, she coordinated and taught at numerous safety conferences throughout the state, to include COG's Arrive Alive and Survive; Mid-Atlantic Life Safety Conference; and MFRI's Learning from the Past, Improving the Future seminar. She attended the NFFF's Safety/Training Officer's National Summit in Philadelphia, Pennsylvania.
Sayshan has been requested to be an intimate part of safety investigation teams throughout the region, including but not limited to:
57th Avenue House Fire—Prince George

'

s County
Truck 411 accident—
Fairfax County
Ladder training accident—Fairfax County
Sayshan's passion for firefighter safety has also impacted her personal training regimen. Over the years she has attained the following national certifications: Fire Officer IV, Fire Service Instructor III, Health and Safety Officer, Incident Safety Officer, and FDSOA certification (2007, 2008). She continually attends various safety-related training classes and seminars. Sayshan obtained her Associate's Degree in Fire Science Technology from College of Southern Maryland (2009) and her Bachelor's Degree in Emergency Management from University of Maryland University College 2015. She graduated Suma Cum Laude.
Upon hearing that Sayshan was selected to receive this prestigious award, Fire Chief Marc Bashoor stated, "Battalion Fire Chief Conver-White is an exceptional member of our Department. She is driven to be the very best she can be in the performance of her job as Safety Officer. Her well researched and through safety investigations reports have highlighted improvements that not only benefit Prince George's County but firefighters across the globe. Congratulations on a well-deserved award.
Rushern L. Baker, III Announces Increase in County Jobs and Employment Numbers
First Major Increase in Total Jobs Since 2003
By Press Officer
PG County Government
Upper Marlboro, MD—August 18, 2015, Prince George's County Executive Rushern L. Baker, III was joined by David Iannucci, Assistant Deputy Chief Administrative Officer for Economic Development and Public Infrastructure, Jim Coleman, President and CEO, Prince George's County Economic Development Corporation, and Desiree Callender, President of the Prince George's County Association of REALTORS, Inc. at "Downtown Largo's" newest residential development - Tapestry Largo Station - to announce the first major increase in County based jobs and employment numbers in over a decade. Since July 2011, Prince George's County has seen an increase of over 4,600 jobs and reduction of the County's unemployment rate by 25%. This year's job growth is the highest increase for Prince George's County since 2003.
To read the economic progress charts, please click here. Please click to view photos or video of this event.
"When I took over as Prince George's County Executive in 2010, the County, like many places throughout the nation, was in an economic free fall of job losses," said Prince George's County Executive Rushern Baker, III. "I want to thank my outstanding economic development team and the resilient business community of Prince George's County for creating over $7 billion dollars in economic development in our pipeline while retaining and expanding County based businesses and attracting new companies to Prince George's County."
The Baker Administration has been focused on expanding the commercial tax base through efforts like the creation of the $50 million Economic Development Incentive Fund, streamlining the permitting process with the creation of the Department of Permitting, Inspections and Enforcement (DPIE), focusing on strategic transit oriented development (TOD), and marketing and rebranding the County's image. The positive growth in jobs is a reflection that the County's improved services to business, ethical reform, as well as public safety and education improvements, are making a difference.
"The most important number to focus on is the 5,274 jobs that we increased between the fourth quarter of 2013 and the fourth quarter of 2014 - which represents the most recent measured job growth for the County and what we have been waiting for," said David Iannucci, Assistant Deputy Chief Administrative Officer for Economic Development and Public Infrastructure. "Jobs are such an important indicator for the County. In addition, investors look at these important indicators to make key business decisions in areas that are a proven and successful market. The economy of this County is moving in the right direction."
To continue this progress, the Prince George's County's Economic Development Corporation (EDC) has recently launched several initiatives to continue to retain current County businesses and attract new companies to the County. The EDC "We Care Blitz" is a business retention initiative that focuses on addressing the immediate needs of the business community and letting them know what services are available to enhance businesses in Prince George's County. Another initiative focuses on the international business community. Prince George's International! will create a one stop shop for international businesses, their clients and for residents to find resources to support and attract global commerce through Prince George's County.
"County Executive Baker is doing an outstanding job of taking Prince George's County to the next level," said EDC President Jim Coleman. "EDC is operating with a fierce sense of urgency to see that these key indicators continue to move in a positive direction. Our office stands committed to taking care of the needs of our existing businesses, attracting those businesses who are looking for more out of their current markets, and ensuring all of our residents are gainfully employed in well paying, family sustaining jobs."
Additionally, Prince George's County has seen nearly a 50% increase in the median sales price of homes and a 10% increase in the amount of housing sales, while the average amount of days a house is on the market in Prince George's County has been cut in half. Throughout Prince George's County, homebuyers are discovering unique and diverse neighborhoods in every part of the County.
"Overall, our housing market here in Prince George's is strong and surging forward," said Desiree Callender, President of the Prince George's County Association of REALTORS, Inc. "If you're a property owner in Prince George's County, rest assured, you've made a wise investment. When you drill down to specific markets you really see how "HOT" we truly are. In a year-to-date comparison of the first 7 months of 2014 to the first 7 months of 2015, Greenbelt is leading in recovery with a 33.9% increase in appreciation. Hyattsville follows at 23.8%, Oxon Hill at 20.5% and Capitol Heights/Fairmount Heights at 18.5%. These are fantastic numbers representing a diversity of communities throughout Prince George's County."
What's New in PGCPS For the 2015-2016 School Year
By Press Officer
PGCPS
UPPER MARLBORO, MD—Prince George's County Public Schools (PGCPS) students and their families will see a number of new initiatives and changes when they return to school in August.
Start Date and
Systemic Orientation
PGCPS will kick off the school year with a system-wide orientation day on Monday, August 24, for students entering prekindergarten and kindergarten, middle, and high school. For details, check with your child's school. The first day of school for all students is Tuesday, August 25. To view the 2015-2016 School Calendar, Visit http://www1.pgcps.org/calendar/.
New Prices for School Meals
To address the growing costs of providing school meals, the Department of Food and Nutrition Services will now charge $1.60 for full-price breakfast, $0.30 for reduced-price breakfast, $2.75 for full-price lunch, and $0.40 for reduced-price lunch for elementary students. Meals for middle and high school students is $1.60 for full-price breakfast, $0.30 for reduced-price breakfast, $3.00 for full-price lunch, and $0.40 for reduced-price lunch. For more information on school meals, including online pre-payment through MySchoolBucks, visit the website http://www1.pgcps.org/foodandnutrition/.
New Immunization Requirements
The Maryland Department of Health and Mental Hygiene made two changes last year that impacts state-required immunizations for students for the 2015-2016 school year. In addition to the existing school immunization requirements, all students entering kindergarten and Grade 1 must have had two varicella (chicken pox) vaccinations, and all students entering Grade 7 and 8 must have had one Tdap (tetanus, diphtheria and pertussis) vaccination and one meningococcal (meningitis) vaccination. This change primarily impacts students coming from a country outside of the United States. A child has up to 20 days from the start of school to show proof of vaccinations or that they have started a plan to get the missing immunizations. For more information and a complete list of required immunizations, the website at http://www1.pgcps.org/hpsi/index.aspx?id=197668.
Two New International High Schools
Two new International High Schools will open this fall, one within Largo High School in Upper Marlboro and another at Annapolis Road Academy in Bladensburg. The schools are based on a highly successful model developed by the Internationals Network for Public Schools. They are designed to raise achievement and meet the needs of English Language Learners (ELLS). Alison Hanks-Sloan is principal of the International School at Largo High School and Carlos Beato will serve in the same role for the school at Annapolis Road Academy. For more information, visit http://www1.pgcps.org/communications/press.aspx?id=211583.
New Names for French Immersion Schools
John Hanson French Immersion has changed its name to Maya Angelou French Immersion, and Robert Goddard French Immersion has changed its name to Dora Kennedy French Immersion. Both schools were previously named after the buildings they were housed in. Since the schools have moved out of these locations, the school community proposed new names, which the Prince George's County Board of Education approved.
New Athletic Facilities and Playgrounds
Through the school system's Capital Improvement Program (CIP), ten high schools will see new improvements for students to take part in athletic events this fall. Dr. Henry A. Wise and Gwynn Park will have new turf fields and stadium lighting; Charles Herbert Flowers, DuVal, Frederick Douglass, and Northwestern will have new rubberized running tracks; Frederick Douglass, Parkdale, and Suitland will have new tennis courts; and Potomac will have new stadium bleachers. Additionally, students in 40 elementary schools and Early Childhood Centers will see new playground sets when they return to school. To view the latest information on CIP projects, visit http://www1.pgcps.org/cip/.
New Entrances for Elementary Schools and Early Childhood Centers
Five elementary schools—Baden, James H. Harrison, Kenilworth, Paint Branch, and Rockledge—will have an updated look to their entrances when students and families return to school this year. Chapel Forge and H. Winship Wheatley early childhood centers will also sport new entrances, as part of the PGCPS Capital Improvement Program (CIP). To find out what other projects are planned for PGCPS schools, go to http://www1.pgcps.org/cip/
Laurel History & STEM Combine in Diven's Den
New Exhibit Space Opens August 30
By press officer
Laurel Historical Society
Laurel, Maryland…Explore, Create, Play. That's the mantra of the newly redesigned Diven's Den at the Laurel Museum. The new exhibit space in the museum's lower level encourages visitors to explore Laurel's mill history, while incorporating STEM (science, technology, engineering and math) principles. It opens to the public August 30 with a reception from 1:30-3:30.
Different areas of Diven's Den are dedicated to mill life, home life, and how the mill itself functioned. Each section has hands-on activities intended to bring visitors together as they Explore, Create and Play.
Sections of the exhibit incorporate simple machines. Simple machines are things which use one thing to accomplish something faster or better. There are six basic simple machines: the lever, the wheel and axle, the inclined plane, the wedge, the pulley, and the screw. Many of these were part of the mill world, and mill life.
In the exhibit's mill section, gears, (wheel and axle) and pulleys, reveal how parts of the cotton mill operated. Visitors can explore how these and other simple tools work, and how they could be used to power a mill. They can also create their own Rube Goldberg –a complex creation that incorporates several simple machines
The home life section asks visitors to identify herbs and spices by scent and provides a space for free play using historic objects and reproductions. Dressing in the museum's historic costumes is encouraged, but not required!
In the general life section, visitors can create their own clothespin dolls, potholders, and more; just as mill workers would have in years past. Interactive cubes that draw all of the areas together are available to play with, encouraging visitors to explore the space and find historic objects that had unique uses and are examples of simple machines.
Each section, while incorporating STEM principles in historic interpretation, is designed to also to encourage visitors to explore, create, and play.. The history and activities engage visitors of all ages, but children especially will find Diven's Den a fun place to discover both history and its connection to science, technology, engineering and math.
"Our hope is that Diven's Den is a space where visitors can learn together, taking the time to create new experiences in our museum. Piloting efforts have shown that families will return and stay in Diven's Den exploring, creating, and playing. This is exactly our goal and we hope to share the experience with even more of Laurel," stated Laurel Historical Society Executive Director Lindsey Baker.
Laurel, Maryland was Prince George's County's only factory town. The Laurel Museum is located in a former 1840s Mill Workers house and adjoins the site of the former Laurel Cotton Mill. Diven's Den is located in what once held two mill worker kitchens in the building's lower level, and elements of its former function are incorporated into the exhibit.
Diven's Den was first created as a space for children's activities in the Laurel Museum in 2009. Over time it has undergone several modifications, each attempting to engage younger visitors in a new way. The most recent alterations incorporate STEM principles and history for a multi-generational audience. The name "Diven" reflects the space's mascot: a cast iron dog nutcracker nicknamed "Diven" after the Laurel foundry operator that produced the dog locally. The cast iron dog nutcracker is a treasured artifact in the Laurel Museum's collection.
Funding for Diven's Den was made possible in part through funding provided by the Maryland-National Capital Park and Planning Commission, Department of Parks and Recreation, Prince George's County, and a bequest in memory of R. Travis Hill and Grace W. Hill.
The Laurel Museum is located at 817 Main Street, Laurel, Maryland. Admission is free. The current exhibit, "Ripped from the Headlines: Laurel in the News" runs through December 21, 2015. The Laurel Museum is open Wednesdays and Fridays 10-2, Sundays 1-4. Group tours by appointment. The John Calder Brennan research library, which includes newly digitized copies of The Laurel Leader from 1897-2008 is open by appointment Monday-Friday. The Laurel Museum is located at 817 Main Street, Laurel, Md. Contact info@laurelhistoricalsociety.org or visit www.laurelhistoricalsociety.org