April 20 - April 26, 2017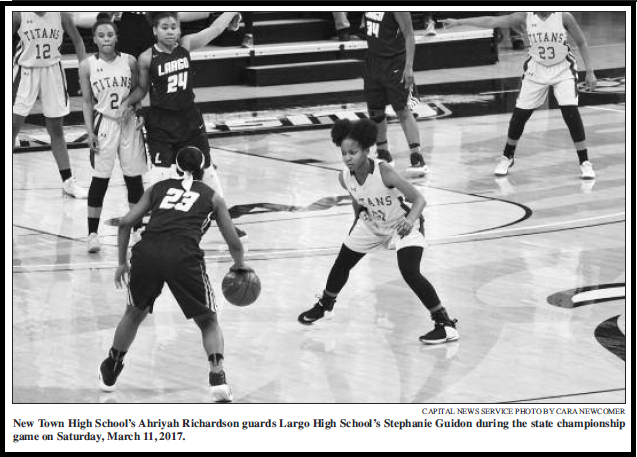 New Town High Wins Division 2A Girls' Basketball State Championship
By Cara Newcomer
Capital News Service
TOWSON, MD—New Town High School girls' basketball team beat Largo High School's team 61-47 on Saturday in what senior New Town guard Maraiyah Smith called a "revenge game."
The Baltimore County team's motto this year was to "anticipate, devastate and dominate," according to New Town first-year head coach Richard Hibbert.
The game at Towson University's SECU Arena started off slowly for the Prince George's County team, the defending champs. New Town forward Khariah Kosh scored the first five points within the first two minutes of the game to take the lead in the first quarter.
The New Town Titans maintained that lead over the Largo Lions throughout the game.
Hibbert said the game plan—to come out strong with defense—worked.
"(Largo's team) looked like they were confused on what to do and that was our game plan," Hibbert said after the win. "We go through so many different types of defenses throughout the year and (the team) finally bought into believing that defenses win championships."
With Largo down 11-0 with 2:47 left in the first quarter, Stephanie Guidon made the first shot for Largo off a foul. Largo's Brianna Jones followed up a minute later to score a layup.
Largo head coach Ayana Ball-Ward acknowledged the hole the team got into during the first quarter and attributed it to championship game jitters. "We worked hard to dig ourselves out of that hole," she said.
At the end of the first quarter, New Town led Largo 15-3.
Guidon said her failed attempts at attacking the board were frustrating, but her team kept encouraging her.
"My teammates have my back," Guidon said after the game. "They just kept telling to keep attacking and do what I had to do … When you have teammates that rally around you it makes it easier to keep going."
With six minutes left in the first half, Largo's Jocelyn Manning fouled Kosh, drawing boos from the Largo crowd that was looking for a travel call.
Towards the end of the first half, the referee called a technical foul on Largo, allowing New Town to score one point. "I asked the referee to watch No. 12 pushing off," Ball-Ward explained after the game. "I don't think that warranted a tech. It was just a question."
Early in the third quarter, New Town forward Ahriyah Richardson hurt her ankle and was out for the rest of the game. Amaya Webb stepped up to replace Richardson and did exactly what she needed to do, according to Hibbert.
Throughout the third quarter, New Town held its lead, drawing fouls and scoring off of steals, maintaining momentum into the fourth quarter to win the game.
"It was a tough game to have to sit and watch," Ball-Ward said. "They played the game plan to a tee, but it just didn't fall our way."
Smith said the team made sure to play quarter by quarter and it felt really good to win. "We knew we had to come out and want it more than they did," Smith said.
To celebrate, New Town planned to go to Sky Zone, according to Hibbert.
"My name is Rich and they think I'm rich," Hibbert said jokingly. Hibbert said if that's where the team wanted to celebrate, he would happily treat them.
"I would say Disney World, but I don't have that type of money yet," he said laughing.
Ridgecrest Elementary School Educator Named Teacher of the Year
By Press Officer
PGCPS
UPPER MARLBORO, MD—Carolyn Marzke, fifth-grade reading, writing and social studies teacher at Ridgecrest Elementary, has been named the 2017 Prince George's County Teacher of the Year. The announcement was made during the school system's annual Teacher of the Year Celebration at Martin's Crosswinds in Greenbelt.
Marzke has spent more than ten years serving students at Ridgecrest, located in the town of Hyattsville, Maryland.
"With a systemic focus on literacy, it is entirely fitting that Mrs. Marzke has been selected as this year's Teacher of the Year," said Dr. Kevin M. Maxwell, Chief Executive Officer. "Early literacy is key to ensuring that students graduate well-prepared for college and careers."
Marzke was nominated by her peers not only for her outstanding skills, but for her passion for teaching, championship of students, and mentorship of colleagues. She has taken on many leadership roles, including Grade Level Chair, Professional Development Lead Teacher and member of the school management team.
"Carolyn Marzke embodies the notion of both 'outstanding' and 'teacher,'" said Denise Dunn, principal of Ridgecrest. "She instills in her students an intense desire to learn and achieve at a high level, and assists other teachers to grow in their field by modeling lessons and engaging staff in discussions around best practices."
Always striving towards excellence, Marzke was recognized as a PGCPS Outstanding Employee in 2016. Currently, she is working towards National Board Certification, a multi-year process for earning the highest—and most respected—level of certification for teachers.
Marzke has a Master's Degree in Public Policy from the University of California at Berkeley and a Bachelor's Degree in Human Biology from Stanford University.
She will compete statewide with representatives from all 24 counties for the title of 2016-2017 Maryland Teacher of the Year, coordinated by the Maryland State Department of Education (MSDE). The winner will be announced in the fall and represent Maryland in the national competition.
Deerfield Run Elementary special education teacher Emily Freeman was runner-up for the award; Karuna Skariah from Robert Goddard Montessori and Cheryl Strong from Judith P. Hoyer Montessori were finalists. The following educators were also nominees for Prince George's County Teacher of the Year:
• Latia American,
Montessori Teacher, Judith P. Hoyer Montessori
• Patricia Conroy,
Special Education Teacher, Woodmore Elementary
• Jennifer Findlater,
Science Teacher, Benjamin Tasker Middle School
• Devon Lucas, Reading and Science Teacher,
Woodmore Elementary
• Toby Rossell,
English Teacher, Bladensburg High School
Vice Chair Welcomes Whole Foods Market to Riverdale Park in District 3
By Press Officer
PG County Council
Upper Marlboro, MD—Prince George's County Council Vice Chair Dannielle Glaros (D) – District 3, joined Whole Foods Market officials and County residents to celebrate the grand opening of Prince George's County's first Whole Foods Market during a traditional "bread-breaking" ceremony today, April 12, 2017.
Vice Chair Glaros, who biked to the ceremony from her home in Riverdale Park, says this is an exciting time for Prince George's County and District 3.
"This grocery store has been anticipated for a long time and I am glad that today the doors are open" said Vice Chair Glaros. "Getting to this point was not an easy process, and we had some spirited debate along the way, but I am confident that Whole Foods Riverdale will serve as a wonderful community partner and send a clear regional message that Prince George's County is the place to be."
Whole Foods Market Riverdale, located at 6621 Baltimore Avenue (Route 1) in Riverdale Park Station, includes among many features a self-serve fresh brewed coffee and espresso, cold fresh juice on tap, and a custom superfruit acai bowl bar.
The store is part of a larger mixed use project that will see additional retail open throughout the year, including Burton's Grill, Old Line Bank, and District Taco. Additional road, bike, and pedestrian connections will also open including a much anticipated new bridge to connect neighborhoods to the growing UMD Discovery District at the College Park Metro, and the missing link to the Trolley Trail, a north/south bike trail which connects riders into D.C.
Vice Chair Glaros also noted the significant impact a Whole Foods Market will have on the local economy.
"Local growers and producers will have an opportunity to feature their products at the new Whole Foods location; more residents will have access to jobs close to home; and Whole Foods customers who may be unfamiliar with the area might enjoy exploring the wonderful amenities offered in Riverdale Park Station and along Baltimore Avenue," adding, "Businesses and residents have a new-found interest in the area and these are these types of things really boost the local economy. I encourage everyone to experience the 'modern-day renaissance' happening in Riverdale and throughout the County."
Residents visiting the Whole Foods are encouraged to take Route One Ride (Bus 17), which will offer free bus service April 12 through April 14 to ease traffic congestion during the first three days of operation.
SAVE THE DATE TO MARCH FOR BABIES
March of Dimes to Hold Biggest Annual Fundraiser to Help Babies Be Born Healthy
By PRESS OFFICER
March of Dimes
UPPER MARLBORO, MD—Thousands of families and local business leaders will join together on April 29th at Watkin's Regional Park for the 2017 March for Babies, the nation's oldest fundraising walk, which helps more babies survive and thrive.
This year's Greater Washington, D.C. Area Ambassador Family is the Shay Baldwin Family. Audrey and Scott Baldwin were excited about becoming parents in 2015 and looking forward to growing their family. But their baby Shay arrived unexpectedly at only 30 weeks, weighing less than 4lbs 5oz pounds. She suffered from underdeveloped lungs, bradycardia, and desaturation and spent her 43 days fighting for life in a hospital Newborn Intensive Care Unit (NICU). Today, Shay is now 2 years old and stronger than ever. The Baldwin family is dedicated to making sure other parents are able to know the joy of a healthy child.
Adam Morman serves in 2017 as the Prince George's County March for Babies chair. "As a father myself, I am delighted to serve in this important role to raise awareness and urgently-needed funds for the March of Dimes mission to prevent birth defects and premature birth."
On-site registration will begins at 8:00AM with the three-mile walk kicking off at 9:00AM. Prince George's County residents can sign up today at marchforbabies.org to start a team with co-workers, family or friends; or make a donation to help more babies get a healthy start in life.
"March for Babies is also a memorable and rewarding event for the whole family," says Jennifer Abell, Senior Development Manager for the March of Dimes. "We celebrate children and parents who experienced the Newborn Intensive Care Unit (NICU) or special care nursery. We'll recognize these families throughout the day with a Superhero Sprint for kids, complete with a purple cape, a symbolic lei for mom and dad and loads of fun in the kids' zone. In addition, we'll be adding to the fun with a live deejay and free breakfast and lunch sponsored by Safeway and Subway."
"This year for the first time, participants will have the opportunity to walk through our Memory Mile and visit our unforgettable March for Babies Memory Garden. Those who have experienced loss will find a meaningful way to remember their baby by planting a flower in our butterfly garden," she says.
Premature birth is the leading cause of death among babies in the United States. It affects about 380,000 babies—that's 1 in 10—born each year, including approximately 8,525 babies in Maryland. Funds raised by March for Babies in Prince George's County support the March of Dimes programs that provide comfort and support for moms and babies as well as innovative research to find the unknown causes of premature birth and birth defects.
The March of Dimes is the leading nonprofit organization for pregnancy and baby health. For more than 75 years, moms and babies have benefited from March of Dimes research, education, vaccines, and breakthroughs. For the latest resources and health information, visit our websites marchofdimes.org and nacersano.org. If you have been affected by prematurity or birth defects, visit our shareyourstory.org community to find comfort and support. For detailed national, state and local perinatal statistics, visit persistats.org. Find us on Facebook, Instagram and Twitter.
The 2017 March for Babies is sponsored nationally by Kmart, Famous Footwear, Macy's, Cigna, and HCA. In our community, March for Babies is sponsored by IAM Machinists Union, Safeway, Subway, and the Washington Informer.
EDC's Thirsty for Business Thursday Spotlights Local Estate Company Being a Part of Local Renaissance

By Lori C. Valentine
PGCEDC
Largo, MD—Last night, the Prince George's County Economic Development Corporation (EDC) celebrated the opening of the Keller Williams Preferred Properties new offices in Largo and highlighted local businesses that are making their passions profitable at its Thirsty (For Business) Thursday (T4BT) networking event. EDC Chief "Excitement" Officer Jim Coleman welcomed more than 100 local businesses to the event and encouraged them to not only network with each other, but to also take advantage of the business support services and workforce development services that the EDC provides to help their businesses to grow. He also congratulated them on being a part of the economic renaissance that is transforming Prince George's County into the economic engine of the State of Maryland.
"Through County Executive Baker's leadership, Prince George's County has created over 10,000 jobs within the last 12 months, housing prices have increased by 14%, the new MGM Casino is bringing 3,600 jobs and we will be breaking ground on the new Regional Medical Center that will bring 1,800 jobs to the County," said Coleman. "There's oil in the ground in Prince George's County and each company that is actively committed to growth through job creation is a vital part of our renaissance. The EDC is pumped up to serve everyone from Keller Williams to the FBI that is interested in cashing in on our great opportunities to make them successful."
Keller Williams Preferred Properties graciously hosted T4BT and provided guided tours of their 15,000 SF facility. Emerick Peace, Operating Partner for Keller Williams commented on how its 400 plus real estate agents enjoy working in Prince George's County and that they are already looking for additional space to expand.
"We love working with the EDC because of all the great work they do helping business owners like myself become the number one real estate company in the region," said Peace. "Our company is 100% black-owned, and all of our owners work and live in PG County. There's no place that we would rather be."
Van Corbin, Managing Partner with Direct Wine Cellars, part of a nationwide premier wine club along with Shavon Campbell, Founder of ISO Essentials, a natural products company that provides handmade shea butter, soap and beard butter products made from high-quality organic ingredients, also participated as sponsors of T4BT.