February 18 - February 24, 2021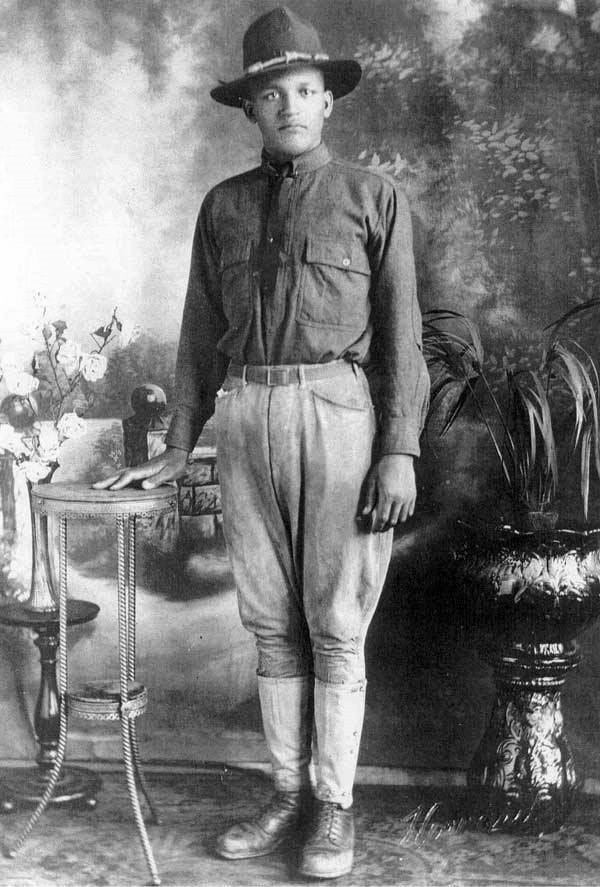 Local Black World War I Veterans Remembered During Black History Month
Four Black Prince George's Residents Included on Peace Cross Memorial
By ANGEL WALDRON
Prince George's County Department of Parks and Recreation
RIVERDALE, Md. (Feb. 9, 2021)—A 40-foot-tall monument standing at the intersections of Bladensburg Road, Baltimore Avenue, and Annapolis Road in Bladensburg, Maryland, serves as a reminder of the 49 residents who died in World War I. This monument, commonly referred to as the Peace Cross, is owned by the Maryland-National Capital Park and Planning Commission, Department of Parks and Recreation in Prince George's County which has embarked on a mission to restore it.
In recognition of Black History Month, the Department is also paying homage to the four African Americans who were among the lives lost in World War I. Their names, etched like the others, are displayed on this structure that was dedicated in 1925 in the town of Bladensburg by Gold Star Mothers and The American Legion.
These four Black men fought in a war during a time when even in their own country, equality didn't exist. They gave their lives in their call of duty to the United States and this historic monument stands in memory of their sacrifice as well as their fellow soldiers. The African Americans highlighted on the Peace Cross are:
• Clarence Butler, (4/14/1890
–10/6/1918), a farmer with his father in Nottingham, Md.
• James Cooper, (3/1/1897–10/5/1918), a farmer in Aquasco, Md.
• John Seaburn, (10/27/1897–10/4/1918), grew up in what is now North Brentwood, Md.
• Benjamin Thompson, (1/11/1894–10/13/1918), was born in Waldorf, Md., and worked for himself as a farmer.
The Peace Cross is now in need of extensive restoration and refurbishment. Department Resource Development Officer, Tracy Wright, stated "Funds are needed to begin this vital endeavor. To address the need, the Department of Parks and Recreation is fundraising to repair the Peace Cross." She continued, "We encourage the community to join us and help support the restoration of this historical monument which honors our fallen Black heroes."
Maryland State Senator Malcolm Augustine stated, "As we honor the African-Americans memorialized on the Bladensburg WWI Memorial, commonly known as the Peace Cross, during Black History month, we have the opportunity to demonstrate our thanks by contributing to the restoration of the Memorial. A worthy tribute to a worthy cause."
Renee Green, Executive Producer of the Save the Peace Cross documentary, stated "Now that we Saved the Peace Cross, we need to restore it and rededicate it as a tribute to the 49 fallen soldiers, including 4 African American men listed on the Peace Cross. Gold Star mothers listed everyone on the Peace Cross alphabetically to promote unity, instead of separating the 4 African American men. Donate today to restore this beloved memorial."
Commander Mike Moore of the Greenbelt American Legion Post 136 expressed strong support for restoring the Peace Cross. "The much-needed resources we are trying to raise will serve to keep alive the memory of those 49 Prince George's County veterans who made the ultimate sacrifice for our nation. In 1919, Gold Star Mothers, in an act of inclusion and equality, chose to list the names on the memorial in alphabetical order without regard to race. As a result, there are four Black Men listed on the Peace Cross. Their service and sacrifice should be especially remembered during the celebration of Black History Month."
The Peace Cross memorial was constructed in 1919 in honor of World War I servicemen who made the ultimate sacrifice for our country. On June 19, 2019, in a landmark decision, the U.S. Supreme Court voted 7-2 to allow a Veteran's memorial cross to continue to stand on public land in Maryland. Over the years, the monument has fallen into disrepair and is in need of maintenance. Help restore this historic landmark and give to a noble cause by donating to the Peace Cross today. Every donation will go directly towards the memorial's restoration. To participate in the campaign, visit www.pgparks.com/4890/Friends-of-the-Parks.
---
Maryland Department of Health Continues Direct Vaccine Outreach to Prince George's County Residents
State Setting aside Priority Appointments for Residents from County's Priority List
By SHAREESE CHURCHILL
Office of the Governor
ANNAPOLIS, Md. (Feb. 11, 2021)—The Maryland Department of Health (MDH), in partnership with Prince George's County leadership, continues to conduct direct outreach to sign up eligible county residents for the Six Flags America mass vaccination site as part of a multi-agency effort to boost vaccination rates in the county.
The state's call center is reaching out to a subset of the pre-registration list provided by Prince George's County officials. Calls to each contact are made at least three times and at different times of day. In addition, contacts received an email informing them that a representative will be in touch to schedule an appointment
To date, this outreach to the county's priority list has led to booking appointments by phone for nearly 900 residents at the Six Flags mass vaccination site. In addition, thousands of county residents have signed up for appointments online. While the Six Flags site is open to all eligible Maryland residents, each week, the state will continue to set aside a tranche of appointments for individuals on the county's priority list.
This is the most recent in a series of actions that the state has taken to support vaccination efforts in Prince George's County:
Last month, the Maryland National Guard deployed its first vaccination support team to the Prince George's County Health Department's clinic.
MDH has assigned 50 volunteers from the Maryland Responds Medical Reserve Corps to the county.
The state prioritized Prince George's County for the retail pharmacy program to expand the availability of vaccines.
The state has launched a public outreach and equity campaign focused on promoting vaccine confidence and tackling vaccine hesitancy.
Governor Hogan has appointed Brigadier General Janeen Birckhead to head up the Maryland Vaccine Equity Task Force, which is also engaging directly with local jurisdictions.
Visit covidlink.maryland.gov for more information on Maryland's response to COVID-19. Vaccine and other coronavirus data are available at coronavirus.maryland.gov.
---
MPT to Air Documentary Tales of Belair at Bowie on February 20
Film presents a rare view of suburbia in early 1960s Prince George's County
By PRESS OFFICER
Maryland Public Television
OWINGS MILLS, Md. (Feb. 11, 2021)—Tales of Belair at Bowie will have its public TV premiere on Maryland Public Television (MPT) at 7 p.m. on Saturday, February 20. The one-hour documentary delivers a whimsical, nostalgic, and thought-provoking look at the 1960s Maryland suburb, which is celebrating its 60th anniversary this year. Belair at Bowie was built by developer William Levitt, widely credited as "The Father of Suburbia."
The film was produced and directed by Jeff Krulik, a Maryland filmmaker and Bowie native. A trailer is available at talesofbelair
atbowie.com/.
Tales of Belair at Bowie will also be available for viewing on MPT's video player at video.mpt.tv/ starting February 21.
Belair at Bowie, in Prince George's County, was one of Maryland's first planned communities. It promised an idyllic suburban middle-class lifestyle. But was this community everything that was originally promised in its sales brochure?
Tales of Belair at Bowie presents firsthand memories and tours of homes from original community residents. It incorporates archival film footage and photos, including ironic commentary on 1960s American suburban life using clips from a West German documentary shot early in the community's development.
The film also takes a more serious look at the racial tensions that turned to protests of Levitt's discriminatory sales practices, as well as the challenges of building a flourishing community in a geographically secluded area.
Krulik has worked as a documentary producer and director for more than 30 years. His films have been screened at the Museum of Modern Art, Lincoln Center, American Film Institute, and on PBS. In 2008, Krulik produced the Emmy Award-winning documentary Eatin' Crabs Chesapeake Style for MPT's Chesapeake Bay Week.
---
Bill Establishes Maryland Police Use of Force Requirements
By JACOB STEINBERG
Capital News Service
COLLEGE PARK, Md. (Feb. 11, 2021)—A bill in the Maryland General Assembly would revise police use of force requirements in the state—part of a growing initiative surrounding police reform nationally.
Conversations surrounding police reform have intensified with the death of George Floyd at the hands of police in Minneapolis, and the police-involved shooting of Jacob Blake in Kenosha, Wisconsin, among others, which sparked protests throughout the nation.
HB0139 and its cross-file, SB0626, sponsored by Del. Debra Davis, D-Charles, and Sen. Jill P. Carter, D-Baltimore, would set prohibitions and limitations on police officers' use of force.
"This basically codifies what citizens should expect during their interactions with police," Davis said at a Tuesday House Judiciary Committee hearing.
"It provides additional measures for the public to hold police who are bad actors accountable," Davis added.
It stipulates that a law enforcement officer would be prohibited from using lethal force against a person unless the lethal force protects the officer or another person from death or serious physical injury, according to a state legislative analysis.
The bill also details that a law enforcement officer is prohibited from using lethal force if there's substantial risk of injury to a third person and all reasonable alternatives haven't been exhausted, according to a state legislative analysis.
"Between 2013 and 2020, 144 people were killed by police in Maryland in at least 16 different counties," Carter said at a Feb. 4 Senate Judicial Proceedings Committee hearing.
"That data highlights that there is a problem despite our best efforts to enhance and encourage better training over many years, there is still a problem when it comes to police use of force," Carter said.
The bill also details limitations and prohibitions on general use of force.
Under current law, a police officer's use of force is defined by objective reasonableness, which means that the officer's actions must be objectively reasonable keeping in mind the facts and circumstances of the situation.
However, under this bill law enforcement officers may only use force if it prevents imminent threat of physical injury to an individual or to effectuate an arrest, according to a state legislative analysis.
When an officer uses force, they must stop once they have gained control and the individual no longer poses an imminent threat.
Under the bill, by July 1, 2022, each local law enforcement agency must include funds in its annual budget for training, while also posting use of force data on its website and updating the information every six months by Dec. 31, 2021, according to a state legislative analysis.
This legislation is one several single-issue bills supported by the ACLU of Maryland, the NAACP Maryland State Conference and other advocacy groups lobbying for police reform within the state.
"There needs to be a foundation for use of force that establishes a piece of accountability," Neill Franklin, a board member of the Law Enforcement Partnership, told Capital News Service.
"I do want to add that over 90 organizations throughout the state have joined together to support this bill, even some police organizations, especially the minority police organizations," Davis said.
It also aligns with the vision of criminal justice reform outlined by Maryland Attorney General Brian E. Frosh, D.
"Central to achieving meaningful police reform is ending the use of excessive force," Frosh said in a press release.
As police reform has become a more polarizing topic nationally, proponents of the bill noted that Maryland is one of a few states in the nation that doesn't codify the use of force in state law.
"According to the National Conference of State Legislators, we are one of only nine states remaining without a standard like this in law," Cary Hansel, chair of the Civil Rights Section of the Maryland Association for Justice said at a Tuesday House Judiciary Committee hearing.
However, both the Maryland Chiefs of Police Association and the Maryland Sheriffs' Association voiced their opposition to the bill, expressing agreement with the idea in principle, but also addressing some concerns.
"The position of the police chiefs and sheriffs is that perhaps a better avenue for this would be a statewide use of force policy that would be put through the training commission," Chief John Nesky, president of the Maryland Chiefs Association, said at the Senate hearing.
"It would include the entire state, present the uniformity of philosophy and policy that we're trying to get through the bill," Nesky added.
The Police Training and Standards Commission is an independent body within the Department of Public Safety and Correctional Services.
Nesky said that implementing a statewide use of force policy through the police training commission would allow for increased flexibility and agility when evaluating police departments' best practices.
He added that these practices may need to be altered quickly over time as police undergo tactical changes, in addition to differences in case law and technological advances.
"Use of force is difficult to get a feel of, use of force encounters aren't linear," Nesky told Capital News Service.
However, as police chief in Bowie, Maryland, Nesky is cognizant of the concerns that many people have surrounding police officers' use of force—engaging in conversations with residents in an effort to maintain trust between the police and the community.
"Change is not easy, when you see change you want it to be reasonable and operational," Nesky told Capital News Service.
A vote hasn't yet been scheduled for either the House or Senate version of the bill.
"I'm confident that we will get a use of force bill to the finish line this session," Davis said.
---
EVENT RESCHEDULED
M-NCPPC, Department of Parks and Recreation Supports Community With New Initiative, Parks and Rec Cares
By ANGEL WALDRON
Prince George's County Department of Parks and Recreation
RIVERDALE, Md. (Feb. 12, 2021)—The Maryland–National Capital Park and Planning Commission, Department of Parks and Recreation announces the launch of Parks and Rec Cares, a new initiative to provide support for residents of Prince George's County, with a drive-through donation drop-off on Saturday, February 20, 2021, from 10 a.m. through 1 p.m.
* Previously scheduled for February 13, the event was postponed one week due to inclement weather.
The Department will distribute donated items to the Prince George's Child Resource Center (PGCRC). The Resource Center helps create healthy and nurturing environments for children in Prince George's County by supporting their families and educating their caregivers. Each year, PGCRC provides family support services to thousands of families and training to thousands of childcare providers, parents, and human services workers.
TOP OF PAGE
---