| | |
| --- | --- |
| | |
January 22 - January 28, 2015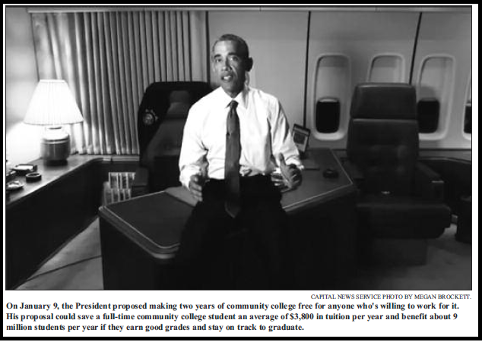 White House Unveils America's College Promise Proposal
By Press Officer
Office of the White House
Nearly a century ago, a movement that made high school widely available helped lead to rapid growth in the education and skills training of Americans, driving decades of economic growth and prosperity. America thrived in the 20th century in large part because we had the most educated workforce in the world. But other nations have matched or exceeded the secret to our success. Today, more than ever, Americans need more knowledge and skills to meet the demands of a growing global economy without having to take on decades of debt before they even embark on their career.
Today the President is unveiling the America's College Promise proposal to make two years of community college free for responsible students, letting students earn the first half of a bachelor's degree and earn skills needed in the workforce at no cost. This proposal will require everyone to do their part: community colleges must strengthen their programs and increase the number of students who graduate, states must invest more in higher education and training, and students must take responsibility for their education, earn good grades, and stay on track to graduate. The program would be undertaken in partnership with states and is inspired by new programs in Tennessee and Chicago. If all states participate, an estimated 9 million students could benefit. A full-time community college student could save an average of $3,800 in tuition per year.
In addition, today the President will propose a new American Technical Training Fund to expand innovative, high-quality technical training programs similar to Tennessee Tech Centers that meet employer needs and help prepare more Americans for better paying jobs. These proposals build on a number of historic investments the President has made in college affordability and quality since taking office, including a $1,000 increase in the maximum Pell Grant award to help working and middle class families, the creation of the $2,500 American Opportunity Tax Credit, reforming student loans to eliminate subsidies to banks to invest in making college more affordable and keeping student debt manageable, and making available over $2 billion in grants to connect community colleges with employers to develop programs that are designed to get hard-working students good jobs.
The President's Plan: Make Two Years of College as Free and Universal as High School
By 2020, an estimated 35 percent of job openings will require at least a bachelor's degree and 30 percent will require some college or an associate's degree. Forty percent of college students are enrolled at one of America's more than 1,100 community colleges, which offer students affordable tuition, open admission policies, and convenient locations. They are particularly important for students who are older, working, need remedial classes, or can only take classes part-time. For many students, they offer academic programs and an affordable route to a four-year college degree. They are also uniquely positioned to partner with employers to create tailored training programs to meet economic needs within their communities such as nursing, health information technology, and advanced manufacturing.
The America's College Promise proposal would create a new partnership with states to help them waive tuition in high-quality programs for responsible students, while promoting key reforms to help more students complete at least two years of college. Restructuring the community college experience, coupled with free tuition, can lead to gains in student enrollment, persistence, and completion transfer, and employment. Specifically, here is what the initiative will mean:
Enhancing Student Responsibility and Cutting the Cost of College for All Americans: Students who attend at least half-time, maintain a 2.5 GPA while in college, and make steady progress toward completing their program will have their tuition eliminated. These students will be able to earn half of the academic credit they need for a four-year degree or earn a certificate or two-year degree to prepare them for a good job.
Building High-Quality Community Colleges: Community colleges will be expected to offer programs that either (1) are academic programs that fully transfer to local public four-year colleges and universities, giving students a chance to earn half of the credit they need for a four-year degree, or (2) are occupational training programs with high graduation rates and that lead to degrees and certificates that are in demand among employers. Other types of programs will not be eligible for free tuition. Colleges must also adopt promising and evidence-based institutional reforms to improve student outcomes, such as the effective Accelerated Study in Associate Programs (ASAP) programs at the City University of New York which waive tuition, help students pay for books and transit costs, and provide academic advising and supportive scheduling programs to better meet the needs of participating students, resulting in greater gains in college persistence and degree completion.
Ensuring Shared Responsibility with States: Federal funding will cover three-quarters of the average cost of community college. States that choose to participate will be expected to contribute the remaining funds necessary to eliminate community college tuition for eligible students. States that already invest more and charge students less can make smaller contributions, though all participating states will be required to put up some matching funds. States must also commit to continue existing investments in higher education; coordinate high schools, community colleges, and four-year institutions to reduce the need for remediation and repeated courses; and allocate a significant portion of funding based on performance, not enrollment alone. States will have flexibility to use some resources to expand quality community college offerings, improve affordability at four-year public universities, and improve college readiness, through outreach and early intervention.
Expanding Technical Training for Middle Class Jobs. Additionally, in order to spread the availability of high-quality and innovative programs like those in Tennessee and Texas, which achieve better than average completion and employment outcomes, the President is also proposing the American Technical Training Fund. This fund will award programs that have strong employer partnerships and include work-based learning opportunities, provide accelerated training, and are scheduled to accommodate part-time work. Programs could be created within current community colleges or other training institutions. The focus of the discretionary budget proposal would be to help high-potential, low-wage workers gain the skills to work into growing fields with significant numbers of middle-class jobs that local employers are trying to fill such as energy, IT, and advanced manufacturing. This program will fund the start-up of 100 centers and scale those efforts in succeeding years. Smaller grants would help to bring together partners and start a pilot program. Larger grants would be used for expanding programs based on evidence of effectiveness, which could include past performance on graduation rates, job placement rates and placement wages. Building on the President's community college initiative, known as the Trade Adjustment Assistance Community College and Career Training Grants and for which 2014 was the final year of funding, these funds will help community colleges become more job-driven.
Building on State and Local Programs. In the past year, Tennessee and the City of Chicago initiated free community college programs. In the first year of the Tennessee program, 57,000 students representing almost 90 percent of the state's high school graduating class applied for the program. The scholarship is coupled with college counseling, mentorship, and community service that early evidence suggests supports greater enrollment, persistence and college completion. This is coupled with efforts to spur innovation and improvement by funding colleges using performance outcomes based on student success and an innovative approach to career and technical education through the Tennessee Colleges of Applied Technology. These Tennessee Tech Centers have a graduation rate of 80 percent and a job placement rate of 85 percent.
Building on a Record of Progress. Since taking office, President Obama has taken steps to expand federal support to help more students afford college, while calling for a shared responsibility in tackling rising college costs. Key achievements include:
• Doubling the Investment in Pell Grants: The President has raised the maximum Pell Grant award to $5,730 for the 2014-15 award year — a nearly $1,000 increase since 2008. The number of Pell Grant recipients has expanded by 50 percent over that same time.
• Expanding Education Tax Credits: President Obama established the American Opportunity Tax Credit in 2009 to assist families with the costs of college, providing up to $10,000 for four years of college tuition.
• Pay-As-You-Earn Loans: All new borrowers can now cap loan payments at 10 percent of their incomes. The Department of Education has begun the process to amend its regulations and will make the new plan available on all direct loans by December 2015. We expect it to benefit up to 5 million borrowers.
• First in the World Grants: In September, the Department of Education awarded $75 million to 24 colleges and universities under the new First in the World grant program to expand college access and improve student learning while reducing costs.
• College Ratings Program: The Department of Education continues to develop a college ratings system by the 2015-2015 school year that will recognize institutions that excel at enrolling students from all backgrounds; focus on maintaining affordability; and succeed at helping all students graduate with a degree or certificate of value.
• Job-Driven Training Grants: Through the Trade Adjustment Community College and Career Training program more than 1,000 institutions have received $2 billion in federal funding to design education and training programs, working closely with employers and industry that prepare workers for jobs in-demand in their regional economies, such as health care, information technology and energy. These programs have shown early success -- through the end of FY2013, among the nearly 164,000 individuals who had enrolled in these programs 88 percent either completed a program or continued the program into a second year.
• White House Summit on Community Colleges: In October 2010, the President convened community college leaders, faculty and students; business leaders; philanthropic organizations; and other workforce development experts for the first White House summit dedicated to the role that community colleges play in our efforts to increase the number of college graduates and prepare those graduates to lead the 21st century workforce.
• Center for the Analysis of Postsecondary Readiness: Last August, the Department of Education launched a new $10 million Institute for Education Sciences-funded Center for the Analysis of Postsecondary Readiness (CAPR) that is working to strengthen the research, evaluation, and support of college readiness efforts across the nation. CAPR is documenting current practices in developmental English and math education to identify innovative instructional practices that improve student success.
• Call to Action on College Opportunity: Last December, the President, Vice President, and First Lady joined college presidents and leaders of non-profits, foundations, and other organizations to announce over 600 new commitments to produce more college graduates. Community colleges made commitments individually, and in partnership with neighboring school districts and four-year institutions, to build seamless transitions among institutions, develop clear educational and career pathways, implement strategies to increase student completion of STEM programs, and establish more accurate measures of student progress and success.
County Receives More Than $1 Million in Grants
By Press Officer
PG County Government
Largo, MD - Prince George's County Government and the Chesapeake Bay Trust announced funding for 13 new projects to support stormwater restoration efforts throughout Prince George's County. The collaborative Stormwater Stewardship Grant Program was created earlier this year to encourage on-the-ground restoration activities that reduce nutrient and sediment pollution and community education activities that engage Prince George's County neighborhoods, faith-based organizations, non-profits, and residents in the restoration and protection of local rivers, streams, parks, and other natural resources. In total, $1,050,000 was awarded through 13 projects
"Prince George's County residents and local businesses alike are doing their part to help protect the rivers and streams of our County and the broader Chesapeake Bay watershed," said Adam Ortiz, Director of the Prince George's County Department of the Environment. "Through this partnership with the Chesapeake Bay Trust, we are able to implement projects that not only reduce polluted runoff from entering local waters, but also educate our residents, neighborhoods, communities of faith, and others on how they can partner with us to help improve our community."
The Stormwater Stewardship Grant Program sought proposals in two specifics areas: water quality projects that achieve nutrient and/or sediment reduction (funding from $20,000 - $200,000 was available for each project); and engagement projects that aim to involve residents in efforts to improve local watersheds ($5,000 - $50,000 was available per project). The projects announced today include on-the-ground efforts such as rain gardens, bioretention practices, and impervious pavement removal as well as outreach campaigns related to green workforce development and stormwater management. Non-profit organizations, community associations, civic groups, and faith-based organizations were encouraged to apply, as well as municipalities, higher educational institutions, and public agencies.
"These stormwater practices truly accomplish two goals: Improving water quality and improving our communities. It's a classic win-win," said Jana Davis, executive director of the Chesapeake Bay Trust. "This new partnership with Prince George's County allows nonprofit organizations like faith-based organizations, homeowners associations, community groups, and others to play a much-desired larger role in the community effort to restore our collective green spaces and waterways."
Grants approved in 2014 include:
1. Alice Ferguson Foundation, $23,836: This grant funds the development of a clean water educational course for citizens who are interested in obtaining stormwater management jobs.
2. City of District Heights, $34,862: This grant will support the design and installation of a highly visible rain garden to allow the area to better handle stormwater runoff while promoting green infrastructure.
3. Town of Landover Hills, $126,578: Funding through this project will install rain gardens, a bioretention swale, and permeable pavers as a centerpiece in a community park.
4. The Low Impact Development Center, Inc., $55,895: This project will provide a highly visible demonstration area for the seven stormwater practices promoted by Prince George's County's Rain Check Rebate Program.
5. Town of Forest Heights, $49,794: This grant will
train a team of high school students to water, weed and mulch 500 street trees as well as educate homeowners about the benefits of trees on their own properties.
6. Anacostia Watershed Society, $48,000: This grant will educate and train residents in watershed protection issues and empower them to design and implement projects that prevent stormwater runoff and engage additional community members.
7. City of College Park, $66,180: This project will treat stormwater flowing from roadways and demonstrate the use of bioretention, tree planting, and tree boxes for improved stormwater management.
8. City of Greenbelt, $187,700: This project will include the redesign, retrofit, and treatment of impervious surface, replacing it with low impact development techniques and environmental site design practices.
9. Pheasant Run Home Owner's Association, Inc., $11,730: This grant will fund a citizen engagement campaign focused on erosion, stormwater runoff, and pet waste reduction.
10. Alliance for the Chesapeake Bay, $25,000: This initiative will include workshops to educate faith leaders on stormwater runoff and provide tools to help congregations overcome technical and financial obstacles to project implementation.
11. The Empowerment Institute, $152,145: This grant will remove 20,000 square feet of existing asphalt and replace it with stormwater facilities with native plants to help filter and store rain water.
12. Neighborhood Design Center, $79,308: Funding will assist community groups, small municipalities, schools, and faith based organizations with creating a comprehensive plan for how they can retain and treat stormwater on their property, rather than having it flow into storm drains and local waterways.
13. Alice Ferguson Foundation, $188,972: This grant includes construction of a rooftop rainwater collection system and cistern, rain garden and bioswale as well as educational programming for students, teachers, and Prince George's County residents.
In addition to these 13 grants, the Chesapeake Bay Trust also announced funding for five new projects in partnership with Prince George's County through the collaborative Rain Check Rebate Program. For more information on both grant partnerships, visit www.cbtrust.org.
MD Is Nation's Most Improved State in 2014 America's Health Ranking
By Press Officer
DHMH
ANNAPOLIS, MD – The UnitedHealth Foundation today released "America's Health Rankings 2014," which found that Maryland had the greatest improvement of any state this year. Maryland improved eight spots from 24th last year to 16th in 2014. Key areas of improvement cited in the report include increased immunization rates and reductions in rates of preventable hospitalizations, smoking, and binge drinking.
"Over the course of the O'Malley-Brown Administration, we have made better choices to bring low-cost, high quality health coverage to more Marylanders across our State," said Governor O'Malley. "Today's news shows a lot of improvement, but our work is far from finished. We are focused on strengthening Maryland's middle class, and helping to lift families out of poverty -- continuing to ensure that more Marylanders have access to quality, affordable health coverage is a key ingredient of that effort."
"This jump in national rankings is another sign of significant public health improvement in Maryland," said Dr. Joshua M. Sharfstein, Secretary of the Department of Health and Mental Hygiene. "It reflects efforts in communities and coalitions across the state to support well-being and prevent disease, as well as our strong clinical care system."
The report, which is in its 25th year of production, also found that Maryland is one of the most improved states for health since 1990. The report noted that in Maryland:
• Since 1990, children in poverty driven down by 7 percent from 16.4 percent to 15.3 percent of children.
• Since 1990, infant mortality driven down by 43 percent from 11.6 to 6.6 deaths per 1,000 live births.
• Since 1990, cardiovascular deaths driven down by 40 percent from 415.8 to 250.7 deaths per 100,000 population.
• Since 1990, violent crime driven down by 38 percent from 768 to 477 offenses per 100,000 population.
As part of the O'Malley-Brown Administration's 16 strategic goals to move Maryland forward, the State is working to reduce preventable hospitalizations by 10 percent by the end of 2015 and to reduce infant mortality in Maryland by 10 percent by 2017. To date, Maryland has reduced preventable hospitalizations by 11.5 percent per 100,000 people since 2011, exceeding the state's goal, and has surpassed the goal to decrease Maryland's infant mortality rate by 10 percent by driving it down by 17.5 percent.
In April 2014, the Commonwealth Fund issued a report highlighting the substantial progress Maryland has made over the last five years. The report noted that Maryland is one of only four states that "stand out for their net improvement across indicators." The State improved in fourteen indicators, while only four indicators deteriorated, making Maryland only one of two states to have a +10 differential. Additionally, Maryland was one of five states that improved on ten or more indicators of health equity, rising from a rank of 30 to a rank of 12.
Additionally, the O'Malley-Brown Administration has embraced CRISP, Maryland's statewide health information exchange (HIE). CRISP's Regional Extension Center for Health IT and HIE efforts serve to advance health and wellness of Marylanders by enabling healthcare providers to share clinical data with other providers and hospital systems across the State. These initiatives, and others, were detailed in an August 2014 report from Business Insider titled, "An Amazing Healthcare Revolution Is Happening In Maryland — And Almost No One's Talking About It."
Baltimore's Neighborhood Bars Remain the Community Meeting Place
BBy Josh Logue
Capital News Service
BALTIMORE – It's game day on a cool Sunday afternoon in Baltimore. Tavern owner Dan Macatee is sitting at the corner of the bar, sipping coffee and wearing a black-and-purple Ravens fleece under a white apron. Three wall-mounted TVs in his quiet Locust Point tavern show the Ravens are holding their own (for now) against the San Diego Chargers.
He's talking about the role his place, and others like it, played in the community 30 years ago.
"The neighborhood bar," he says, "back in the day when we first started, damn near every corner had its own spot. And the community -- people that worked in the community, people in the neighborhood -- it was a spot where they would come to find out what was going on in the neighborhood. It was sort of a meeting place."
An audit of the Baltimore liquor board last year sparked controversy and a significant overhaul of the state agency, but life in the city's bars proceeds at it has, in some cases, for generations.
Most of those corner bars are long gone, but Macatee's place, Hull Street Blues Café, has survived.
Macatee bought it in 1984 when it was still called Buck's Place after its original owner, Charlie Krepp, who first opened the tavern in 1936.
Its clientele has changed over time, Macatee says, but Hull Street Blues has always attracted a blend of local, blue-collar workers and younger professionals.
"When I first moved to the neighborhood in 2001, it was very working-class," said Melissa Abernathy, a Hull Street regular who was sitting a few seats down the bar from Macatee, watching the game.
"To this day a lot of people live in their grandparents' houses, but over the years that's shifted. There aren't so many of those people. It's shifted so the newcomers to the neighborhood like me are taking over the place… .
"This has pretty much been my living room for the last eight years."
Since Macatee took over, his bar has weathered the manufacturing slump that killed the nearby Procter & Gamble factory, the rise and fall of the '90s tech bubble that followed, and the influx of new, younger clientele who appeared when Under Armour moved its national headquarters a few blocks away.
It's still a place where people in the community gather, socialize, and even attend functions like weddings and funerals.
"Of course (that part of the) history of bars probably goes back to Revolutionary times," he says, "You know, to talk politics or find out what's going on in the community. That's where you went to get your information, and you went there for social interaction, and then of course you had a few drinks and something to eat while you were there."
Which, according to Nancy Struna, the chair of the Department of American Studies at the University of Maryland, College Park, is absolutely right.
In that respect, Hull Street Blues is preserving, at least in part, the role taverns originally played back in the 17th century.
Back then, Struna said, the term for such a place was "ordinary," and in addition to acting as social centers, ordinaries played the role of workplace and hotel.
"The earliest taverns were actually set up for … the entertainment of travelers and visitors," she said. "Every tavern had to provide a certain number of beds, food, both cold and hot at particular rates, and stabling….
"Businessmen conducted business there. People got their mail there," Struna said. "There were weddings. You name it, they did it in the taverns."
Tavern owners were still required to obtain a license, which they could purchase from the Maryland General Assembly for 7 pounds, -- the equivalent of two or three weeks' income, Struna said. State government also set rates for all its services until both those responsibilities were handed to county governments in the 1700s, Struna said.
A "Hot Dinner, with Small Beer, or Cyder," for example, cost 26 pence in 1789, according to a digital copy of the official Tavern Rates that Struna has.
So important were taverns to the social fabric of communities then, that the courts and legislators actively promoted the purchase of new licenses.
"These people were committed to the encouragement legal taverns," Struna said. "Because they served all these functions.
But by the late 1700s and early 1800s, the advent of boarding houses and the appearance of upper-class, European-style hotels around the country re-routed and undercut the original role of taverns as temporary lodging.
The exodus of wealthier people to those new, expensive hotels also served to link taverns more closely to the working -class, ethnic communities in the city.
Despite the gentrification, Baltimore taverns kept their role as important social centers in working-class communities around the city. And by the turn of the century, they had come to resemble the tavern-on-the-corner environment Macatee says has survived.
In those years leading up to Prohibition, "there were a lot of neighborhood bars, and they were on corners," said Rob Kasper, who has written extensively about the history of beer in Baltimore.
"Traditionally people who lived in about a one- or two-block area would go down to the tavern…. It was a focal point for the community."
Taverns would provide services like check cashing, he said, and they often served as hiring halls, particularly for immigrants who, as soon as they arrived in the city, would be directed to a tavern whose owner was connected politically and could find him or her a job.
Prohibition rolled around eventually, but Baltimore and the entire state of Maryland essentially ignored the 1920 constitutional ban on alcohol sales in the United States, Kasper added.
Maryland never adopted a state-level ban, so enforcement in the state fell to federal agents, who couldn't possibly keep up. Baltimore city cops certainly weren't about to help.
"Mencken said, if you come to Baltimore and need a drink, ask a policeman," said Kasper, referring to the well-known writer and one-time Baltimore Sun editor H.L Mencken.
Still, alcohol was less abundant, even in Baltimore, and it was still technically illegal. Speakeasies in Baltimore would shine red lights to indicate they had booze available.
Prohibition ended in 1933 with the 21st Amendment, and Mencken famously hoisted a glass of Arrow Special beer outside the Rennert Hotel in Baltimore and said, "Pretty good, not bad at all." (Though it probably wasn't good at all, Kasper said. Arrow beer "was pretty terrible stuff.")
The end of Prohibition in Baltimore ushered in the framework for the city's modern liquor regulation. "It became apparent that appropriate controls and licensing of alcoholic beverages at the retail level were necessary in the State of Maryland to insure public safety," according to Baltimore City Liquor License Board website.
Enter the Baltimore City liquor board and Article 2B of the Annotated Code of Maryland, which still enshrines the city's liquor regulations.
Those laws have changed over time, often acquiring confusing loopholes and exceptions. But taverns continued to act as social centers in working class communities around the city throughout much of the 20th century.
Today, there aren't bars on "damn near every corner," like Macatee says there used to be. Still, "some of these younger professionals are still willing to come in and have a few beers and have lunch and talk a little business," he said.
"And oftentimes they tell me they're somewhat productive here, you know, that they do get some, get a little bit of business done." But the days of factory workers stopping by for a shot and beer at lunch are long gone. And people don't need a local tavern to find out what's happening in their community.
"Now you've hardly got to leave your house," Macatee says. "All you've got to do is open up your computer and you find out what's going on in the neighborhood and what your friends are doing. You go on Facebook and see up-to-the-minute updates on what everybody's doing and going on in their lives."
Top of Page
Sidewalk Snow and Ice Removal in PG County
By PRESS OFFICER
Office of the Lt. Governor
Largo, Maryland - With the first snowfall of the year, Prince George's County's Department of Permitting, Inspections and Enforcement (DPIE) wanted to make citizens and business proprietors aware that they are responsible for removal of snow and ice from sidewalks abutting their properties. Per Prince George's County Code, Section 23-150, it is the responsibility of the owner or lessor of a residential dwelling or commercial property to remove snow and ice from an abutting sidewalk within 48 hours after snow has fallen or ice has formed as a result of inclement weather.
If possible, residents and business proprietors are encouraged to remove snow or treat ice from an abutting sidewalk prior to the 48 hours to alleviate residual buildup on the sidewalk.
County inspectors will rotate through various areas of Prince George's County to identify trouble spots that could create dangerous conditions for walkers of all ages. If trouble spots are identified, inspectors will leave a door hanger to "remind residents and business proprietors" to remove the snow and ice from abutting sidewalks.
If a door hanger is left, an inspector will return to the site the next day. If the sidewalk has not been cleared by that time, a violation notice will be left, which carries with it a $100 fine. Thereafter, the site will be re-inspected every 24 hours to ensure that it has been cleared. If it has not, subsequent violation notices will be issued, each of which carries a separate $100 fine.
As in all inclement weather conditions, if you know of a neighbor who is elderly or unable to shovel snow or remove ice from areas abutting their properties, please do the "neighborly" thing and try to help him or her. Local middle and high school students also could be contacted to assist, as they can earn community services hours required for graduation.
For more information, contact:
Susan D. Hubbard, Public Information Officer, Department of Permitting, Inspections and Enforcement, 9400 Peppercorn Place, Suite 500, Largo, Maryland 20774, 301.636.2020, sdhubbard@co.pg.md.us.

Would you like to subscribe?
Please contact our office:
15207 Marlboro Pike
Upper Marlboro, MD 20772
Tel: 301-627-0900
Fax: 301-627-6260
---
The Prince George's Post is
made up of the following staff:
Senior Editor & Publisher
Legusta Floyd, Sr.

General Manager & Legal Advertising Manager
Brenda Boice
Legal Advertising Assistant
Robin Boerckel
Subscriptions and Legals
Elizabeth Brandenstein
Editor
Michal W. Frangia
Paper Delivery
James and Betty Murphy
Web Manager
Kyler Kamp