February 9 - February 15, 2017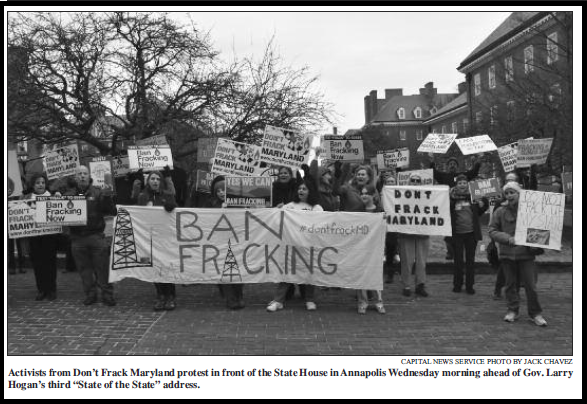 Protesters Rally in Front of State House to Oppose Fracking
By Jack Chavez
Capital News Service
ANNAPOLIS, MD—With a state moratorium on hydraulic fracturing—or "fracking"—set to expire in eight months, Maryland legislators and activists are throwing their support behind a permanent ban.
Activist group Don't Frack Maryland on Wednesday held a rally in front of the State House in Annapolis, and attracted supporters from Maryland and nearby states who contend that fracking negatively impacts the environment in places it is used.
"What we want to see is a full, permanent, statewide fracking ban," Jackie Filson, field communications officer for D.C.-based consumer rights group Food & Water Watch, told the University of Maryland's Capital News Service. "Maryland's legislators need to know (the harm fracking can cause)."
For nearly an hour protesters shouted slogans like "Don't frack Maryland, ban fracking now" and "Fracking's got to go," toward the State House, where Gov. Larry Hogan was preparing to give his third "State of the State" address at noon.
Protesters claimed that fracking poses a serious risk to drinking water, a topic that has received widespread attention in recent years across the country.
In December 2016 the Environmental Protection Agency released a 666-page report that concluded that fracking could, under certain conditions, impact drinking water resources. The report was the culmination of five years of research and work.
From the report, "Identified impacts generally occurred near hydraulically fractured oil and gas production wells and ranged in severity, from temporary changes in water quality to contamination that made private drinking water wells unusable."
Pennsylvania resident Craig Stevens says he has participated in protests in more than a dozen states where fracking has had an environmental impact.
"Fracking contamination knows no borders," Stevens said Wednesday.
Fracking involves pumping a mix of water, sand and chemicals into deep underground wells, breaking apart rocks to extract the natural gas stored inside.
Gov. Larry Hogan told The Baltimore Sun in October 2014 that he supports fracking because of its potential to boost western Maryland's economy.
The region has experienced slower economic growth and a higher unemployment rate compared to the rest of the state. Fracking could add more than 3,000 jobs and about $100 million in wages if it were allowed, according to a 2014 Towson University study.
Legislation in Maryland to ban fracking or extend the moratorium had yet to be filed by Wednesday.
Please note: Capital News Service correspondent Natalie Schwartz contributed to this report.
Prince George's County Executive Rushern L. Baker, III Requests Liquor Board Reform Bill to State Legislature
By Press Officer
PG County Government
Upper Marlboro, MD—Today Prince George's County Executive Rushern L. Baker, III announced that he has requested new state legislation that will dramatically strengthen the oversight of the Prince George's County Board of License Commissioners, also known as the Liquor Board, by shifting control from the state to the county. The new legislation would move the appointment of members of the Board of License Commissioners by the Governor to appointment by the County Executive, resulting in stronger oversight and increased local control of the Board and its inspectors. Summary of requested legislation attached to this release.
"The selection and oversight of the Board of Licensee Commissioners needs to be reformed," said County Executive Rushern L. Baker, III. "The legislation we are proposing creates much stronger oversight and accountability by shifting the appointment responsibility to the County. By providing local control and accountability over this Board, our residents and businesses can be better assured that any corruption, malfeasance, or unethical behaviors will be quickly detected, investigated, and corrected."
The County Executive's Liquor Board Reform Legislation alters the current appointment process so that the County Executive shall appoint the Board members, who must be also confirmed by the County Council. In addition, the County Executive would appoint the Director of the Board, who would also be confirmed by the County Council. These changes to the current process are designed to reduce the possibility of political influence through public committee sessions and public hearings for the board members and the director-nominee.
The other significant change is the conversion of the inspectors from Board appointees to County employees. By requiring a competitive hiring process, it will drastically reduce the political influence in the selection of the Chief Liquor Inspector, 2 Deputy Chief Inspectors, and the 24 part-time liquor Inspectors. The County Executive's proposed Liquor Board Reform Legislation was created using elements from other Maryland jurisdictions.
Of the pending legislative proposals County Executive Baker said: "I know that the problem of combating the troubling issue of corruption is something that concerns all of my fellow colleagues in the Prince George's House and Senate delegations and some have taken alternative approaches to tackling the problem. I strongly believe the approach I put forth will be most effective in ending the scourge of corruption in our County because it adds a key component of accountability and professionalism to the process. Nevertheless, I pledge to work with all my colleagues on these proposals during the next several weeks of the legislative session."
2017 PGAHC Grant Applications Available Now
By Press Officer
PG County Parks & Recreation
Largo, MD—The 2017 Prince George's Arts and Humanities Council grant season is now open. Guidelines and applications are available online at www.pgahc.org. The deadline for all applications and required documents is March 17, 2017 at 5 p.m.
The categories for County Arts Program are: Artist Fellowship Program; County Arts Projects; Cultural Facilities Projects; Emerging Arts Programs; Public Art Building Communities; and Cultural Bridge Programs. The categories for Arts in Education Program are: School-Based Projects; Community-Based Projects; Artist in Residency Projects; Public Art Partnership Projects; and Professional Development Projects.
An information conference call for applicant questions will be held on February 17, 2017 4pm–5pm The number is: (712) 432-0400, access code 457736#. An information workshop will be held Saturday February 18, 2017 10am–11am at 1801 McCormick Drive, Largo MD 20774.
About PGAHC: The Prince George's Arts and Humanities Council supports the creative community through collaborative partnerships, education, grants and art-centered experiences to enhance the quality of life for all.
GSA Hosts Transportation Update Meetings Regarding Potential Sites for New FBI Consolidated Headquarters
By PRESS OFFICER
PG County Government
Upper Marlboro, MD—This week, the United States General Services Administration (GSA) announced transportation update meetings for Prince George's County residents regarding the County's two potential sites that are finalists for a new consolidated Federal Bureau of Investigation Headquarters (FBI HQ). The Greenbelt site meeting will take place Monday, February 13th from 6:00 p.m. to 7:30 p.m. at the Greenbelt Public Library, 11 Crescent Road, in Greenbelt, MD. The Landover site meeting will be held on Wednesday, February 15th from 6:00 p.m. to 7:30 p.m. at the Kentland Community Center, 2413 Pinebrook Avenue, in Landover, MD.
Prince George's County is working tirelessly to secure the relocation of the FBI headquarters to either the Greenbelt or Landover sites previously identified by the General Services Administration (GSA). The County is competing with a third site in Virginia, and three teams of developers are in the running to build the project at any of the three sites. Final bids from the three teams were due January 6, 2017. The GSA has announced that the final decision on the FBI headquarters relocation will occur in March 2017. Both Prince George's County and the State of Maryland have committed significant public funds to support the infrastructure improvements needed at either the Landover or Greenbelt location.
The relocation of the FBI to Maryland will bring more than 11,000 jobs in a $2.5 billion, two million SF facility to the winning location. It is considered to be the most significant economic development opportunity in the Washington, D.C. region in more than a generation, and County officials believe that an FBI headquarters in Prince George's County will both rebrand the County and forever change the local economy. County Executive Baker and his economic development team have been working on this endeavor for six years.
"I encourage any Prince Georgians interested in learning more about the new consolidated FBI Headquarters project and overall process to attend these meetings," said Prince George's County Executive Baker. "This is anticipated to be a $2.5 billion project that will create 11,000 jobs at one of the three locations. We are confident and optimistic that with two of the three final sites at Greenbelt and Landover, we have superior locations and infrastructure, as well as the best deal for the U.S. taxpayers."
The GSA is holding these public meetings to discuss the updated transportation impacts related to the consolidation of the Federal Bureau of Investigation Headquarters (FBI HQ) at a new permanent location at either Greenbelt, MD; Landover, MD; or Springfield, VA. GSA is currently preparing a Final Environmental Impact Statement (EIS) for its action to acquire a consolidated FBI HQ at a new permanent location The Draft EIS was released in November 2015, for a 60-day public comment period. This update provides an opportunity for the community to start formulating their comments on the Final EIS as well as to ask questions, provide input, and learn how to participate in the FBI HQ transportation activities after the conclusion of the Final EIS.
More information on the project can be found at: http://www.gsa.gov/fbihqconsolidation. If you require any additional assistance, please contact Denise Decker at 202-748-7691 or fbi-hqconsolidation@gsa.gov.
Nearly 400 Local Companies Energized by $24 Billion in Federal and County Procurement Opportunities


By Lori C. Valentine
PGCEDC
Largo, MD—Close to 400 local companies congregated in the Prince George's County Economic Development Corporation (EDC) conference room in anticipation of hearing top executives from the U.S. Department of Energy (DOE) and the Prince George's County Office of Central Services explain how to tap into the more than $24 billion in procurement opportunities available through these agencies at the EDC's 'U.S. Department of Energy Procurement Opportunities Day.' As part of its mission to help grow the County's commercial tax base, EDC President and CEO Jim Coleman has been instrumental in directly connecting local businesses to resource partners like the Department of Energy and the other 14 federal agencies that call Prince George's County home.
"Prince George's County is on fire with development projects, but that's not all we have to be excited about," said Coleman. "Having great federal partners like the Department of Energy, who have $24 billion and are looking to buy services and products that are produced right here in Prince George's County, makes being a local business even more profitable. Ultimately, our mission is to eliminate unemployment in Prince George's County because it is the right thing to do. The EDC's federal procurement days help local businesses grow so that they can hire more County residents."
The EDC has hosted several events like the 'Department of Energy Procurement Opportunities Day' to bring local business owners face-to-face with procurement decision makers, many of whom would be very difficult to get a meeting with during the normal course of business. Giving this capacity crowd a glimpse of what the DOE buys and its forecast of contract opportunities over the coming months provided them with a leg up on how to position their companies for growth.
John Hale, III, the former Director of the Office of Small and Disadvantaged Business (OSDBU), the agency within the DOE tasked with positioning small businesses to become subprime contractors on major federal procurements, talked about the DOE's mission regarding energy security, nuclear security, environmental responsibility and enhancing the efforts in scientific discovery and innovation. Through OSDBU, the DOE builds sustainable small businesses that enhance its corporate pipeline and efficiency supply-chain. Mr. Hale also told attendees the DOE bought items such as Engineering Services, Remediation Services, Facilities Support Services, Computer systems Design Services, Hazardous Waste Treatment and Disposal, Research and Development in Biotechnology and Security Guards an Patrol Services.
"Today was a terrific day at the Economic Development Corporation. We got to explain what the DOE does, but more important, we were able to show businesses how to create wealth and create jobs," said Hale. "The partnership between the Department of Energy and the EDC has been fantastic. From the 'Thirsty for Business Thursday's" to this procurement forum, we are finding talented entrepreneurs in our own backyards. That's what it is all about. We look forward to partnering again with the EDC throughout 2017."
The forum also featured the County Office of Central Services, its Supplier Development and Diversity Division (SDDD), as well as former subcontractor and prime contractor for the DOE, Ken Boras who spoke to the quality, expertise and technical support that is needed to be successful in winning government contracts. Roland Jones, Director of the Office of Central Services and Cyndee Phoenix, Executive Director of SDDD talked with attendees about how the agency connects local, small, disadvantaged, minority and veteran owned businesses to resources, contract opportunities, training and development and strategic partnerships. They also talked about the County's vendor registration and certification policies, the types of commodities the County purchases and what it is expected to purchase in the near future.
"Today was an outstanding event. The continued combination of County, State and federal resources that are being presented to local companies gives an indication to the amount of diligence the County is providing to suppliers," said Jones. "No one can make excuses about not being knowledgeable, not being exposed or not having the opportunity to network with people in government. Networking forums of this magnitude offer local businesses the opportunity to exchange ideas with decision makers and with fellow suppliers. Efforts made by the Baker Administration to provide people with access to wealth are unmatched by any other jurisdiction in the area."
Bringing important forums such as the DOE Procurement Opportunity Day to small, local businesses in Prince George's County would not be possible without the gracious support of companies like PEPCO Exelon, BECO Management and WashingtonFirst Bank. Along with local sponsors Joseph Greenwald and Laake Law, Ve Water and Independent Strategic management Solutions, the local business community in Prince George's County left the forum well informed and engaged in what they needed to do to become subprime and prime contractors for the U.S. Department of Energy.
"PEPCO is proud to be a corporate sponsor of the Prince George's County Economic Development Corporation. Their work helping local, small and diverse business enterprises realize their full potential is critical to strengthening and growing the Prince George's County economy," said Donna Cooper, President of the PEPCO Region, PEPCO Holdings. "The more opportunities local businesses have to expand, the more opportunities they have to hire more Prince George's County residents. We applaud these type of networking events, as they are important reminders of the partnerships that are important to fostering and sustaining our local and regional economies."
Attendees from Prince George's County and the surrounding region were delighted to be able to speak freely with the executives from DOE and the Office of Central Services. Several companies had recently relocated or expanded into Prince George's County, and others were convinced by the end of the forum that Prince George's County is the best place for them to truly grow their businesses.
"I am so happy that I took the time to come to the EDC's event today. I am so grateful to the EDC for putting on this type of forum. It is so needed," said Claretta Rideout, owner and CEO of DeQuan's Construction, LLC. "Having the opportunity to meet one-on-one with integral people who are really interested in helping us win contracts, provides us with an opportunity to grow. As an out of the area company, we learned how we can be successful moving into the area. As a construction management team growing for 17 years in Baltimore, we are excited about expanding to Prince George's County and creating new jobs."