October 20 - October 26, 2016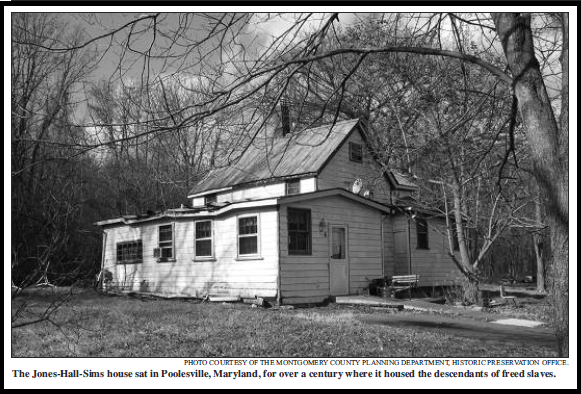 Freddie Gray to the Freedom House: Maryland Well-Represented in New African American Museum
By MINA HAQ
Capital News Service
WASHINGTON, D.C.—Although the Smithsonian's new National Museum of African American History and Culture opens Saturday in the heart of Washington, its neighboring state of Maryland has a strong presence.
From a freed slave house in Montgomery County to photographs of Baltimore's unrest after Freddie Gray's death, Maryland's black experience throughout history is broadly represented. According to the museum's online collection, Maryland was in the top 15 states with the most artifacts.
Artifacts from Maryland on display include an early 1800s stone slave auction block from Hagerstown, a paper cutter from the Baltimore Afro-American newspaper and a copy of the book This Child's Gonna Live by Maryland-born Sarah E. Wright, who portrayed the lives of a black family set by the state's Eastern Shore.
Paul Gardullo, a curator at the museum, said it's crucial to reflect the "deeply important" history of Maryland to African American life.
"While we are a national museum, our local audiences and local histories are incredibly meaningful to us," he added.
Gardullo helped the museum obtain a prominent Maryland artifact: a freed slave house in Poolesville that was slated to be demolished in 2008. Curators have dubbed it "the Freedom House."
Brothers and emancipated Montgomery County slaves Richard and Erasmus Jones built the house after the Civil War. Soon, 15 houses neighbored it, and it became the Jonesville Community. The area continued to house descendants of the Jones family—through birth and marriage—for almost 150 years, according to the Maryland State Archives.
The house was one of the last Jonesville Community homes standing, a relic of an era characterized by slavery, segregation and rebirth. The building's last owner was a Jones family descendant who died in 2007, leaving it vacant, said Scott Whipple, supervisor of the Montgomery County historic preservation unit at the county's planning department.
So when a couple wanted to demolish the house and build another in 2008, Whipple called up his old college friend Gardullo and asked for his help.
Gardullo "basically dropped the phone and ran to one of his bosses, and said 'We're going to try to get the house,'" Whipple said.
The two-story house stood in contrast to the smaller slave cabins enslaved African Americans lived in before emancipation, Gardullo said.
"The story that this home tells of rising from the ground two stories high is a tangible symbol and metaphor for this period of newfound freedom," he added. "But it also is a symbol of the limitations put upon African Americans during this same period."
Jonesville is one of about 40 "kinship communities" across the county, Whipple said, and many of the original houses aren't around anymore.
"It just shows what people can do for themselves when their conditions change," Whipple said. "This happened in other parts of the country, but the story that the museum is using to tell this chapter of our history is a Montgomery County story."
And the history is always being made.
In April 2015, Freddie Gray died from neck injuries he suffered while in Baltimore police custody.
In the aftermath of Gray's death, the city's peaceful protests turned into riots that reverberated far beyond Maryland. Tensions between Baltimore's black community and police reached a boiling point.
Weeks later, museum researcher Tulani Salahu-Din and curator Aaron Bryant went to collect artifacts in the city. They walked along North Avenue and saw the results of the city's worst wave of violence since 1968: the CVS that caught fire, merchants and shopkeepers whose stores had been looted and more.
An ATM machine outside of a store was completely torn off the wall, with a protest message spray painted across: "Freddie Gray" was all it said.
"We wanted to collected a range of items, we wanted to collect items that reflected the riots, the destruction, the cleanup effort, the artistic response to this unrest," Salahu-Din said, "and we wanted to collect from a range of people."
A photograph from Baltimore-based photographer Devin Allen is featured as a media presentation in the museum, Bryant said. It shows a young girl holding a Black Lives Matter sign during a Baltimore City Hall rally.
Salahu-Din said it was hard to say when the other artifacts from the 2015 Baltimore unrest will be in the museum, as they were collected after exhibition artifacts were approved. Studio A Modeling Etiquette and Dance Academy in Baltimore County donated hoodie costumes—a symbol of social justice, Salahu-Din said, since Trayvon Martin was shot and killed in 2012 while wearing one—from a production called "Black is Beautiful."
Newborn Church in West Baltimore donated brooms and rakes used during cleanup after the riots, which Salahu-Din said she and Bryant emphasized collecting.
"We want to present a full picture of what took place," she said. "There was destruction but there were also people coming together to clean up their communities."
Maryland state archivist Ryan Cox called the museum a celebration of African American people's accomplishments in a country that "could afford to be reminded of that truth."
"Historians will be asking themselves in the future in regards to this time period … 'Why does 2015 look and sound like 1965, which sounded a lot like 1895, which echoed a lot of the concerns that were addressed in 1865?'" Cox said in an email.
Maryland's artifacts tell different stories from different eras, but Salahu-Din said the displays all have a universal theme.
"It's about people having freedom," she said. "Freedom to live, to be without the threat of violence lurking."
"It was critical for us as a museum—who have documented the history of violence against African Americans since slavery—that we continue to document that aspect of American life," she added.
Suitland, MD Native Serves Aboard Guided-Missile Destroyer in Pearl Harbor

By Lt. Cmdr. David Daitch
Navy Office of Community Outereach
JOINT BASE PEARL HARBOR-HICKAM, HI—A 2010 Potomac High School graduate and Suitland, Maryland native is serving in the U.S. Navy aboard the guided-missile destroyer, USS Chung-Hoon.
Seaman Marcus Cunningham is a yeoman aboard the forward-deployed Arleigh Burke-class guided-missile destroyer operating out of Joint Base Pearl Harbor-Hickam, Hawaii.
A Navy yeoman is responsible for the administration and personnel management of all 337 people on the ship.
"I get to work with the whole ship," said Cunningham. "I love the customer service part of the job. We make sure sailors are able to get the right training to advance their careers."
Chung-Hoon, measures approximately 500 feet and is powered by four gas turbines that allow the destroyer to achieve more than 30 mph in open seas.
According to Navy officials, destroyers are tactical multi-mission surface combatants capable of conducting anti-air warfare, anti-submarine warfare and anti-surface warfare, as well as humanitarian assistance. Fast, maneuverable, and technically advanced, destroyers provide the required warfighting expertise and operational flexibility to execute any tasking overseas.
"Our Naval Surface Group Middle Pacific guided-missile destroyers are poised, trained, equipped and ready to deploy forward and support the Fleet," said Rear Adm. John Fuller, Commander, Navy Region Hawaii and Naval Surface Group Middle Pacific. "Working with friends and allies, our MIDPAC sailors provide sea control, advance maritime security, enhance regional stability, and foster continued prosperity in the Indo-Asia-Pacific region."
Approximately 30 officers and 300 enlisted men and women make up the ship's company. Their jobs are highly specialized and keep each part of the cruiser running smoothly, according to Navy officials. The jobs range from maintaining engines and handling weaponry to washing dishes and preparing meals.
"It's a close mesh ship, so everybody knows everybody," said Cunningham. "We play football, each ship has a team. We were on deployment last year, so we'll see how we do. Our first game is Saturday."
Challenging living conditions build strong fellowship among the crew, Navy officials explained. The crew is highly motivated, and quickly adapt to changing conditions. It is a busy life of specialized work, watches, and drills.
"Serving in the Navy means a lot," said Cunningham. "My mother served in the Navy and my father in the Army, so it's an opportunity to continue in the family tradition."
PGCPS Launches WorkForce Diversity Task Force
By Press Officer
PGCPS
UPPER MARLBORO, MD—Prince George's County Public Schools (PGCPS) recently launched a Workforce Diversity Task Force to develop a systematic plan to attract, develop, and retain a high quality workforce that represents the cultural diversity of students and the community.
The Workforce Diversity Task Force, spearheaded by the district's Office of Human Resources, will analyze current staffing, student enrollment data, and initiatives that address workforce diversity, such as Latino Educator Recruitment and Men of PGCPS.
"As we experience a demographic shift in our community and schools, it is imperative that we have a workforce that reflects that shift," said Dr. Kevin M. Maxwell, PGCPS Chief Executive Officer. "It is important for our students to see teachers and staff members who look like them in the classroom, the school building, and throughout our organization. Diversity makes a difference, as it can greatly impact the academic achievement of our students."
Since 2014, PGCPS has:
• increased the number of Latino teachers by more than 60 percent, from 205 to 327.
• increased the number of Latino administrators and supervisors by more than 55 percent, from 8 to 14.
• maintained an 82 percent retention rate of Latino staff.
• met the staffing needs of immersion schools and International High Schools with candidates of diverse backgrounds.
• partnered with the Spanish Embassy and hired over
40 teachers throughout the county.
The task force is comprised of six subcommittees: Sourcing of Teacher Candidates, Sourcing of Administrator Candidates, Grow Your Own Teachers and Administrators, Higher Education and Professional Development, Cultural Competence and Support, and Communication and Branding.
The group held its inaugural meeting September 13 and will meet monthly through December. Recommendations will be presented to the Board of Education by January.
Local Leaders Set to Bring Back the Boom in Bladensburg Economy
Economic Development is a 'Team Sport' Says Secretary of Commerce Mike Gill
By R. Joshua Reynolds
PGCEDC
Bladensburg, MD—Yesterday, the Prince George's County Economic Development Corporation (EDC) participated in the Bladensburg Town Hall meeting to discuss ways in which the County and State could work together to bring an economic boom to the municipality. EDC President and CEO Jim Coleman, engaged in an interactive discussion with Maryland's Secretary of Commerce Mike Gill, Bladensburg Mayor Walter James and Bladensburg City Council Members and State Delegates about the role the Economic Development Corporation can play in connecting Bladensburg to economic opportunities.
"Bladensburg has all of the potential that is needed to be a successful municipality," said Coleman. "With its first railroad founded in 1845 as well as having started out as a seaport town, the potential here is endless. We have the tools at the EDC to restore Bladensburg back to its glory days and we are going to make that happen. Let's bring back the boom in Bladensburg's economy."
Coleman spoke of millions of dollars in valuable resources to grow their local businesses, attract new development to the town and prepare its residents for high wage jobs.
The EDC has made the success of Bladensburg a priority throughout the year hosting its Thirsty (For Business) Thursday event as well as participating in business outreach events. Today, this effort was strengthened by Secretary of Commerce Mike Gill's support of Bladensburg.
"Economic development is a team sport," said Gill. "I really do believe that success starts with strong economic development policy and culture. Everyone sitting here today is a part of that culture and are a part of the team that is going to make Maryland, Prince George's County and Bladensburg a great success!"
Bladensburg Mayor Walter James hosted the Town Hall meeting and voiced his excitement to continue to build a thriving business community.
"We are happy to have Mr. Coleman and Secretary Gill in Bladensburg today," said James. "Today we talk about economic development and sustainability and our city looks forward to the support of the EDC and the Department of Commerce in continuing to grow our economy."
For more information on how the Economic Development Corporation can help your business grow, contact us at 301-583-4650.
Maryland Nursing Home Regulator Struggling to Keep Up
By CARLOS ALFARO and DARCY COSTELLO
Capital News Service
COLLEGE PARK, MD—As complaints rise throughout the nursing home system in Maryland, state nursing home regulators have a persistent staffing problem and are struggling to keep up.
By the end of 2015, about one in every five positions were unfilled at the Office of Health Care Quality, which is crucial to the regulation and inspection of health care facilities such as hospitals and nursing homes, according to a 2017 fiscal year budget analysis conducted for the Maryland General Assembly. That vacancy level is nearly double from the previous year.
The staffing problems are hindering proper oversight, according to an analysis of the Office of Health Care Quality's 2017 fiscal year budget. The agency "has faced chronic staffing shortages over the past few years due to the combination of an increased workload, a structural deficiency in positions allotted for survey and inspection activities, and chronic vacancies among surveyor positions," according to the state legislative analysis.
The OHCQ's staffing problems are, at the very least, slowing down the agency's reviews of nursing homes and other entities. A staffing turnover rate of 7.6 percent "impinges on the Office of Health Care Quality's (OHCQ) ability to fulfill its statutory responsibilities," according to its budget for the 2016 fiscal year. The update released earlier this year, for the 2017 fiscal year, paints a bleaker picture, saying that "OHCQ indicates it will do little to improve its staffing situation."
The agency's response time missed a federal goal set by the Department of Health & Human Services of starting an investigation within 10 days of a complaint alleging actual harm, according to the budget analysis. In 2015—the most recent year available—it took an average of 34 days to initiate an on-site investigation, which the agency attributed to a hiring freeze, according to the budget analysis.
Alice Hedt, former Maryland state long term care ombudsman, said the vacancies are a concern. "This shortage of one out of five positions not being filled — it's obviously going to impact their work," Hedt said.Christopher Garrett, spokesman for the Maryland Department of Health and Mental Hygiene, said OHCQ made "significant progress" in doing more with less through regulatory efficiency and effectiveness in the past three years. He defended the agency's budget, saying "staffing at all levels of government could be viewed subjectively."
"What matters is that OHCQ remains committed to performing the required surveys to hold providers accountable for maintaining appropriate levels of care to Marylanders," Garrett wrote in an email. The Office of Health Care Quality received 1,083 complaints about nursing homes in the 2015 calendar year. Of those complaints, 122 related to admissions, discharges and transfers.
These staffing concerns come as Maryland's elderly population continues to grow. In 2010, some 19 percent of the state's population of 5.7 million was age 60 or older, and this age group will rise to 26 percent by 2030. According to data collected by The Henry J. Kaiser Family Foundation, there were 25,513 residents in certified nursing facilities in Maryland in 2014, up from 24,178 residents in 2013.
The budget documents show the agency also had trouble surveying assisted living facilities. In 2015, the agency surveyed 70 percent of assisted living facilities, fewer than its goal of 80 percent. There were 1,482 licensed assisted living sites in 2015, and the number is expected to grow to slightly over 1,500 in 2016.
Problems with oversight might lead to a rise in unlicensed facilities that can gamble on operating without fear of being caught, according to one expert.
"A lot of these assisted living providers are popping up, and they recognize that it's difficult and that OHCQ has pretty limited recourses to be able to conduct surveys on a very regular basis with them," said Anne Hurley, former project director for Long-Term Care Assistance Project at Maryland Legal Aid.Still, the budget documents paint a more stark picture, saying the Office of Health Care Quality "has faced chronic staffing shortages over the past few years" due to increased workload and shortage of inspectors and surveyors.
The staffing woes are not expected to go down any time soon. The agency's workforce is old enough that within five years, 51 percent of the workforce will be eligible for retirement. Age is not the only factor in the agency's staffing problems: Similar opportunities in the private sector pay more than the agency, according to Maryland Delegate Kirill Reznik.
"We have a hard time filling those roles because the individuals who are qualified for those positions can make significantly more money in the private sector," said Reznik, a Democrat from Montgomery County who chairs the health and human resources subcommittee that oversees the Office of Health Care Quality.
Reznik says that the agency is "losing people to the private sector, companies that the office is supposed to inspect." Across-the-board vacancies are nothing new to the agency that has about 202 positions overall. The agency is down 52 surveyor positions in the 2016 fiscal year. The deficiency peaked in the 2013 fiscal year with 107 vacancies in the last 12 years.
The agency's staffing shortage also affects the amount of federal funding it receives. Vacancies in its fiscal department make it harder for the agency to apply for federal funds, and it risks losing federal funds if it can't meet federal rules, according to the budget analysis. At the state level, the agency's budget is generally consistent. The agency has a $20.3 million budget allowance for the 2017 fiscal year, a 1.4 percent increase from the prior year.