May 5 - May 11, 2016
Click Here for 2016 Tax Sale Listings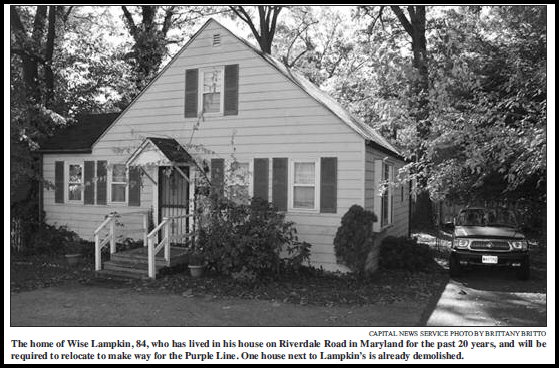 Homeowner Forced to Relocate Due to Purple Line Plans
By Brittany Britto
Capital News Service
RIVERDALE, MD—Wise Van Lampkin's home sits on Riverdale Road, tucked between the memories of two neighbors. To the east, there is only a vacant lot, sprinkled with straw. To the west, the house is stripped of its siding, windows shattered.
Lampkin's, a welcoming yellow house with wooden shutters, will be vacant soon.
His home, which he bought in April 1995, belongs to the Maryland State Highway Administration, to make way for the state's newest transit project, the Purple Line.
The Purple Line will be a 16.2-mile double track light rail with 21 stops running from Bethesda in Montgomery County to New Carrollton in Prince George's County.
The $5.6 billion transit project will connect to the red, green and orange Metro lines, as well as all three MARC Train lines and Amtrak, and is projected to create more than 23,000 jobs within the state over six years, according to Gov. Larry Hogan's administration. The state transit administration plans for trains to begin running in the spring of 2022.
But in the process, more than 150 homes will be impacted.
According to the Maryland Transit Administration's August 2013 Purple Line impact statement, a total of 25 single-family homes in Maryland are being fully acquired by the State Highway Administration to make way for the light rail line, meaning residents in the area will have to relocate and look for new places to live.
More than 120 residential properties, including apartment units, will undergo partial acquisitions, meaning portions of the properties, such as front yards, can be taken—permanently or temporarily—for construction purposes.
Riverdale will be one of the hardest hit.
Twenty-two homes in the Riverdale area will be fully acquired before preliminary construction is set to begin later this year to make way for the line, which will lead to a new station—Riverdale Park. More than half are already sold and vacant, and some have already been demolished, making way for major construction that will most likely begin later this year, according to the Maryland Department of Transportation.
At least 20 owners in Riverdale have already settled with the state—including Wise Lampkin. West of Lampkin's home, the owner settled in January 2015 for around $155,000, according to state property tax records. To the east, the owner of the neighboring home settled in August 2014 for $149,000.
In mid-October, Wise Lampkin signed over his property for $131,000. The sale was finalized in November, according to property records, but it was not without a struggle.
The 84-year-old has lived on Riverdale Road for two decades.
His home was the base for holidays and events for him and his family of 12—including his wife, eight daughters and two sons. It was a safe haven for his nephew and two daughters who once lived there. It was the reason he and his wife stayed together, Lampkin said.
Now, Lampkin lives alone. His wife died 2011. His 10 children, the youngest one now in her 40s, have all grown up.
The two-bedroom, one-bathroom home is modest in size, but it was something he wanted to pass on to his children.
"I want them to have something we had," Lampkin said before the settlement was made.
The senior citizen, who works at a nearby car dealership as a lot attendant, said he has been pouring himself into the home since he bought it in 1995.
"I've been spending money on this house," Wise Lampkin said, pointing to the pavement, which he installed himself years ago with a pick and shovel—"the old-fashioned way."
It would hurt him to move, he said, "but they're going to do what they got to do."
If worse comes to worst he will move in with his daughter Betty Lampkin, he said. She takes care of him.
The 59-year-old, who lives in Washington, is the oldest of Wise Lampkin's eight daughters and acts as his caretaker.
Late last year, she sat outside the Riverdale home in a silver car, out of earshot of her father, who she said gets visibly upset whenever anyone brings up the Purple Line and his home.
"It just tore him down mentally. He's so discombobulated. It's just sickening," Betty Lampkin said of her father, who in his old age, is forgetful and displays early symptoms of dementia.
Betty Lampkin, who visits her father regularly, initially had no idea that her father's house was in jeopardy. She hadn't seen the many envelopes that had been arriving at the house, and her father wasn't reading them.
"He didn't think about half the mail—he wasn't looking at it. He wasn't opening it. That should have told (the Maryland Transit Administration), 'Okay, we're not getting a response from this person. We need to do more research.' They didn't do any research. They just kept sending correspondence and not getting any answer. That should've raised a red flag," Betty Lampkin said.
Had they came to see him, Betty Lampkin said, her father would have called her and she could have jumped in a long time ago. She only learned about the transit plans in summer of 2014 through her nephew who found the envelopes. Since then, the process since has been an inconvenience, she said.
Busy with a family of her own and searching for steady employment, Betty Lampkin is working to finish her associate's degree, a feat she nearly gave up on after her mother's death in 2011.
On top of it all, Betty Lampkin has never owned a home.
"I'm in school, and I can't get my stuff done because I'm working on this. This is new," Betty Lampkin said of this transition with her father and the home. "I don't know how to do this. It's like having a newborn baby."
There were several papers to sign and the option to go to court to appeal and request more money in the settlement, but ultimately, Betty Lampkin said, she and her father had no choice. They were told they would have to give up the property voluntarily or involuntarily.
"There was no compassion at all," Betty Lampkin said.
After settling in October, the family initially had until mid-January to move out, but yet to find a home, Betty Lampkin prolonged her father's stay, hoping to keep him until the last minute possible. In December, Betty Lampkin said, she was given 30 days notice, but in January, she still wasn't ready. She communicated with the transit administration and set a March deadline for herself. But now April is here, and Betty is still looking for a new home for her and her father.
"I don't have any place for him to sleep, and they're pushing me hard," Betty Lampkin said.
But the Maryland Transit Administration recognizes that property acquisitions put pressure on businesses and homeowners. It is often a part of any important state project involving construction, Sandy Arnette, Maryland Transit Administration spokeswoman, said.
"Maryland Transit Administration carefully follows all federal and state laws and offers fair market values during property acquisitions. We also work closely with all property owners to ensure they are treated in a fair and equitable manner," Arnette said.
Betty Lampkin tried to do what she could to fight for the house. She hired an attorney—a friend of a friend—but she said it wasn't worth it; not only because the house would be lost to the state regardless, but because the attorney disappeared.
"I called and left her messages, and she never returned my messages," Betty Lampkin said.
To get her father to sign the papers to relinquish the property was one of the most difficult things she ever had to do, Betty Lampkin said.
"To take him out of his environment and revamp his whole life, it has been an emotional rollercoaster ride for me, and especially for him," Betty Lampkin said. "He just felt like he was being taken advantage of."
"'My wife is gone. My house is gone. Now I don't have anything'," he would say to her.
"That's all he knows since my mother was living there," Betty Lampkin said.
Mindy Fullilove, a psychiatrist and professor of clinical psychiatry at Columbia University's school of public health, said that the sense of loss that a family feels when being forced to move is more than just grief and pain.
Moves like Wise Lampkin's can shake up core psychological processes for the homeowners.
Fullilove has studied the effects of moving and urban renewal for the past 20 years and said she believes that though public transit is a legitimate public taking for the greater good, governments should be more mindful of the eminent domain process and how moving affects residents in the long term.
For people like Wise Lampkin, a house is not just a house—it's a way of life, Fullilove said.
"A house is located in a neighborhood and city. The people you know are connected to a house. All of those things are interconnected … In a way, when you lose a space that you lived in with a (significant other), you lose the memories," Fullilove said.
Many people, especially those older in age, feel especially disoriented after being relocated, said Fullilove, referring to this process as a part of orientation psychology.
"It's a process where we know where we are in a space. We know where things are that we need, both in the house and neighborhood. It shakes you up and everything you think you know about the world," said Fullilove.
A home closely relates to a person's identity, and that sense of belonging and orientation for a healthy life is not optional, Fullilove said.
The Maryland Department of Transportation has spent $19.3 million on property acquisition for the Purple Line through October 2015, according to Maryland Transit Administration. An estimated total of $263.5 million has been budgeted for property acquisitions between the 2016 and 2021 fiscal years.
The Maryland Transit Administration has declined to comment on negotiations that are still in process, but a relocation assistance program document provided by the Maryland Transit Administration said that the owner of a home may be eligible to receive payments to help purchase a replacement home as well as assistance with any moving costs or increases in mortgage payments if asked to relocate.
Betty Lampkin has said that the state has offered to pay off Wise Lampkin's home loan along with his moving costs and storage for up to two years.
And though Betty Lampkin can put some of the settlement money toward a house, she said, her father still wants his space and independence.
"He wants this house—that's it. He doesn't want to move with anybody."
But neither of them have a choice, Betty Lampkin said.
Wise Lampkin currently pays around $800 a month for his home, a deal Betty Lampkin said would be hard to find elsewhere. But now, he is living on a ghost street of vacant homes.
According to Betty Lampkin, the transit administration has expressed concerns about her father being alone on the block, since he is one of the last residents left on Riverdale Road, and his home is surrounded by vacant properties.
"They think they are doing people a favor by making sure he's in a safe environment," Betty Lampkin said, but really, the Maryland Transit Administration is putting her under immense amounts of stress.
The final decision for the Purple Line was made April 6 at the state Board of Public Works meeting where the $5.6 billion contract was approved.
"It's putting pressure on my family to uproot my home and his, because I don't have the space. They just care about putting the (Purple Line) in there," said Betty Lampkin, noting that moving out this month is not practical. She will be putting it off as long as she can to buy time, she said.
Betty Lampkin still has to find a home. She has to choose the storage unit for her father and send the bill to the transit administration. She has to get estimates from at least two moving companies, and then she has to wait for the state, which will make the final decision. Only then can she and her father pack up the house and the memories and start anew.
"I'll be glad when it's over," Betty Lampkin said.
Prince George's County Launches Child Care Safety Awareness Campaign
By Press Officer
PG County Government
LANDOVER, MD—Prince George's County Executive Rushern L. Baker III, State's Attorney Angela Alsobrooks, Police Chief Henry P. Stawinski, Colonel Darrin Palmer, Chief Assistant Sheriff, Betty Hager Francis, Deputy Chief Administrative Officer for Health, Human Services and Education, Gloria Brown, Director of the Department of Social Services, and Jennifer Hoffman, Acting Director of the Prince George's Child Resource Center, along with a team of local partners and nearly 100 children, launched the "Who's Watching My Child?" Child Care Safety Awareness campaign on Thursday, April 14, 2016, at Watkins Regional Park in Upper Marlboro, Maryland. The campaign coincides with Child Abuse Prevention Month, which is observed nationally in April. It was developed in response to recent tragedies related to children's harm at the hands of caregivers, and to provide information about child care resources in Prince George's County.
The Child Care Safety Awareness campaign is designed to inform parents of what to look for when allowing someone to care for their children, and will empower families to keep their children safe by providing resources and greater awareness of the importance of choosing appropriate child care. "This year during Child Abuse Prevention Month, it is our goal to raise more than just awareness. We are working to increase the community's ability to keep children safe," said Prince George's County Executive Rushern L. Baker III. "Law enforcement is doing its part by arresting and prosecuting individuals who commit crimes against children. It is now time for the community to do its part by being vigilant in knowing who is caring for our babies. We hope this campaign helps to increase the community's ability to protect our most innocent and vulnerable citizens."
"Over the last two years, we have seen five children killed at the hands of their mothers' boyfriends after the child was left with them because the mother felt she had no other childcare options," said State's Attorney Angela Alsobrooks. "That is why it is so important that we have these resources available for families who cannot find or afford safe childcare. We must do better for our children and for their parents and with today's announcement, we are taking the first step towards doing that."
"As a prevention oriented, strategy-based police department, it is our goal not to investigate these cases once we learn of them, it is to prevent them from happening in the first place," said Chief of Police Henry P. Stawinski. "Where your children are concerned, we ask parents to be nosey, ask questions, and call authorities with any concerns."
Colonel Darrin Palmer, Chief Assistant Sheriff, added, "What a great opportunity parents have today to become educated, have resources available, and become connected with information on licensed child care providers."
Gloria Brown, Director of the Prince George's County Department of Social Services, stated, "It is time for us to be proactive and it is imperative that parents make every effort to ensure the safety of their children. Whether you are leaving to go to work or leaving to run an errand, always stop and ask 'who is watching my child?' It goes well beyond just knowing the person's name. If the person caring for your child has displayed anger issues or disciplined your child without your knowledge or permission, you must STOP—assess Safety, assess Trust, Observe the environment and have a backup Plan that does not place your children in harm's way."
The Prince George's County Department of Social Services provides referrals to licensed child care providers at 877-261-0060 or visit the website at www.marylandfamilynetwork.orgor more information about child abuse prevention programs and activities during the month of April and throughout the year, contact 301-909-7073 or email us at pgcdss@maryland.gov.
EDC 'Activates Prosperity' tThrough Advocacy at Thirsty Thursday Networking Event
State Senator Muse and Council Member Patterson Among the Dignitaries Networking with More Than 150 of the EDC 'Posse'
By Lori Valentine
PGCEDC
Temple Hills, MD—On April 21, State Senator C. Anthony Muse (Dist. 26) was the guest speaker for the Prince George's County Economic Development Corporation's (EDC) "Thirsty (for Business) Thursday" (T4BT) networking event. EDC President and CEO Jim Coleman brought his 'posse' of more than 150 business owners to the Infuse Restaurant in Temple Hills for the April T4BT. "Thirsty for Business Thursday" is well known for its ability to highlight fine dining and entertainment venues in the County and for its dynamic guest speakers who share priceless nuggets of information that give local companies an edge on the competition in this region. Senator Muse gave the capacity crowd a brief overview of what the Maryland General Assembly did to enhance business development and retention during the 2106 legislative session.
"This is how we roll in Prince George's County," said Coleman. "We put our business owners face to face with our local elected officials so they can talk directly to them about the issues that matter to them most. That's 'Activating Prosperity' through advocacy and one of the ways to truly make a difference in your business's bottom line."
Infuse Restaurant, along with Perfect Office Solutions, NAI Michael Companies and Berman Enterprises graciously sponsored this evening's event.
Local business owners from all over the County continue to make it their business every month to come out to network with government, non-profits and other local businesses in a relaxed and collaborative atmosphere. Yesterday's event provided an opportunity for local companies to find out what type of funding would be coming to Prince George's County from the State of Maryland and how they shouldn't sleep on the opportunity to get a piece of that funding for their businesses.
"My job is to be a partner with the County to ensure that Prince George's County receives its fair share of funding from the State," said State Senator C. Anthony Muse. "While Prince George's County will receive from the State $27.5 million in capital funding for the Prince George's Hospital Center, $15 million for the new Regional Medical Center, $1 billion for public schools, $6.3 million for business assistance, and $13.7 million for financing small businesses, there is still more to do to ensure that all of our businesses can prosper in this new economy. When business does well, everyone does well. My job is not complete until all are prosperous and major contracts in the County hire directly in our neighborhoods."
Council member Obie Patterson was also in attendance and welcomed the EDC and "Thirsty for Business Thursday" to Council District 8.
"We need more functions like this (T4BT) to allow our businesses to dialogue and network and form real partnerships. That's how we get things done in Prince George's County," said Council member Patterson. "Development projects like MGM have a greater significance in the County thanks to the work my colleagues on the Council and in the General Assembly continue to do to ensure that local impact money—money set aside from the MGM proceeds to assist minority and women-owned businesses within a five mile radius of the resort—gets to the companies that need it most."
The next opportunity to network with Jim Coleman and his 'posse' will be on May 19th when "Thirsty for Business Thursday" heads to Romano Vineyard and Winery, 15715 Bald Eagle School Road in Brandywine, MD. This event will be held from 5:30 p.m. to 7:00 p.m. RSVP to Nicole Edwards at 301-583-4650 or naedwards@co.pg.md.us.
Second Year Cinco De Mayo Soberride Launched to Deter DUI in PG County
By Press Officer
WRAP
Upper Marlboro, MD—Preparing to combat that time of year when, according to the National Highway Traffic Safety Administration (NHTSA), over one-third (33.8%) of all U.S. traffic deaths involve drunk drivers,* free cab rides will be offered to would-be drunk drivers throughout Prince George's County, Maryland next week and on the Mexican holiday, Cinco de Mayo (May 5th).
Offered by the nonprofit Washington Regional Alcohol Program (WRAP), the 2016 Cinco de Mayo SoberRide® program, now in its second year after being inaugurated in 2015, will be in operation beginning at 4:00 pm on Thursday, May 5, 2016 and continue until 4:00 am on Friday, May 6, 2016 as a way to keep local roads safe from impaired drivers during this traditionally high-risk holiday.
During this 12-hour period, area residents celebrating with alcohol may call the toll-free SoberRide phone number
1–800–200–TAXI (8294) and be afforded a no-cost (up to a $ 30 fare), safe way home. AT&T wireless customers can dial #WRAP for the same service.
Last year, over 160 (164) persons in the Washington-metropolitan area used WRAP's first new holiday SoberRide offering in nearly two decades. The charity also offers its SoberRide program on St. Patrick's Day, Independence Day, Halloween and the winter holidays leading up to and including New Year's Eve.
Local taxicab companies throughout the Washington-metropolitan area provide this no-cost service to local residents age 21 and older who otherwise may have attempted to drive home after drinking.
"According to government figures, over a third of U.S. highway deaths on Cinco de Mayo involve drunk drivers," said Kurt Gregory Erickson, WRAP's President. "Worse, nearly a fifth of these drivers involved in fatal crashes had blood alcohol concentration levels of .15 or higher."
SoberRide is offered in the District of Columbia; throughout the Maryland counties of Montgomery and Prince George's; and throughout the Northern Virginia counties of Arlington, Fairfax, (eastern) Loudoun and Prince William.
Sponsors of this year's Cinco de Mayo SoberRide campaign include AAA Mid-Atlantic, Anheuser-Busch, Constellation Brands, Diageo, District of Columbia Association of Beverage Alcohol Wholesalers, Enterprise Rent-A-Car, Foundation for Advancing Alcohol Responsibility, Giant Food, Glory Days Grill, MillerCoors, Red Top Cab of Arlington, Restaurant Association Metropolitan Washington, Volkswagen Group of America and the Washington Area New Automobile Dealers Association.
Participating taxicab companies include: Alexandria Yellow Cab; Barwood; Fairfax Yellow Cab; Loudoun Yellow Cab; Northern Virginia Checker Cab; Red Top Cab; Silver Cab of Prince George's County; Yellow Cab of D.C.; and Yellow Cab of Prince William County.
Founded in 1982, the nonprofit [501(c)(3)] Washington Regional Alcohol Program (WRAP) is a coalition of diverse interests using effective education, innovative programs and targeted advocacy to end alcohol-impaired driving and underage drinking in the Washington, DC metro area. Through public education, innovative health education programs and advocacy, WRAP is credited with historically keeping the metro-Washington area's alcohol-related traffic deaths lower than the national average.
University of Maryland to Provide Hearing Aids to MD Residents in Need
By Press Officer
UMD
College Park, MD—The University of Maryland Hearing and Speech Clinic is teaming up with the Lions Club organization to provide free hearing aids and fittings for low-income residents in Maryland and Washington, D.C.
According to the National Institutes of Health, approximately 37.5 million American adults report some trouble hearing. Yet only about 15 percent of adults who could benefit from wearing hearings aids has ever used them. Some of the biggest barriers include stigma and cost as hearing aids are not traditionally covered by Medicaid or other forms of health insurance.
Through this new partnership, the UMD Hearing and Speech Clinic is reconditioning hearing aids collected through the Lions Hearing Aid Recycling Program and distributing them to patients in need. Students in the Department of Hearing and Speech Sciences gain critical hands-on experience through the program as they assist in evaluating patients and fitting them with the devices.
"It's a win-win," said Dr. Paula Schauer, assistant clinical professor in the Department of Hearing and Speech Sciences. "Our students get really valuable training and we're able to work collectively to provide this program that's so important to the community."
The UMD clinic is assisting qualified residents from Calvert, Charles, Montgomery, Prince George's and Saint Mary's counties, as well as Washington, D.C. People interested in applying to receive hearing aids through the program should contact the clinic directly at 301-405-4218.
About the Hearing and Speech Clinic at the University of Maryland:
The Hearing and Speech Clinic at the University of Maryland provides speech, language, and hearing services for individuals of all ages with a wide variety of disorders. It is operated by the Department of Hearing and Speech Sciences as both a training and research facility of speech-language pathology and audiology. Services are provided by students who
are working towards their Master's degree in speech-language pathology or their Doctoral degree in audiology. These students are closely supervised by experienced faculty members who are certified by the American Speech-Language and Hearing Association (ASHA) and licensed by the Board of Examiners of the State of Maryland.