May 19 - May 25, 2016
Click Here for 2016 Tax Sale Listings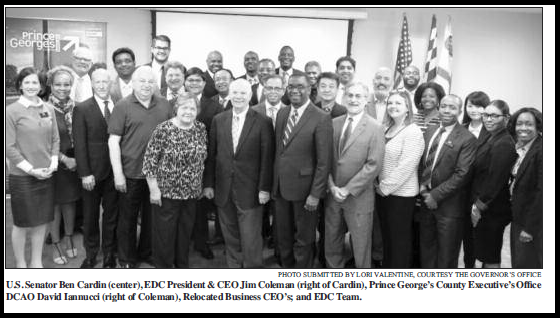 EDC Hosts Roundtable for U.S. Senator Ben Cardin with Top Executive's from Local Companies
Senator Cardin Credits Hard Work of Baker Administration with County Success in Attracting CEO's from Around the World to Say 'Yes' to Moving to Prince George's County
By Lori Valentine
PGCEDC
LARGO, MD—On May 6, the Prince George's County Economic Development Corporation (EDC) had a very productive conversation with U.S. Senator Ben Cardin in its Largo office to talk about economic growth in Prince George's County. During this exclusive meeting, EDC President and CEO Jim Coleman and his executive team introduced Senator Cardin to the CEO's of eight companies, who have recently relocated to Prince George's County, for an intimate conversation on why they decided to move to the County and how the EDC provided assistance in their relocation.
"We're delighted to be able to showcase for Senator Cardin some of the economic development fire power that Prince George's County is attracting," said Coleman. "County Executive Baker has been worked tirelessly over the last five years to create a business climate that encourages hyper growth. Whether it was his ethics reform in County government, or the streamlining of the permitting process through the Department of Permitting, Inspections and Enforcement, or launching the Transforming Neighborhood Initiative, or establishing a $50 million Economic Development Incentive Fund, or appointing a highly accomplished CEO over the County's public schools, the business community has come to realize that Prince George's County is much more than a sleepy little bedroom community just outside of Washington, D.C. But now is not the time for cooling off!"
The briefing was also an opportunity for Senator Cardin to provide a legislative update on what is transpiring on Capitol Hill that may have an impact on the local business community. In addition, David Iannucci from County Executive Baker's office gave an update on the Regional Medical Center and the status of the FBI relocation.
"Two of the most important projects to lead Prince George's County, and are symbolic of the rebranding of the County, are the Regional Medical Center and the FBI," said Iannucci. "The State and County are working aggressively on infrastructure support because we are confident that we have the strongest sites for the new FBI headquarters. Having the FBI in Prince George's County will be a real game changer; similar to President Roosevelt putting the Pentagon in Northern Virginia. It will reinvent the County and its economy by bringing 11,000 federal jobs, 3,000 additional jobs and millions of square feet in office growth."
In making the case for the economic growth in Prince George's County, the Economic Development Team highlighted its "Activate Prosperity" initiative, which maximizes the deployment of the EDC's efforts and financial resources in order to raise awareness about current job opportunities and helps businesses take advantage of available programs that can increase their revenues and create more jobs.
"It is not an accident that Prince George's County is home to over 77,000 small businesses that provide quality services and products that support many well-paying jobs throughout the region," said Senator Cardin, member of the Senate Small Business and Entrepreneurship Committee. "It is an exciting time to be in Prince George's County. Prince George's County's successes start at the top, with County Executive Rushern Baker's commitment to restoring the reputation of Prince George's County as a place where you would get the type of good governance that is fundamental for a business to decide to locate in Prince George's County. Then bringing in good, dependable people, like (EDC President) Jim Coleman, to build on your strengths as a County. The companies around this table telling why they've come to Prince George's County are a testament to the energy and commitment Coleman has brought to the County."
The highlight of the meeting came as CEO's from eight high growth, key industry sectors companies that have recently moved to the County shared why they felt the need to be in Prince George's County.
Professional services companies and developers, as well as software development and information technology cited the improved image and the new confidence in the County brand that convinced them to relocate to Prince George's County.
"We came upon this great opportunity to open an office in Prince George's County through the leadership of the EDC who reached out to our company from India when we came to the County on a delegation visit," said Asheesh Jain, CEO of Creative Lipi, a digital marketing and software development company from India. "As a part of the India Business Center (Accelerator), we have found that Mr. Coleman and Dr. Ganguly mean business and know how to get it going. Within 48 hours of landing, I had five appointments and my business was up and running in this country."
Others talked about the amount of new construction taking place throughout the County, the availability of a talented workforce and the need to be in the midst of the new Prince George's County as their catalyst.
"My business has been in Washington, D.C. for over 30 years, but Jim Coleman is a difficult man to say 'no' to," said Steve Dunn, Owner, Well Dunn Caterers in Hyattsville, MD. "When I was looking to relocate my property, I found that Prince George's County offered the best opportunity for our company to grow. Since moving to the County in January, I have increased my workforce by 15% with County residents. We are pleased to be part of the macro growth in Prince George's County and look forward to being here for many years."
There was a sense of expectancy that their businesses were going to be able to grow successfully in Prince George's County, and that they were situated where the action is going to be in this region for a long period of time.
Today's visit by Senator Cardin provided further validation that Prince George's County is on the right track for being the economic engine of the State of Maryland. It is strategically aligned with its partners at the federal, State and local levels to establish competitive places for even more development, more job creation and greater prosperity for County residents.
For more information on business development assistance or expansion, contact the Pradeep Ganguly (pganguly@co.pg.md.us) at 301-583-4602 or visit the Economic Development website at www.pgcedc.com
PG County Government Employees Volunteer Throughout County
By Press Officer
PG County Government
Upper Marlboro, MD—On April 30, hundreds of Prince George's County employees along with thousands of residents spent their Saturday volunteering at various Christmas in April and "Clean Up, Green Up" locations throughout the County. Both these initiatives have been important clean-up efforts during County Executive Rushern L. Baker, III's administration. County Executive Baker believes that County employees should take time to volunteer and get involved in communities throughout the County and today is an example of how employees give back to causes around the County each and every day.
"I often say how fortunate I am to work with such a kind-hearted and giving group of people," said County Executive Baker. "Their willingness to give of their time to make life better for others is inspiring. I want to thank everyone for helping make Prince George's County a great place to live. I also want to thank the thousands of residents who came out for our annual Christmas in April and "Clean Up Green Up" Day. The promise and progress of Prince George's County resides in our residents being fantastic neighbors—today's county-wide volunteer efforts epitomize the dedication that Prince Georgians have for helping each other out improving our communities."
In its 28th year, Prince George's County's Christmas in April, a non-profit that offers free home repairs to homeowners selected for the program, has repaired 2,501 homes throughout the County. This year, Christmas in April repaired 81 homes with approximately 3,500 volunteers. The Office of County Executive adopted the home of Ida Douglas in Landover, MD for the Prince George's County Christmas in April charity. Ms. Douglas is 84 and has lived in this home for almost 50 years. The Office of County Executive appreciates the support for this project provided by the business, non-profit and faith-based communities.
"Clean Up, Green Up" is a one-day, twice per year, county-wide landscape beautification effort. The County's Department of Public Works and Transportation (DPW&T) provides free plant material with the promise that community groups will plant in public spaces, including schools, streetscapes, neighborhood entrances, and municipal centers. Members of the Office of County Executive also volunteered at various "Clean Up, Green Up" beautification sites in our Transforming Neighborhood Initiative communities of Langley Park, Bladensburg/East Riverdale, Kentland/Palmer Park, Suitland, Hillcrest Heights/Marlowe Heights, and Glassmanor/Oxon Hill.
PG County: Strong in Opportunity
County Executive Baker Announces Plan to Bring County Offices to Largo at 'State of the Economy' Address
By Lori Valentine
PGCEDC
Clinton, MD—On April 13, County Executive Rushern Baker presented his 2016 'State of the Economy' Address to a sold out crowd of 500 local business leaders, developers and elected officials at the Colony South Hotel in Clinton, Maryland. Mr. Baker used the theme of "Opportunity" to highlight the current state of the economy, job creation and the workforce development that has taken place in Prince George's County since his election in 2010. Today's event was co-hosted by the Prince George's County Economic Corporation and the Greater Prince George's Business Roundtable.
"In five short years, we have moved from a County that was under investigation by the FBI, to a County looking forward to bringing the FBI to the County," said Mr. Baker. "The new reality is that our economic development, crime reduction, and school system restructuring strategies are working, and we are now positioned to take advantage of the opportunities we always knew were there. Imagine what the future will be like with a town center and performing arts center in Suitland; the Regional Medical Center and government operations, including the Office of the County Executive in Largo; and creating our own 'Union Station' in New Carrollton. Is it possible? Absolutely!"
Prince George's County has experienced exponential growth as a result of the concerted efforts by the Baker Administration to grow a sustainable economy equipped to withstand the economic downturns of the future. The catalysts for this growth include: instilling integrity and confidence in County government by implementing ethics reform; streamlining the permitting process and establishing an agency specifically designed to address permitting, inspections and enforcement; launching the Transforming Neighborhoods Initiative; establishing the $50 million Economic Development Incentive Fund; and appointing a highly accomplished Chief Executive Officer to improve school performance.
"Today was an opportunity to celebrate the leadership that County Executive Baker has brought to Prince George's County," said EDC President and CEO Jim Coleman. "From crime and unemployment to job creation and business growth; everything that should be down is down and everything that should be up is up. This is the way things should be."
Prior to County Executive Baker's speech, Mr. Coleman highlighted how the Administration has positioned the County to Activate Prosperity and accentuate its valuable opportunities for County residents and businesses. Mr. Coleman also shared with the over capacity crowd how the Economic Development Corporation continues work to retain and grow current employers, executes the County's tailored acquisition strategy targeting information technology, healthcare and life sciences, business services and federal government agencies, and is winning new businesses to the County every day.
"This is an exciting time to be in Prince George's County," said Jim Estepp, President and CEO, Greater Prince George's Business Roundtable. "Not only is the quality of life at an all-time high, but economic development is really cranking up. Without a doubt, we are going to be the regional leader in the foreseeable future."
PGCPS Students Try Out for National Women's Cricket Team
By Press Officer
PGCPS
UPPER MARLBORO, MD —Two Prince George's County Public Schools (PGCPS) students will participate in the USA Cricket Combines hosted by the International Cricket Council from May 19 to May 22 in the Washington, D.C. area.
Julia Chotoo, a sophomore at Eleanor Roosevelt High School, and Sannuthi Samuel, a sophomore at Laurel High School, will undergo fitness and skills testing and compete in matches to determine if they meet the qualifications needed to join the USA National Women's Cricket Team.
"I am extremely excited about the opportunity to try out for the national women's cricket team," said Chotoo. "I look forward to showcasing my skills and seeing how I match up with other girls my age."
Chotoo is the head coach for the Whitehall Elementary School Cricket Team, which participates in the Bowie Elementary School Teams (BEST) Cricket League, and played in one game for Kenmoor Middle School in the Washington Area Middle Schools (WAMS) Cricket League. Samuel currently plays for the Bowie Boys and Girls Club 15U Travel Cricket Team, and played for the Buck Lodge Middle School Cricket Team in the WAMS Cricket League last year.
The BEST and WAMS leagues are the first elementary and middle school cricket leagues in the United States. Both leagues started in PGCPS and are now expanding to other counties in Maryland.
PGCPS Again Lead the State in Newly Certified Green Schools

By Press Officer
PGCPS
UPPER MARLBORO, MD—Prince George's County Public Schools (PGCPS) once again leads the state in the number of schools who earned their Maryland Green School certification for the first time. 34 schools have joined the Maryland Green Schools program, two schools have recertified, and two schools received sustainable school status. This brings the district's total number of Green Schools to 71.
"I am thrilled once again with the number of schools that received certification this year," said Dr. Kevin M. Maxwell, Chief Executive Officer for PGCPS. "We have made great efforts to expand our Environmental Literacy program to ensure that all students understand how environmental relationships impact our communities and what actions they can take to create and maintain an optimal relationship between themselves and the environment."
The Maryland Green Schools program, sponsored by the Maryland Association for Environmental and Outdoor Education (MAEOE), is one of the most rigorous and comprehensive Green School certification programs in the country. It encourages educational opportunities, increases environmental awareness, and promotes environmental stewardship practices for students at all grade levels. Through a non-competitive application process, schools must demonstrate their green activities and culture in eight criteria areas.
Green Schools must recertify every four years to keep their status current. After three consecutive recertifications, schools are considered "model schools" and no longer have to recertify. Bond Mill Elementary School and Rockledge Elementary School recertified their Green School status this year. High Point High School and John Hanson Montessori School obtained sustainable school status, which means they have maintained a Green School status for a minimum of 14 years. The following 34 schools earned new certifications:
Academy of Health Sciences @ Prince George's County Community College
Arrowhead Elementary School
Benjamin Foulois Creative and Performing Arts Academy
Benjamin Tasker Middle School
Bladensburg High School
Bowie High School
Capitol Heights Elementary School
Chapel Forge Early Childhood Center
Cherokee Lane Elementary School
Clinton Grove Elementary School
Doswell E. Brooks Elementary School
Gladys Noon Spellman Elementary School
Glenn Dale Elementary School
Heather Hill Elementary School
Hyattsville Elementary School
Imagine Foundations at Morningside
J. Frank Dent Elementary School
Judith P. Hoyer Montessori
Kingsford Elementary School
Marlton Elementary School
Mattaponi Elementary School
Oxon Hill High School
Paint Branch Elementary School
Panorama Elementary School
Phyllis E. Williams Elementary School
Pointer Ridge Elementary School
Port Towns Elementary School
Stephen Decatur Middle School
Suitland High School
Thomas Johnson Middle School
University Park Elementary School
Whitehall Elementary School
William W. Hall Academy
Woodridge Elementary School
MAEOE will celebrate all newly certified and recertified schools and centers at the Annual Maryland Green School Youth Summit on May 13 at 9:30 a.m. at Sandy Point State Park in Annapolis.
For more information about the Green School Program, visit the MAEOE website at http://maeoe.org/application-templates-and-other-tips/.