| | |
| --- | --- |
| | |
August 28, 2014 - September 3, 2014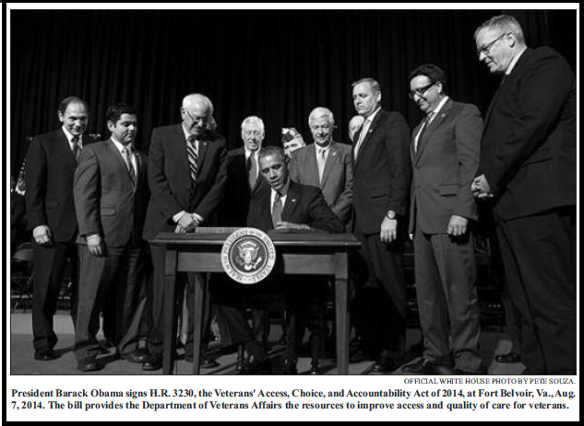 President Obama Signs Bill to Give the VA Resources It Needs
By Press Officer
Office of the White House
President Obama traveled to Fort Belvoir, Virginia to sign a reform bill giving the Department of Veterans Affairs the necessary resources to improve access and quality of care for the men and women who have served our country in uniform.
In remarks before the bill signing, President Obama addressed the misconduct that has taken place at some VA facilities across the country — veterans being denied the care they need, or long wait times being covered up.
"This is wrong," the President emphasized. "It was outrageous. And working together, we set out to fix it and do right by our veterans across the board, no matter how long it took."
We've already taken the first steps to change the way the VA does business. We've held people accountable for misconduct. Some have already been relieved of their duties, and investigations are ongoing. We've reached out to more than 215,000 veterans so far to make sure that we're getting them off wait lists and into clinics both inside and outside the VA system.
We're moving ahead with urgent reforms, including stronger management and leadership and oversight. And we're instituting a critical culture of accountability -- rebuilding our leadership team, starting at the top with Secretary McDonald. And one of his first acts is that he's directed all VA health care facilities to hold town halls to hear directly from the veterans that they serve to make sure that we're hearing honest assessments about what's going on.
The VA reform bill -- officially the Veterans' Access to Care through Choice, Accountability, and Transparency Act of 2014 -- passed Congress with overwhelming bipartisan support, and will expand survivor benefits and educational opportunities and improve care for victims of sexual assault and veterans struggling with traumatic brain injuries. But the main focus of the new law is to ensure that veterans have access to the care they've earned.
The President outlined three important areas the law will address:
1. Giving the VA the resources it needs:
It will help the VA hire more doctors and more nurses and staff more clinics. As a new generation of veterans returns home from war and transitions into civilian life, we have to make sure the VA system can keep pace with that new demand. Keep in mind that I have increased funding for the VA since I came into office by extraordinary amounts. But we also have extraordinary numbers of veterans coming home. And so the demand, even though we've increased the VA budget, is still higher than the resources that we've got. This bill helps to address that.
2. Ensuring timely care:
For veterans who can't get timely care through the VA, this bill will help them get the care they need someplace else. And this is particularly important for veterans who are in more remote areas, in rural areas. If you live more than 40 miles from a VA facility, or if VA doctors can't see you within a reasonable amount of time, you'll have the chance to see a doctor outside the VA system.
3. Holding people accountable:
We're giving the VA Secretary more authority to hold people accountable. We've got to give [Secretary McDonald] the authority so that he can move quickly to remove senior executives who fail to meet the standards of conduct and competence that the American people demand. If you engage in an unethical practice, if you cover up a serious problem, you should be fired. Period. It shouldn't be that difficult. And if you blow the whistle on an unethical practice, or bring a problem to the attention of higher-ups, you should be thanked. You should be protected for doing the right thing. You shouldn't be ignored, and you certainly shouldn't be punished.
The President noted, however, that while this law is focused on immediate needs to reform the VA, we can't lose sight of the long-term goals of our service members and our veterans:
The good news is, we've cut the disability claims backlog by more than half. But let's now eliminate the backlog. Let's get rid of it. The good news is, we've poured major resources into improving mental health care. But now, let's make sure our veterans actually get the care they need when they need it. The good news is, we've helped to get thousands of homeless veterans off the street, made an unprecedented effort to end veterans' homelessness. We should have zero tolerance for that. But we've got to -- still more work to do in cities and towns across America to get more veterans into the homes they deserve.
We've helped more than a million veterans and their spouses and children go to college through the post-9/11 GI bill. But now, we've got to help even more of them earn their educations, and make sure that they're getting a good bargain in the schools they enroll in.
We've rallied companies to hire hundreds of thousands of veterans and their spouses. That's the good news. With the help of Jill Biden and Michelle Obama -- two pretty capable women…But now, we've got to help more of our highly skilled veterans find careers in this new economy.
Rushern L. Baker Elected as the New President of County Executives of America
By Press Officer
PG County Government
UPPER MARLBORO, MD – The County Executives of America (CEA) recently announced that Prince George's County Executive Rushern L. Baker, III had been elected to serve as the organization's new Board President. County Executives of America, the only non-partisan association dedicated specifically to chief elected officers from over 720 counties and consolidated city/counties across the nation. Additionally, CEA represents chief elected officers before Congress, the White House and all federal departments. County Executive Baker will serve a 2 year term as Board President and is succeeding Montgomery County, MD Executive Ike Leggett who served as CEA President from 2012-2014.
"It is an incredible honor and privilege to lead County Executives of America and follow the great work of my friend and mentor, Montgomery County Executive Ike Leggett," said Prince George's County Executive Rushern L. Baker, III. "Throughout this nation, county executives are responsibility for leading 56% of the American population and they play a critical role in protecting the homes, educating citizens and providing other essential services needed in their communities. Unlike mayors and governors, most county executives are not known outside of their local jurisdictions and regions. It is my goal is to educate the public on the issues that counties face and raise the visibility of these important public officials who affect the lives of so many Americans."
The CEA's mission is to help county governments serve the American people in the most responsive, most efficient way by acting as a national voice for its leaders and representing its interests on all levels of government. From coast to coast, county executives are being innovative and first in the nation with policy entrepreneurship and experiments such as regionalism and international economic partnerships at the local level. CEA aims to foster an environment in which such experiments can be nurtured and grown into effective government programs.
"Rushern L. Baker, III represents the best that America has to offer in terms of leadership," said Michael Griffin, Executive Director of CEA, "I'm sure that with his integrity and energy our organization will not only continue to grow and prosper but will be the leader for service delivery to the American people."
"I was very proud to have served as Board President of County Executives of America (CEA) and have the opportunity to lead this great organization as we have emerged from trying times for local governments," said Montgomery County, MD County Executive and Past CEA Board President Ike Leggett. "I am delighted to turn over the reins to my very good friend and capable colleague Rushern Baker. I know through his wise leadership skills and vision, he will help move CEA forward to accomplish even greater success."
About the County Executives of America
CEA began as a league formed by county executives who believed that the job as the chief elected officer of a county was too important to overlook. Their initial desire to create an alliance that would assist county officers in executing their duties sparked a dramatic evolution that produced today's association. CEA's current membership includes County Executives, County Judges, Parish and Borough Presidents, City-County Mayors, Commission Presidents and Chairs, and all county leaders elected at-large by the public constituency.
A long-time affiliate group of the National Association of Counties, CEA has operated as an independent organization since 1994. With its headquarters in Washington D.C., CEA brings together top-level local officials to discuss and determine policy on wide-ranging issues that affect local governors and the people they serve.
CEA also provides a voice at the national level among the various policy making representatives including members and staff of the United States Congress, officials in the Executive Branch at both the federal and state government level and various interest groups and associations based on Capitol Hill.
CEA is governed by a Board of Directors and selected Executive Officers. The Board President is elected and serves a two-year term.
NRP Urges Parents to Say "Yes" to Ninja Turtles, "No" to Baby Turtles
By Press Officer
MD Dept. of Natural Resources
With only days before the release of the fifth installment in the Teenage Mutant Ninja Turtles movie series, the Maryland Natural Resources Police is urging parents to buy young Ninja fans action figures rather than live baby turtles.
"Hundreds of thousands of small turtles have been purchased by well-meaning parents nationwide since the first movie premiered in 1990. But these tiny animals aren't toys and they require a commitment to keep them healthy and safe," said NRP Cpl. Michael Lathroum.
Organizations such as American Tortoise Rescue and Mid-Atlantic Turtle and Tortoise Society note that when interest wanes, the baby turtles ? mostly red-eared sliders from turtle farms down south ? are tossed outside, flushed down the toilet or abandoned at nature centers and wildlife rescue centers. The estimated fatality rate is 90 percent.
A similar problem arose when children asked for spotted puppies after the release of the movie 101 Dalmatians.
NRP officers are already receiving complaints this summer of small turtles being sold at street fairs and festivals.
Federal law prohibits the sale of turtles smaller than 4-inches around or captured in the wild. In addition, turtles carry salmonella, which can infect children, people on chemotherapy and those with immune deficiency diseases.
"These are wonderful creatures. They are symbols of a healthy wetland," said Jonathan McKnight, associate director of DNR's Natural Heritage Program. "But if you want to see a turtle, go outside and see them in the wild."
ByPRESS OFFICER
Office of the Lt. Governor
UPPER MARLBORO, MD – Prince George's County Public Schools (PGCPS) will kick off the new fiscal year with a major achievement – successfully negotiated agreements with all four unions representing all employees in the school system. The newly-ratified union contracts represent a major collaborative effort between PGCPS and the Unions, (the Association of Supervisory and Administrative School Personnel (ASASP), the Prince George's County Educators' Association (PGCEA), the Association of Classified Employees (ACE)-AFSCME Local 2250, and Service Employees International Union (SEIU) Local 400).
"We were able to complete the negotiation process early because of our joint commitment to offering employees fair and competitive wages and working conditions," said Dr. Segun C. Eubanks, Board of Education Chair. "In addition, these new contracts will have a positive impact on the recruitment and retention of high-quality staff."
Two of the contracts – those for ASASP and PGCEA – have been ratified for a two-year term.
The contracts for school administrators and central office staff in ASASP Units II and III include a 2% COLA and step increase for FY 2015, as well as improvements to salary tables and stipends for national certification. Salary improvements for FY 2016 include provisions to provide an additional step increase for both units if funding is available.
The PGCEA contract for teachers includes a 1.5% COLA in FY 2015, a step increase, improvements to the salary table as well as other negotiated stipends. Additionally, if funding is available, FY 2016 improvements provide a 1% COLA and an additional step.
ACE-AFSCME Local 2250 employees will see a 2% COLA this month, step increases in 2015, expansion of lanes on all pay scales and reimbursement for tools and uniforms. Additionally, nurses in Local 2250 with four year degrees will receive a two grade advancement.
SEIU Local 400 staff will receive an overall 3% COLA in FY 2015, as well as a step increase and top of the scale lane expansion.
"Attracting and retaining highly-qualified staff is critical to our success," said Dr. Kevin M. Maxwell, Chief Executive Officer for PGCPS. "Having these contracts in place as we move forward is key to this effort, and helps ensure that we can offer a competitive salary and benefits package that attracts talented employees to Prince George's County."
Top of Page
Prince George's County Continues to Make Permitting Easier
By Press Officer
PG County Government
Upper Marlboro, MD: Prince George's County Council Chairman Mel Franklin (D-District 9), Washington Suburban Sanitary Commission (WSSC) General Manager/CEO Jerry Johnson, and The Maryland-National Capital Park and Planning Commission (M-NCPPC) Chairman Elizabeth "Betty" Hewlett will sign Memorandums of Understanding (MOU) between the Prince George's County Department of Permitting, Inspections and Enforcement (DPIE) with WSSC and M-NCPPC to offer permitting services for those agencies at DPIE's "one stop shop" permitting location in Largo. During this event, Deputy Chief Administrative Officer (DCAO) for Economic Development and Public Infrastructure Victor Hoskins and DPIE Director Haitham A. Hijazi will discuss DPIE's first year successes and vision for continued permitting process improvements in the future.
"One of the campaign promises I made was to improve the County's permitting process," said Prince George's County Executive Rushern L. Baker, III. "Since we created and launched DPIE last year, we have heard time and time again that our permitting processes have greatly improved. However, we know that we can continue to do even better and provide more effective and efficient service to both our residents and business stakeholders. The signing of MOUs with WSSC and M-NCPPC will help improve our customers' experiences, save them valuable time, and continue to show both internally and externally that Prince George's County is 'Open for Business!"
On July 1, 2013, Prince George's County officially opened its newest department, the Department of Permitting, Inspections and Enforcement (DPIE). This 280-person agency combines under one roof the staff and functions that support the authorization and regulation of building, site/road, and utility permits, inspections and building licenses which drive the local economy and ensure the health and safety of County residents, businesses and visitors. DPIE consolidates at a single location the various functions associated with the County's regulation and approval of economic development and redevelopment projects. within the County and positions the County as a national model for building permit processing, inspections, code enforcement, business licensing and environmental stewardship.

Would you like to subscribe?
Please contact our office:
15207 Marlboro Pike
Upper Marlboro, MD 20772
Tel: 301-627-0900
Fax: 301-627-6260
---
The Prince George's Post is
made up of the following staff:
Senior Editor & Publisher
Legusta Floyd, Sr.

General Manager & Legal Advertising Manager
Brenda Boice
Legal Advertising Assistant
Robin Boerckel
Subscriptions and Legals
Elizabeth Brandenstein
Editor
Michal W. Frangia
Paper Delivery
James and Betty Murphy
Web Manager
Kyler Kamp