December 6 - December 12, 2018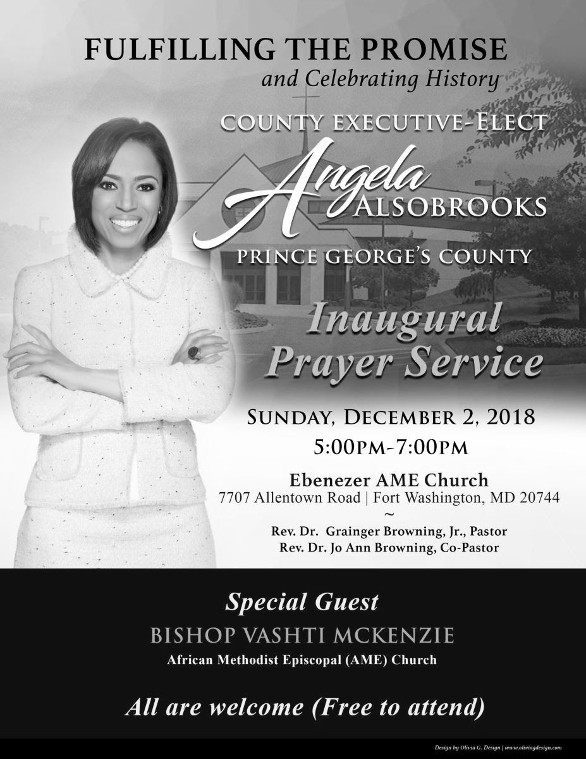 PHOTO: County Executive-Elect, Angela Alsobrooks, inaugural prayer service
Amir Hall 2018 Harlon Hill Candidate
By GREGORY C. GOINGS
Bowie State Sports Information
LITTLE ROCK, Ark. (November 20, 2018)—A total of 37 student-athletes from across the nation have been nominated for the 2018 Harlon Hill Trophy as the Division II College Football Player of the Year and Bowie State senior quarterback Amir Hall is one of those nominees. Hall, the CIAA All-Time Career Passing Touchdown Leader 99 and CIAA All-Time Career Passing Yards Leader (10,711 and counting) was a 2017 finalist for the award.
Nine nominees hail from Super Region 1, nine from Super Region 2, eight from Super Region 3 and 11 from Super Region 4.
The sports information directors at the 166 NCAA Division II football-playing institutions nominate and vote on the award. The 37 initial candidates will be placed on regional ballots and the top two players from each of the four NCAA regions will advance to the national ballot when regional voting concludes on Monday, November 26.
The winner of the 2018 award will be announced on Friday, December 14 and the winner will be honored at the Little Rock Touchdown Club awards banquet on January 10, 2019.
The sports information directors at their respective schools initially nominate candidates. The SIDs in those Super Regions vote for their top five candidates. The winner is then determined in a nation-wide vote of the Division II sports information directors.
The group of 37 candidates includes 13 quarterbacks, nine running backs, eight wide receivers, three defensive ends, three linebackers and one defensive back.
The list features 21 seniors, 10 juniors, four sophomores and two freshmen.
The Hill Trophy is named for the late Harlon Hill—the former University of North Alabama standout—who excelled with the Lions from 1950–53 before going on to fame in the National Football League with the Chicago Bears.
Prince George's County Health Department Receives $12 Million CDC Cooperative Agreement to Improve Chronic Disease Health Care in Southern Maryland
Five-year cooperative agreement funds clinical and public health interventions to help over a million residents in underserved areas prevent or manage diabetes, heart disease and stroke
By PRESS OFFICER
Prince George's County MD
LARGO, MD (November 20, 2018)—The Centers for Disease Control and Prevention (CDC) has awarded the Prince George's County Health Department a $12 million, five-year cooperative agreement to improve access to chronic disease care for an estimated 1.2 million residents in Prince George's, Calvert, Charles and St. Mary's counties. The cooperative agreement will fund strategies that establish or strengthen the integration of clinical practice with evidence-based public health programs to improve treatment resources, prevention programs and overall health outcomes for patients at high-risk for diabetes, heart disease and stroke.
"I want to congratulate our Health Department for securing this important grant," said County Executive Rushern L. Baker, III. "My administration has always been focused on improving access to healthcare. A healthier Prince George's County is good for our residents, the county and the state. I am extremely proud of the work that our Health Department has done over the last 8 years to address health disparities and this grant will help us continue our efforts for years to come."
These chronic diseases continue to be among the leading causes of death statewide. Heart disease caused over 2,000 deaths in 2017 in the four-county area; stroke and diabetes caused over 850 deaths. Unmanaged chronic disease contributes substantially to health care costs; approximately 10% of people living with chronic disease in this region of southern Maryland are responsible for 80% of the region's chronic disease health care costs. Some of the common barriers to care for patients in this region include transportation, health literacy, lack of finances or health insurance coverage, and lack of emotional or social support.
"Working with nearly two dozen leading public and private health care and medical organizations across the state, the Prince George's County Health Department will harness this opportunity from the CDC and lead an ambitious effort to boost the health care infrastructure for underserved patients who need more help fighting or avoiding these debilitating and deadly diseases," said Prince George's County Deputy Health Officer Ernest L. Carter. "We plan to prioritize patients who are high-utilizers of health systems due to frequent hospitalizations and who live in more rural areas where access to care is limited compared to other areas of the state."
Some of the strategies include innovative uses of technology, such as establishing a bi-directional patient referral system between health care systems and CDC-recognized public health programs, and adopting telehealth programs to tackle barriers to participation and retention in these programs. The project also involves implementing tailored messaging to reach underserved communities with the goal of increasing awareness of chronic diseases and the benefits of lifestyle change programs.
Partners:
•Calvert County Health Department
•Charles County Health Department
•Chesapeake Regional Information System for our Patients
•Community Care Coordination Team
•Existing CDC-recognized Diabetes Prevention Programs
•Health Quality Innovators
•HealthCare Dynamics International
•Institute for Public Health Innovation
•Maryland Department of Health
•Maryland Rural Health Association
•P3 Pharmacist Network (University of Maryland School of Pharmacy, Maryland Pharmacists Association, Maryland General Assembly, Maryland Department of Health)
•Prince George's County Healthcare Alliance, Inc.
• St. Mary's AccessHealth
•St. Mary's County Health Department
• Totally Linked Care, LLC (CalvertHealth Memorial Hospital, University of Maryland Capital Region North, Doctors Community Hospital, Fort Washington Medical Center, MedStar Southern Maryland Hospital Center, MedStar St. Mary's Hospital, Area Agencies on Aging, Maryland State Medical Society and Primary Care Providers, Prince George's County Health Department, Calvert County Health Department)
•University of Maryland, School of Arts and Humanities, Department of Communication
•University of Maryland, School of Medicine, Department of Epidemiology & Public Health
•University of Maryland, School of Public Health, Horowitz Center for Health Literacy
Prince George's County Memorial Library System Names New Chief Executive Officer

By PRESS OFFICER
PGCMLS
Largo, Md., (November 16, 2018)—Prince George's County Memorial Library Board of Trustees is pleased to announce that Ms. Roberta Phillips has been selected as the new Chief Executive Officer for the Library System. The Library Board at their November 15 meeting confirmed her selection and made the official appointment. Ms. Phillips will begin in the position in mid-January 2019.
"The Board is extremely impressed with Roberta's experience, knowledge and commitment," said Board President Samuel Epps IV. "Her leadership style, record of innovation, fiscal management, team building, and community involvement makes her the leader that the Board was seeking to head the Library System."
Roberta Phillips is currently serving as the Director of Planning and Projects for the award- winning Richland Library in Columbia, South Carolina and previously served as Director of the Orangeburg County Library in Orangeburg, South Carolina. The Richland Library comprises a main location and 11 branch locations serving approximately 415,000 people. During her tenure at Richland Library, Ms. Phillips worked on strategic plan initiatives, community engagement and special projects. Most notably, Phillips coordinated interiors, space planning, and customer experiences for 12 building projects with three new facilities and nine renovations, including the renovation of their 240,000-square-foot Main Library.
Named a "Mover and Shaker" by Library Journal in 2013, Ms. Phillips was recognized for her work with a broad range of library customers, both in school and public libraries, and her commitment to customer-focused services, including enhancing collections and sharpening customer service approaches, has been instrumental in the library field. Her keen eye for design and innovation through project management, paired with her growing expertise in the principles of service design, are evident in all of the facilities she has helped to create. Phillips received a Master of Library and Information Science from Wayne State University in Detroit and a Bachelor of Arts in Education from Michigan State University.
"I am honored to have the opportunity to serve as the new CEO for the Prince George's County Memorial Library System. Libraries have the responsibility to advance our communities and affect lives in meaningful ways. Together we will explore imaginative ways through engagement, enrichment and education, to create our preferred future for all residents of Prince George's County!"
The mission of Prince George's County Memorial Library System is to help customers discover and define opportunities that shape their lives.