| | |
| --- | --- |
| | |
March 12 - March 18, 2015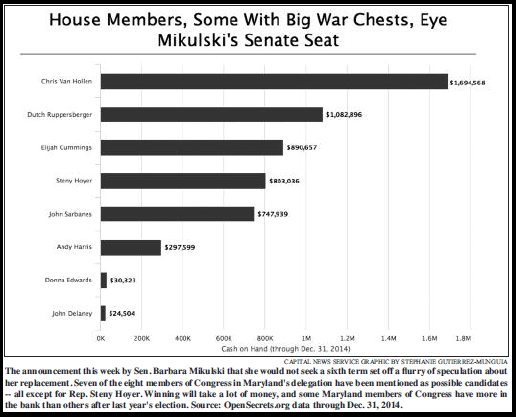 Next Year's Election For Mikulski's Seat Is A Potential 'Land Rush'
By Anjali Shastry and Grace Toohey
Capital News Service
ANNAPOLIS -- As Maryland's senior Senator Barbara Mikulski prepares to finish up her last term in the U.S. Senate, politicians across the state are gearing up to run for her seat in what has been called a political "land rush."
Sitting Maryland representatives in the U.S. Congress would have to give up their seats to run to replace Mikulski, a Democrat, who announced Monday she would not run in 2016 after 38 years in Congress.
Rep. Chris Van Hollen, D-Kensington, is "very likely to run," an aide said. Both Reps. John Delaney, D-Potomac, and Rep. C.A. "Dutch" Ruppersberger, D-Cockeysville, have confirmed they are planning on exploring a campaign, while Rep. Andy Harris, R-Cockeysville, and Rep. John Sarbanes, D-Towson, both said they were giving the run "serious consideration."
Van Hollen, with nearly $1.7 million, and Ruppersberger, with nearly $1.1 million, at the end of 2014 had the largest campaign accounts among the Maryland delegation to the House of Representatives.
As Congressional seats become vacant, they tend to be filled from the ranks of the General Assembly. Those seats would, in turn, need to be filled.
"This is going to affect the entire political food chain in Maryland," political commentator Blair Lee IV said. "Every 20 or 30 years, it's like musical chairs -- some are sitting down and some are standing up when the music stops playing."
"There's going to be a lot of new faces and new jobs," Lee said. "2016 in Maryland is going to be historic, not a boring election year."
Lee said if he had to put money on a candidate, he would put it on Rep. Donna Edwards, D-Fort Washington.
For the last 30 years, both U.S. senators have come from Baltimore, which, Lee said, has created a power shift that will favor candidates beyond that area.
He also emphasized gender and race as important factors, saying that Edwards, as an African-American woman, checks off a lot of boxes that make her a potentially winning candidate.
"How long can you tell African-Americans it's not their turn yet?" Lee said.
Edwards's office on Tuesday declined comment on whether she would run for the Senate seat.
But for Barry Rascovar, a political commentator who worked at the Baltimore Sun for more than 20 years, it will be the incumbents and recognizable names who will have the best shot at filling Mikulski's big shoes.
"I think those are the ones that are going to be polling the best," Rascovar said. "There will be other names in the race, but I don't think they'll be the favorites."
Many Maryland congressional members may be considering running at this moment, but once one of them announces they're officially running, the others will probably back off, Rascovar said.
Rascovar's initial favorite for the position was former Gov. Martin O'Malley, a Democrat, who announced Tuesday morning that he would not seek Mikulski's spot in the Senate. O'Malley is exploring a run for U.S. President.
With O'Malley out, Rascovar named Van Hollen as the favorite to run.
Reps. Elijah Cummings, D-Baltimore, and Steny Hoyer, D-Mechanicsville. did not comment on their plans.
Mileah Kromer, a professor of political science at Goucher College, said this senatorial race could show just how Democratic Maryland is -- a state that boasts a two-to-one Democratic majority over Republicans -- despite the recent win by Republican Gov. Larry Hogan.
"It'll be interesting to see if Hogan does a good job and wins public approval, if that can help carry a Republican into the Senate," Kromer said.
But since 2016 will be a presidential year, Lee said, he expects Marylanders to vote as a strong blue state, since presidential elections tend to turn out the African-American communities and the youth vote, which are both largely Democratic.
Rascovar said that the "land rush" is an unlikely possibility.
"These people have worked hard to win their congressional seats, and they're not going to give it up lightly," he said. "It's probably a long shot that we're going to have a stampede of congressional incumbents giving up their seats to get a shot at the Senate."
But deciding to run for Senate is more complicated than a single-focused "land rush," Kromer said, because these politicians' radars span beyond one office.
"It's not just a Senate race, but also a governor's race," Kromer said. "So it's a land rush not all at once, but over the next four years."
Prince George's County is #1
Innovation Makes PG County Leader in Waste Diversion and Recycling
By Press Officer
PG County Government
Largo, MD – When it comes to waste diversion and recycling, Prince George's is Maryland's greenest County. The County now ranks No. 1 in the State for keeping trash out of its landfill and in second place for recycling. This is an all-time high for the County and a significant step towards its ultimate goal of zero waste.?
"I want to thank all residents, businesses and nonprofits for stepping up to make Prince George's County clean, green and beautiful," says County Executive Rushern L. Baker, III. "Everyone has a role in making Prince George's County the best place to live, work and play in the region. Everyday actions like recycling make a difference in putting the County at the top."
"We have introduced new programs to efficiently capture and realize the value of many things that we throw away" says Department of the Environment Director Adam Ortiz. "However, the credit goes to our businesses and residents who have been recycling and composting like never before. We also thank the County Council and local activists for their advocacy and support."According to official figures just released by the Maryland Department of the Environment (MDE), the County's 2013 waste diversion rate rose to 64.53 percent surpassing its 2012 rate of 54.44 percent. The County also saw an increase in its recycling rate moving to 59.53 percent, up from 54.55 percent in 2012 and slightly behind Washington County.
MDE calculates the rate by adding the disposed trash tonnage and the recycling tonnage to provide a total waste number. The recycling tonnage is then divided by the total waste number (tonnage) to obtain the recycling rate. Because of the efforts residents and businesses have made in eliminating waste before it starts, the County received the maximum Source Reduction Credit of 5 percent from MDE. Examples of source reduction practices include leaving grass trimmings on your lawn to add nutrients back into the soil, using reusable shopping bags and water bottles and selecting products that contain the least amount of packaging.
"We will continue to reach out and educate our residents and businesses to make sure they continue to recycle and compost," said DoE's Recycling Section Manager Marilyn Rybak. "Our initiatives are some of the boldest and most innovative best practices that are in place, not only in the State, but nationwide."
Several recycling initiatives that help the County reduce its carbon footprint include its single-stream recycling program that utilizes a 65-gallon wheeled recycling cart, allowing residents and businesses to recycle more items; a food scrap composting pilot program for residential, commercial and educational institutions; the County's inaugural ban on disposable plastic bags in yard waste collection, cutting down on the amount of waste reaching the landfill and "mining" of materials on the landfill.
Other new initiatives that will help boost the rate include a new County law requiring businesses to incorporate waste reduction and recycling programs in their daily practices, a recycling program geared toward multifamily dwellings (apartments and condominium), a new recycling partnership with Prince George's County Public Schools and Joint Base Andrews, and continued public outreach and educational programs for residents and businesses.
To view a full copy of the MDE Report, click here. For more information on the County's Recycling Program, source reduction or other waste management programs, visit http://www.princegeorgescountymd.gov or contact County Click 3-1-1.
Rushern Baker Demolishes Old "Plumbers Building"
By PRESS OFFICER
PG County Government
Brentwood, MD ---- Prince George's County Executive Rushern L. Baker, III was joined by the Prince George's County Department of Housing and Community Development, the Redevelopment Authority of Prince George's County and other local and municipal elected officials and community leaders for the demolition of the property, formerly known as "the Plumber's Building", located at 3807 Rhode Island Avenue in Brentwood, MD on Wednesday, February 18, 2015 at 10:30 a.m. A new state-of-the-art, mixed use building, which includes 147 market rate apartments, 6,000 square feet of artist work space and 6,000 square feet of retail space will be developed at the intersection of 38th and Rhode Island Avenue as one of the final development pieces to implement the vision of the Arts District that was established a decade ago. Officials and community leaders gathered for the demolition at 3901 Rhode Island Avenue, Brentwood, MD and watched as County Executive Baker took the first swipe at the old "Plumber's Building."
Use the following link for photos from this event: https://www.flickr.com/photos/mjyourishin/sets/72157650907266405/
Click the following link for video from this event: http://www.wjla.com/articles/2015/02/plumber-s-building-slated-for-demolition-new-housing-retail-and-artist-space-to-replace-it--111563.html
"Every week we witness progress happening in every part of our County. Progress that is creating jobs, expanding our commercial tax base, and revitalizing incredibly diverse and rich communities such as Brentwood and the Gateway Arts District," said Prince George's County Executive Rushern L. Baker, III. "Our Gateway Arts District has grown leaps and bounds as we connect to the development happening across the border with our neighbors in the District. I am excited for the arrival of Studio 3807 and look forward to them opening their doors in a community of creativity and opportunity."
The County has selected the Landex Companies for the development of Studio 3807. For more than 25 years, Landex has been a leader in the development and redevelopment of quality residential properties. A Maryland based company, Landex's team includes two minority developers Structures Unlimited and Rellim, LLC. Landex is also receiving technical assistance from the Gateway Community Development Corporation.
"This project can serve as a model for how the County and a municipalities can work with the community and a capable developer to provide the kind of housing, retail and art amenities that help make a community walkable and livable," said Eric. C. Brown, Director of the Prince George's County Department of Housing and Community Development.
The mix of financing includes developer's equity, loans, Prince George's County Revenue Authority financing, Maryland state financing and conventional financing, making this a $36 million dollar project.
The Redevelopment Authority is supporting 5 infill redevelopment projects in the Gateway Arts District: 2 in Brentwood, 2 in Mount Rainier and one in North Brentwood that will result in over 240 new units of market rate housing and 25, 000 square feet of new retail.
For more information, please call Alexis Revis Yeoman (301) 883-2760.
Enrollment in Afterschool Programs Up Nationally; Maryland Lags

By Melanie Balakit
Capital News Service
WASHINGTON–Maryland lags behind the 2014 national averages for children enrolled in afterschool programs, according to a survey commissioned by the Afterschool Alliance.
The "America After 3 p.m." survey examined 30,000 families nationally, finding that 18 percent of children were enrolled in an afterschool program in 2014, which is up from 15 percent in 2009. The 18 percent of involved schoolchildren in these programs equates to 10.2 million nationwide.
Maryland is in the middle of the pack, according to the survey, with 16 percent of its children participating in afterschool programs, which is down from 17 percent in 2009.
Approximately 21 percent of Maryland children are left unsupervised after school, which equates to 192,737 students. Maryland children K-12 are left alone and unsupervised for about 9 hours per week, which is higher than the national average of 7 hours per week.
However, the survey found that 36 percent of Maryland's children would take part in an afterschool program if there was one available.
The Afterschool Alliance–which raises awareness about and advocates for afterschool programs through work with program operators and federal, state and local governments–presented the survey's findings Wednesday at a Senate Afterschool Caucus briefing.
The survey compiled data from 50 states and the District of Columbia to calculate a composite score that was indexed against a national average.
"Our goal is more and better out-of-school-time opportunities for all youth and children in the state of Maryland," said Tammy Shay, program coordinator at the Maryland Out of School Time (MOST) Network.
The MOST Network addresses three main goals:
creating a sustainable structure of partnerships in the school community, improving statewide policies and supporting quality programs.
"We do what we can to look at the whole child and to look at youth development from a learning and experiential standpoint," Shay said.
These afterschool programs provide children with opportunities for physical education, homework time, snacks and meals, reading and writing and science. technology, engineering and mathematics (STEM) learning.
Demand for these programs is greatest among low-income, African American and Hispanic families, the survey found.
"This demand is even higher for high-need groups," said Jodi Grant, executive director of the Afterschool Alliance. "So what we find is for low-income kids, for kids of color, there's more interest in afterschool programs and there's more need for afterschool programs. For many of these programs, the greatest barrier is the cost of the programs."
"There's always room for improvement. The [survey] data tells us so," Shay said. "We need to start looking for the partnerships that we can put in place that will answer the needs of parents and of students and of employers and educators, of course. We have a lot of work to do in Maryland in addition to already celebrating a lot of successes taking place."
Top of Page
PG County and Business Leaders Discuss Platforms for Increasing Healthcare Access
By PRESS OFFICER
Doctors Community Hospital
ADELPHI, MD – The issue of increasing healthcare access to Prince George's County's most underserved residents took center stage on February 19, 2015, as members of the county's government, not-for-profit and business communities introduced innovative collaborations designed to expand these critical services countywide. Through grants awarded by Walmart and the Walmart Foundation, community members will have increased access to needed medical services.
Prince George's County Executive Rushern L. Baker, III, addressed the topic alongside representatives from the Prince George's County Health Department, Doctors Community Hospital, Mary's Center for Maternal and Child Care, Prince George's Child Resource Center and Walmart.
"No issue is more important than making quality health care accessible to those in our community who need it most," said County Executive Rushern L. Baker, III. "Bringing together government, not-for-profit and business resources is an essential part of achieving this objective, and I'm pleased that leaders from each of these sectors within Prince George's County are committed to working together to develop solutions to this fundamental need. I want to thank Walmart and the Walmart Foundation for their support of this important effort."
Among the highlights of the day's event was the unveiling of a mobile health clinic that will be operated by Doctors Community Hospital (DCH) in conjunction with the Prince George's County Health Department. Named "Wellness on Wheels" or W.O.W., this mobile unit will be staffed with healthcare professionals and will travel to different locations within the county. One of its primary focuses will be to provide medical services to underserved residents who reside in communities where health disparities are higher than regional or national averages. Offering diabetes screenings, cholesterol screenings, blood pressure screenings, medication education and other services to residents who are ages 16 and older, Wellness on Wheels will help many people prevent or better manage numerous chronic diseases that occur at elevated rates in the area.
Funding for the mobile health clinic's first year of operations is being provided by Walmart and the Walmart Foundation, which awarded a total of $100,000 to the initiative.
"The ability to further expand our reach directly into individual communities will enable us to serve more patients, improve the clinical care that underserved communities receive and meet critical health care needs throughout Prince George's County," said Doctors Community Hospital's Executive Vice President and Chief Operating Officer Paul Grenaldo. "We're thrilled to be working with the Prince George's County Health Department and Walmart on this program that will improve the health and the quality of lives of the populations that we proudly serve. These types of initiatives truly help the hospital reinforce its nearly 40-year mission of passionately caring about the health of our community."
The Walmart Foundation also awarded a $50,000 grant to Mary's Center for Maternal and Child Care to further its mission of building better futures by providing health care, education and social services to those Prince George's County residents who need them. Mary's Center staff works with program participants to identify their individual needs and to find multifaceted solutions to overcome their challenges.
"The issue of health care cannot be separated from other aspects of everyday life, such as housing, food, education and employment," said Mary's Center Maternal and Child Care President and Chief Executive Officer Maria Gomez. "We're dedicated to employing a holistic approach to the various interrelated factors that contribute to good health, and the funding provided by the Walmart Foundation allows us to address these considerations in an effective way to maximize positive outcomes."
The event was held at the Adelphi/Langley Park Support Center, a program of the Prince George's Child Resource Center that annually provides family support services to more than 1,500 families and training to more than 2,000 child care providers, parents and human services workers. The Prince George's Child Resource Center ensures that families have access to high-quality child care, adequate housing, health care and nutrition.
To promote this mission, the Walmart Foundation has donated more than $55,000 to the center in recent years, including $5,000 in October of 2014 to help launch the facility's new diaper bank. Walmart donated more than 8,000 diapers to the facility today to meet the growing demand for the diaper bank.
"The diaper bank is instrumental in improving the overall health and wellness of many of our program participants," said Prince George's Child Resource Center Executive Director Marti Worshtil. "The ongoing support of local governmental agencies and companies like Walmart vastly increases the number of participants we can serve and the number of lives we can improve."
Supporting the communities where it operates is among Walmart's philanthropic missions. In recent years, the company and the Walmart Foundation have donated well in excess of $500,000 to recipients in Prince George's County.
"We're pleased to have the opportunity to work with local governmental agencies and exceptional not-for-profits to help transform the lives of people in need," said Walmart Director of Community Affairs Nina Albert. "Programs like those operated by the Prince George's County Health Department, Doctors Community Hospital, Mary's Center and the Prince George's Child Resource Center provide essential services to friends, neighbors and fellow residents. It's an honor to play a part in supporting their honorable missions and promoting the outstanding work they do every day."
About Philanthropy at Walmart
Walmart and the Walmart Foundation are committed to helping people live better through philanthropic efforts that draw on the strengths of Walmart in the arenas of sustainability, economic opportunity, and community. As part of our commitment to creating a more sustainable food system worldwide, Walmart and the Walmart Foundation are leading the fight against hunger in the United States. They recently exceeded a $2 billion goal to fight hunger one year ahead of schedule and have donated more than 1.5 billion pounds of food to those in need across the country. To learn more about Walmart's giving, visit www.foundation.walmart.com.
About Doctors Community Hospital
Doctors Community Hospital is a premier medical and surgical hospital located in Lanham, Maryland. With a mission of being dedicated to passionately caring for the health of our patients and community, the hospital has provided high-quality as well as comprehensive health care to residents of Prince George's County and the region for nearly 40 years.
A 190+ bed facility that has earned numerous quality awards, Doctors Community Hospital has a wide range of specialty programs and services: Bariatric and Weight Loss Center; Cardiology Services and Outpatient Vascular Studies; Center for Comprehensive Breast Care; Center for Ear, Nose and Throat; Center for Wound Healing and Hyperbaric Medicine; Comprehensive Orthopedic Program; Doctors Regional Cancer Center; Emergency Services; Infusion Center; Joslin Diabetes Center; Metropolitan Medical Specialists; Rehabilitation Services; and Sleep Center.
To learn more about Doctors Community Hospital or ways to support its various community health improvement initiatives, visit www.DCHweb.org or call 301-DCH-4YOU (301-324-4968).
About Mary's Center
Mary's Center is a nonprofit organization based in Maryland and Washington, D.C., with 27 years of experience providing medical, social, and education services to families throughout the region. As a Federally Qualified Health Center we provide care to over 40,000 individuals from over 110 countries, in Prince George's County alone we saw over 5,000 clients in 2014. Our social change model integrates an array of culturally competent health, education, and social services. Strengthening a family's health and job-readiness has large payoffs. For instance, prenatal care avoids the increased costs that arise from pre-term and low-weight births; childhood immunizations prevent medical costs later in life; and adult literacy programs result in higher earnings and lower education costs for participants' children. Mary's Center's holistic approach leads to healthy individuals, an increased number of stable families, and stronger communities.
To learn more about Mary's Center or opportunities to support our community development efforts, visit www.maryscenter.org or call 202-420-7051.
About Prince George's Child Resource Center, Inc
Prince George's Child Resource Center helps create healthy and nurturing environments for children by supporting their families and educating their caregivers. Each year the Resource Center provides family support services to over 1,500 families and training to over 3,500 child care providers, parents and human services workers touching the lives of nearly half a million children since 1990.

Would you like to subscribe?
Please contact our office:
15207 Marlboro Pike
Upper Marlboro, MD 20772
Tel: 301-627-0900
Fax: 301-627-6260
---
The Prince George's Post is
made up of the following staff:
Senior Editor & Publisher
Legusta Floyd, Sr.

General Manager & Legal Advertising Manager
Brenda Boice
Legal Advertising Assistant
Robin Boerckel
Subscriptions and Legals
Elizabeth Brandenstein
Editor
Michal W. Frangia
Paper Delivery
James and Betty Murphy
Web Manager
Kyler Kamp