| | |
| --- | --- |
| | |
March 5 - March 11, 2015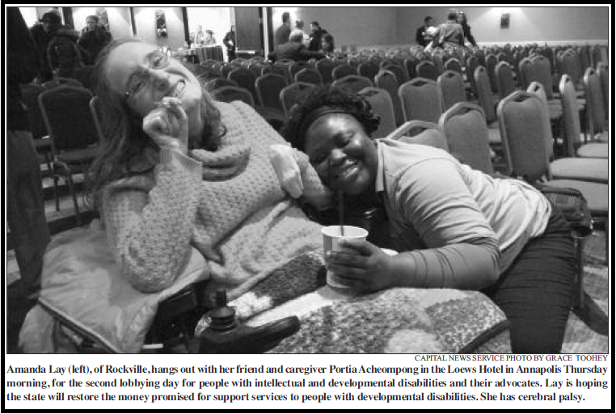 Hundreds of Individuals with Developmental Disabilities and Advocates Urged Legislators to Fund Needed Services
By Grace Toohey
Capital News Service
ANNAPOLIS -- Hundreds of Marylanders with developmental disabilities, their families and advocates flocked to Annapolis Wednesday and Thursday asking legislators to provide adequate funds for direct support staff wages, services for thousands on the state's waiting list and youth transitional support services.
Despite funding gains for disability services in the past few years -- including a 3.5 percent increase mandated last year to The Developmental Disabilities Administration's funding for community-based developmental disability services -- Executive Director of the Arc of Maryland Cristy Marchand said this year's budget has taken a backward step.
The 3.5 percent increase would have ensured wages for individuals with developmental disabilities' support staff would receive above minimum wage beginning this June, but Gov. Larry Hogan's budget cut that increase in half, Marchand said on behalf of the Arc, a statewide advocacy group for people with intellectual and developmental disabilities. Restoring $9 million for those wages is a top priority, she said.
Marchand also said providing services for the more than 8,000 people waiting to receive state services from the Developmental Disabilities Administration -- and most importantly for the 125 people on the group's Crisis Resolution waitlist -- is another top priority. Marchand and other advocates are proposing a needed $3 million to support those in crisis, who are defined as homeless, a danger to themselves or others, or living with someone unable to provide care.
"I want them to do something about the waitlist because 8,300 people on the waiting list is just shameful," Laura Carr, board member for Arc of Central Chesapeake Region. "I want them to really take a close look at the wages."
Without money to fairly compensate providers, Carr said, it's impossible to support people with disabilities in the ways they deserve.
Mat Rice, of Towson, specializes in public policy for People on the Go Maryland, a group of advocates with intellectual and developmental challenges. He testified before the state Senate Finance subcommittee on Health and Human Services to show how important his direct support staff is -- and therefore their wages.
"We know that Maryland is in a fiscal crisis, but we also know that if the revenue is not restored...we will be in a major community crisis," said Rice, who has cerebral palsy and is legally blind.
Direct support staff should be paid more than minimum wage, Rice said, because it is a valuable job that requires lots of training and skills. Last year's mandated increase would have raised the wages for direct support staff about 30 percent above the minimum wage -- but that boost has since been cut in half.
Damon Briggs, who also has cerebral palsy, explained the importance of his direct support staff, helping him shower, eat, brush teeth, and even acting friend and mentor.
"If you cut their pay, we can't do the things in society and community that we need to do," said Briggs, of Silver Spring. "Such as work, such as going to our friend's house, such as just living a normal life."
But for Fort Washington mother Stephanie Peterson, getting her son off the waitlist to receive services will enhance both their lives. Peterson's 32-year-old son has intellectual and learning disabilities, and has been increasingly difficult to care for.
He originally missed the chance to receive services after high school because he had plans to live with his dad in another state, but when plans changed, Peterson said, he went straight to the waitlist. Each time she asks for services, she said she is told there is no money.
"Families like mine have been champions most of our lives," Peterson said. "Now we need champions to help us."
The department's program for transitioning youth services, which serves about 600 students each year once they leave the public school system at age 21, could also see cuts.
Mary Ann Kane Breschi, of Baltimore County, has a daughter with cerebral palsy and other disabilities. With transitional services, 23-year-old Maggie is now living and working with support staff, and finding purpose and happiness in her life.
"We recognize that none of this could be possible if not for the transitional youth funding," Breschi said. "While Maggie is fortunate, students graduating in June this year might not be if the budget is reduced."
Advocates said they also worry about funding for public schools, which provide special programs and specific staff for students with disabilities, as well as the discrimination against people with disabilities when it comes to organ donations.
Chair of the subcommittee, state Senator Richard Madaleno Jr., D-Montgomery, said he appreciated everyone advocating for those with developmental disabilities, but, unfortunately, no one can create money.
"I think there's a strong desire to keep the promise that we made in last year's minimum wage bill," he said. "The governor is seeking to get out of the mandate, (but) we can reject that and keep it in place. We have to find money elsewhere to fund it, but it gives us some options."
No Confirmed Measles Cases in PG County
By Press Officer
PG County Government
LARGO, MD — As of today, we have no confirmed cases of measles in Prince George's County or the state of Maryland, but we want our residents to take precautionary measures. Immunizing against the measles is vital to protecting not only our children, but our community as a whole. Vaccination is highly effective at preventing measles and is required for all Prince George's County school children who are not exempt due to religious beliefs.
"Measles is a serious respiratory disease caused by a virus and is highly contagious," said Pamela B. Creekmur, Health Officer. "All persons who are susceptible to measles need to be vaccinated now."
A susceptible individual is a person who has not received two doses of the measles vaccine and/or Measles, Mumps and Rubella (MMR) either on or after his or her first birthday, or who does not have documented history of disease. In general, a person can be considered immune to measles if they:
• Have received two measles containing vaccines;
• Have had a past measles infection, diagnosed by a physician;
• Were born before 1957; or,
• Have laboratory evidence of measles immunity
A measles infection typically begins with a high fever, cough, runny nose, red/watery eyes and a rash that usually starts behinds the ears or on the face and spreads to the neck, trunk, arms and legs 2-7 days later. Measles can cause severe health complications, including pneumonia, encephalitis and death. Measles is transmitted by contact with an infected person through coughing or sneezing and can remain in the air for up to 2 hours. Infected people are contagious from four days before their rash begins through four days after the rash appears.
If you suspect that you may have measles, please notify your primary care physician and let them know you think you or your child may have measles. If you must go to an emergency room or urgent care center, let them know immediately that you have measles. It is important that you do not sit in the waiting room and expose others.
Contact the Prince George's County Health Department as soon as possible at 301-
583-3750, Monday through Friday from 8:00 a.m. to 4:30 p.m., or 240-508-5774 during after hours, holidays, and weekends, to report the illness and to ask any questions regarding measles.
For more information, contact:
Dellia Hawthorne-Williams, Public Information Officer, Prince George's County Health Department 301-883-7835 / 240-417-8443. For more information visit http://www.princegeorgescountymd.gov/sites/Health/Services/DiseaseControlServices/
measles/Pages/default.aspx
Lady Hawks Storm to Top Tier in Day 2
Team Scores 29 Points to Earn Third-place Tie
By PRESS OFFICER
UMES
LANDOVER, MD — The halfway point in the MEAC championships is complete, and both the men's and women's track teams from the University of Maryland Eastern Shore are within reach of a conference championship. While the men's team set themselves up with their efforts on Thursday, the Lady Hawks earned 29 points as a team, moving them from sixth to third.
It all started with the women's indoor pentathlon and Hawks sophomore Shelasia Leitch (Newark, N.J.). Through five events, Leitch racked up 3,123 points, good for seventh place and two points for the Hawks. This would prove to be just the beginning for the Lady Hawks.
The 800 meter run would serve as the backbone for the Lady Hawks' comeback, much like the 5000 meter run served as the men's surge to the top. Junior Jheniel Kelly (Edgewood, Md.) finished second overall and first among UMES competitors, with a time of 2:13.80 that earned eight points. Sophomore Rachel Halmon (Waldorf, Md.) took home fourth place and five points with her time of 2:14.50, and junior Shantol Hemley (St. Catherine's, Jamaica) finished fifth with a time of 2:16.20, good for four points. This race alone made up 17 of the team's 29 total points.
With Leitch's two points in the pentathlon and 17 points in the 800 meter, the Lady Hawks earned their final ten points by winning the distance medley. The team of Kelly, Hemley, Halmon and sophomore Barbora Blahutova (Slavkov, Czech Republic) finished with a time of 12:10.36, edging Florida A&M for the victory.
The surge places the UMES women in a tie for third with Morgan State at 35 points, 12 ½ points behind Bethune-Cookman.
On the men's side the Hawks claimed two victories to secure a two-day total of 50 points. Their first win came in the weight throw with senior Dillon Simon (Roseau, Dominica), who threw for a distance of 18.70 meters, beating his second place competitor by more than two meters and his third place challenger by almost four.
Their second win was in the men's distance medley. The team of freshman Oussama Chouati (Manresa, Spain) and sophomores Taj Showalter (Anchorage, Ak.), Sodiq Amusat (Lanham, Md.) and Khalil Rmidi Kinini (Malaga, Spain) crossed the line a few seconds ahead of Howard with a time of 10:11.81.
Although the Hawks claimed two victories, the North Carolina A&T Aggies and Bethune-Cookman Wildcats raced past UMES to take first and second, respectively. However, the Hawks are by no means out of it, remaining just six points out of first.
Ronald Leizear Sr. Celebrates 50 Years of Active Service and Patriarch of Leizear Legacy

By Mark Brady
Branchville Volunteer Fire Co.
College Park, MD — It has been a really long time since the Leizear family has not had a family member as a part of the Branchville Volunteer Fire Company. Their presence in the all-volunteer department located in north College Park has never been stronger. A Leizear currently holds the position of Chief, President and Board Member.
Ronald Leizear, Sr., a Branchville Life Member, is the President and Chairman of the Board of Directors and is in his 50th active year of service. His sons, also both Branchville Life Members, Richard Leizear is the Departments Chief and Ron Jr. is a member on the Board of
Directors. Both sons remain active in response on emergency incidents and keeping the department running on a daily basis. Ron Sr. niece Dawn Daily is also a member of the Department. These Leizears are just part of a long legacy of family in the fire service. Ron Sr. has had his father, Uncle James Melton (Branchville's only Line of Duty Death), Cousin Richard Melton (Past Chief), Uncle Lownes Leizear (Past Chief and President), Brother Charles Leizear (member and retired Prince George's County Career Firefighter). Additionally his two brothers, James Collins and John Leizear, are members at the Laurel Volunteer Fire Department.
Leizear Sr., soon to be 67 years of age, was bestowed with many accolades and awards for his landmark 50 years of active service at the Local and State level. In addition to running the business operations of the Department he remains active in operations and will drive the engine whenever needed. He has held every position within the Department with the exception of Treasurer and Secretary. When asked which position he enjoyed the most, he responded, "Serving as President and Chief are and were exciting positions." Ron Sr. finds the time to work a full time job for transportation and trucking company while not volunteering his time at Branchville.
When asked about the Leizear legacy at Branchville, Sr., said, "I am very proud following in my dad's footsteps," which is that exact answer sons Richard and Ron Jr. responded to the same question. Chief Ricky Leizear added, "Not many sons get to work side by side with their father and their brother as we have. I relish in the fact we have had a long line of Leizears that are a part of the Departments history." Richard Leizear is a career firefighter with the District of Columbia.
Ron Jr., has been a fixture around the firehouse since he was very young. He also is very proud of the Leizear legacy and following in his dad's footsteps. Ron serves as an Emergency Medical Technician for a private ambulance service.
In addition to operating the business end of the Branchville Volunteer Fire Company and Rescue Squad, Inc. Ron Sr. enjoys activities outside of the Department as well. He is President of the Red Knights Maryland Chapter #1 in addition to being Treasurer for the Red Knights State Association. The Red Knights are a motorcycle club for members of the fire service. Ron is also Past President of Hogs and Heroes Foundations Maryland Chapter 1 and a member of the Son's of AMVETS Post #2 in Frederick, Maryland.
"I really have had a great life," stated Leizear Sr., "being a volunteer firefighter and member of a Department that is rich in tradition of helping others and a mainstay of our community is rewarding." He concluded, "Being a part of a family legacy has made my journey even more enjoyable and rewarding.
When asked about his future plans Ronnie Leizear stated, "I hope to be part of Branchville for many more years and do whatever I can to help."
The Branchville Volunteer Fire Company and Rescue Squad, Inc. and Ladies Auxiliary will hold their 91st Annual Award Banquet and Installation of Officers on Saturday, February 21, 2015, 6:00 pm at the Firehouse Heroes Hall.
Top of Page
Maryland Retains Triple AAA Bond Rating

By PRESS OFFICER
Maryland State Treasurer

ANNAPOLIS (February 19, 2015) – Maryland State Treasurer Nancy K. Kopp announced today that all three major national bond rating agencies have re-affirmed the State's strong AAA bond rating, all with stable outlooks, in preparation for the upcoming competitive sale of State General Obligation Bonds on Wednesday, March 4, 2015.

Maryland is one of ten states* to hold the coveted AAA rating, the highest possible rating, from all three major bond rating agencies. Standard and Poor's has rated the bonds AAA since 1961. Moody's Investors has assigned the bonds a rating of Aaa since 1973, and Fitch Ratings has rated the bonds AAA since 1993.

Treasurer Kopp said, "Today's news of Maryland receiving AAA ratings from the three major bond rating agencies is an acknowledgement of Maryland's prudent financial management and overall fiscal strength. We are pleased the rating analysts recognize the contribution of Maryland's diverse economy, our well-educated workforce, and above-average wealth and income levels to the overall quality of an investment in Maryland."

"Retention of the AAA ratings affirms the strength and stability of Maryland bonds during difficult and volatile times. This achievement allows us to continue to invest in our communities' schools, libraries, and hospitals while saving taxpayers millions of dollars thanks to the lower interest rates that follow from these ratings," Treasurer Kopp said.

Fitch, in assigning its AAA rating and stable outlook, said: "Debt oversight is strong and centralized, and the debt burden is moderate. The state has policies to maintain debt affordability, and the constitution requires GO [General Obligation] and transportation bonds to amortize within 15 years."

Fitch Ratings further noted: "Financial operations are conservatively maintained, with the state consistently demonstrating a strong commitment to budgetary balance through the downturn and the slow recovery that has followed. The state has maintained flexibility in the form of its rainy day fund (RDF), which remained funded at or near

5% of general fund revenues through the downturn, as well as its practice of responding quickly to changing budgetary circumstances through repeated spending cuts, fund balance transfers and revenue increases."

Moody's, in explaining its Aaa rating and stable outlook said "The highest quality rating reflects Maryland's strong financial management policies and stable economy with high personal income levels." While Moody's acknowledged "…the state's economic exposure to constrained federal spending, its above average debt burden and large unfunded pension liabilities relative to the size of its economy," they also noted "[c]onsistent with its history of strong financial management, the state has been appropriately addressing its structural budget gap and pension funding concerns even under pressure from federal budget reductions."

In assigning its AAA long-term rating and stable outlook, Standard & Poor's said: "The rating reflects what we view as the state's: Broad and diverse economy, which has experienced tepid overall growth in 2013 and 2014 due to sequestration and federal budget uncertainty; Strong wealth and income levels; Long history of proactive financial and budget management, including implementation of frequent and timely budget adjustments to align revenues and expenditures; Well-developed financial and debt management policies including long-term financial planning that should be helpful in addressing future budget challenges; and Still-moderate debt burden across all measures, despite increasing issuance. Although some growth in debt levels is likely based on planned issuance and the potential for public-private partnership (P3) projects, we expect the debt burden will remain moderate for most measures due to a clearly defined debt affordability process that limits annual issuance, coupled with a rapid 15-year debt maturity schedule as required by the Maryland Constitution."

Standard and Poor's further stated: "The stable outlook on Maryland reflects our view of the state's proactive midyear adjustments to align the budget with slower-than-anticipated revenue growth and a proposed fiscal 2016 budget that maintains current reserve levels and limits reliance on one-time measures for budgetary balance."

All three rating agencies praised Maryland's history of strong, sound financial management. Moody's recognized "Maryland's financial practices and flexibility are very strong. For example, the state has a binding consensus revenue forecast, multi-year financial planning, and the Board of Public Works is able to respond swiftly to mid-year budget challenges. The state also has no tax and spending limitations or supermajority requirements limiting its flexibility." Standard & Poor's assigned a rating of "strong" to Maryland's management practices, noting that "…Maryland has made continuing efforts to institute sound financial management practices. The state's use of a five-year financial plan, which is updated annually with the adopted budget, provides the basis for future fiscal decisions and recognizes future fiscal year gaps. Monthly monitoring and reporting of key revenues allows the state to make midyear financial adjustments, if necessary, to maintain balance. Maryland has consistently maintained its statutory RSA (Revenue Stabilization Account) [at] or above its legal minimum of 5% of revenues."

Each rating agency recognized the impact of federal budget cuts on Maryland's economy. S&P noted "Although federal fiscal policy remains a challenge to the state's budget and long-term financial plan, we believe that Maryland has demonstrated strong revenue and budget monitoring practices with a track record of making expenditure adjustments midyear when required." Fitch indicated "Sound fiscal management practices and the consistent maintenance of fiscal flexibility (including budgetary reserves) provide the state with significant ability to respond to near-term economic or fiscal conditions, such as federal budget reductions, in a manner consistent with the 'AAA' rating."

Each of the rating agencies recognized significant pension funding challenges as well as reforms enacted over the past three years. Moody's indicated "[l]ow retirement system funded levels" represent a credit challenge for the state and "[f]ailure to adhere to plans to address low pension funded ratios" could make the rating go down. Fitch Ratings noted "Despite pensions being a comparative credit weakness, the state has taken multiple steps to reduce their burden and improve sustainability over time." While acknowledging "implementation of various reforms and some improvements in funded ratios," S&P indicated "the state's below-average pension funded ratios and annual contributions that do not meet the full ARC also continue to represent downside risk to the rating."

The bond sale will include two competitive bids which are expected to be sold to institutions. The sale will include $518 million of tax-exempt bonds and up to $750 million of tax-exempt refunding bonds.

As has always been the case with the issuance of Maryland's tax-exempt General Obligation Bonds, the State uses the proceeds to finance necessary capital projects, such as schools, community colleges, university projects and hospitals.

The Maryland Board of Public Works, composed of Governor Lawrence J. Hogan, Jr., Comptroller Peter Franchot and Treasurer Nancy K. Kopp, will preside over the competitive bond sale on Wednesday, March 4, 2015 in the Assembly Room in the Goldstein Treasury Building in Annapolis.

The Maryland State Treasurer's Office expects to conduct another bond sale in July or August 2015.

The other nine states with AAA ratings from all three rating agencies are Alaska, Delaware, Georgia, Iowa, Missouri, North Carolina, Texas, Utah, and Virginia.

Would you like to subscribe?
Please contact our office:
15207 Marlboro Pike
Upper Marlboro, MD 20772
Tel: 301-627-0900
Fax: 301-627-6260
---
The Prince George's Post is
made up of the following staff:
Senior Editor & Publisher
Legusta Floyd, Sr.

General Manager & Legal Advertising Manager
Brenda Boice
Legal Advertising Assistant
Robin Boerckel
Subscriptions and Legals
Elizabeth Brandenstein
Editor
Michal W. Frangia
Paper Delivery
James and Betty Murphy
Web Manager
Kyler Kamp