July 21 - July 27, 2016
Click Here for Tax Sale Listings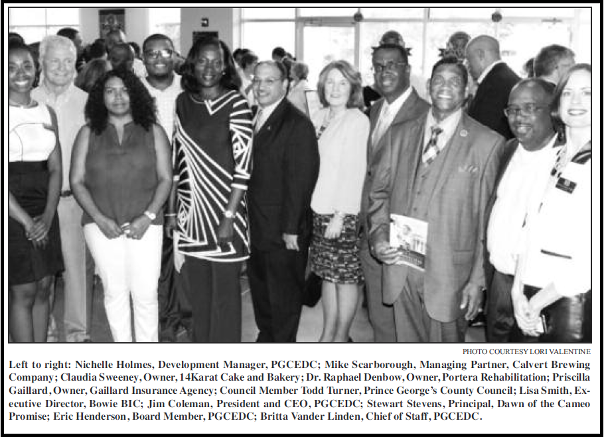 EDC 'Activates Prosperity' at Calvert Brewing Company With Signature Networking Event
By Lori Valentine
PGCEDC
Upper Marlboro, MD—Tonight, Prince George's County Economic Development Corporation's (EDC) President and CEO Jim Coleman and his T4BT 'posse' traveled to the Calvert Brewing Company in Upper Marlboro for the June edition of 'Thirsty (for Business) Thursday" (T4BT) to sample hops from the largest microbrewery in the country and to network with other local businesses. County Council Member Todd Turner served as the guest speaker and piqued the 'posse's' interest by highlighting the types of economic development opportunities available throughout the County that are in need of the services local companies provide.
"The EDC is getting it done," said Coleman. "Each month, I bring my posse out to highlight new and 'up and coming' businesses in the County to let folks know where the best hot spots are. We are bringing the County's movers and shakers to the folks who need to be moved and shaken. Everyone can be a multimillionaire in Prince George's County if they learn how to Activate their Prosperity through the EDC. This is no time for cooling off!"
Calvert Brewing Company, along with Council Member Todd Turner, Bowie BIC, Gaillard Insurance Agency, Dawn of Cameo, LLC, Portera Rehabilitation, and the Prince George's County Parks and Recreation Foundation graciously sponsored this evening's event. The Prince George's County Parks and Recreation Foundation and 14 Karat Cake and Catering also participated as raffle sponsors.
"Jim Coleman is a great spokesman for development in this County, for the business community in this County, and for helping businesses to expand," said Mike Scarborough, Managing Partner of the Calvert Brewing Company. "As the only microbrewery in Prince George's County, we want to be in every bar and restaurant in the County. Nothing replaces events like this where you can be exposed to a part of the market that you would never see. So if Jim Coleman suggests having 'Thirsty Thursday' at your business, you should definitely say 'yes'."
As the guest speaker for tonight's County Council Member Todd Turner, (Dist. 4) praised the partnership of the EDC with government officials and local businesses to draw attention to the vast expansion and development opportunities within Prince George's County.
"I appreciate the opportunity to co-host, along with the Prince George's County Economic Development Corporation this 'Thirsty Thursday' in the 4th Council District," said Turner. "It is a great opportunity to highlight a new business here in Prince George's County and a great opportunity to network to do more business in the County."
Local business owners from all over the County continue to make it their business every month to come out to network with government, non-profits and other local businesses in a relaxed and collaborative atmosphere.
"These events are very important for small businesses in the County to allow them to further their reach in the community," said George Howell, Senior Product Advisor at Heartland Payment Systems. "This is my second 'Thirsty Thursday' event with the Prince George's Economic Development Corporation. At my first event, I connected with someone that has helped me a lot. Not only have I been able to network, I have also been able to collaborate. This has been very good."
The next opportunity to network with Jim Coleman and his 'posse' will be on July 21st when "Thirsty for Business Thursday" heads to La Chiquita Restaurant, 4821 Annapolis Road in Bladensburg, MD. This event will be held from 5:30 p.m. to 7:00 p.m. RSVP to Nicole Edwards at 301-583-4650 or email us at naedwards@co.pg.md.us.
PGCPS Partners With Public Library System to offer Students Virtual Cards
By Press Officer
PGCPS
UPPER MARLBORO, MD—A trip to the local library no longer requires that students use a plastic card to check out library books or access library resources. A Prince George's County Public Schools (PGCPS)-Prince George's County Memorial Library System (PGCMLS) partnership provides students with virtual library cards, called Leap into New Knowledge (LINK).
PGCPS students can use their school-provided student identification number to check out up to three books at a time and access library resources, such as computers and wi-fi, live-online tutoring with BrainFuse, digital resources, Rosetta Stone, and much more.
"This partnership between the library and Prince George's County Public Schools works to remove every barrier we possibly can from children who will benefit from the resources that the library offers, at school and in life," said Kathleen Teaze, Chief Executive Officer, PGCMLS. "LINK accounts reflect recognizing what library service has become, not a plastic card, but access to the many services that libraries provide, from anywhere."
Dr. Kevin Maxwell, CEO, PGCPS added: "We are thrilled that our students have useful library resources right at their fingertips with their new LINK accounts. Reading is critical and the benefits are limitless: vocabulary expansion, knowledge, strong analytical and thinking skills, and better writing skills. This new partnership helps ensure that our students have the resources they need in order to succeed in school."
Students can access their LINK account by visiting the Prince George's County Memorial Library System website or downloading the PGCMLS app. Students can access their LINK account by visiting the Prince George's County Memorial Library System website. To sign-in, students must add their 9-digit student identification number to PGCPS and use the last four digits of their ID number as their PIN. For example, username: PGCPS100100100; PIN:0100.
Through the partnership, over 125,000 PGCPS students now have a virtual public library card.
For more information about LINK, please click here or call PGCPS' Office of Library Media Services at 301-386-8208.
ESFCU Awards $500 to the Home School Office of Anne Arundel County Public Schools
By PRESS OFFICER
ESFCU
Greenbelt, MD—Educational Systems Federal Credit Union awarded $500 to the Home School Office of Anne Arundel County Public Schools to recognize sixth grader, Storrie Kulynych-Irvin, for winning the Anne Arundel County Spelling Bee.
Storrie Kulynych-Irvin, a home school student in the county, won the Spelling Bee in the 17th round by correctly spelling the word "velveteen." As one of the sponsors of the Anne Arundel County Spelling Bee, Educational Systems FCU presented the Home School Office of Anne Arundel County Public Schools with a $500 donation. The award funds are to help cover spelling bee expenses.
"Our core purpose is serving the education community," said Chris Conway, President/CEO of Educational Systems FCU. "We are proud to support education in Anne Arundel County by sponsoring the spelling bee, and we congratulate Storrie on this achievement."
Educational Systems FCU (esfcu.org) has proudly served the education community for 60 years. With $850 million in assets and 12 branches, the Credit Union serves 87,000 members in seven school systems and three community colleges throughout Anne Arundel, Calvert, Charles, Montgomery, Prince George's, St. Mary's and Talbot counties.
County Executive Baker and Team EDC Meet with Premium Retailers at Worldwide Conference
County Attracts Nearly 500 Prospects, Businesses Bullish on County
By Britta Vander Linden
PGCEDC
Las Vegas, NV—In may, Prince George's County Executive Rushern Baker, Prince George's County Economic Development Corporation (EDC) President and CEO Jim Coleman and a team of executives from the County and the EDC closed out a whirlwind two-day push at the 2016 International Council of Shopping Centers (ICSC) where they pitched premium, high-quality retail outlets to expand their brands in Prince George's County and enhance the quality of life for County residents.
"This trip is all about providing our county's residents with access to the premium, high-quality shops and restaurants that they deserve and creating new jobs and career opportunities to make our County families sustainable," said Coleman. "We are determined to bring every resource possible to get the job done, but we ain't grovelin'. County Executive Baker has already laid the groundwork by streamlining the permitting process and creating the type of business-friendly environment that developers and investors are craving. The secret is out. It's Morning in Prince George's County! Now is the time to invest before it's too late!"
The team held nearly 20 meetings at the County's booth with high-level executives from top retailers, major developers and international food outlets and grocery stores. Nearly 500 convention attendees representing retailers and developers stopped at the County's booth to gather more information about expanding their businesses into Prince George's County.
Throughout the convention, the team met with representatives of targeted retailers such as leading retail brokers representing Ruth's Chris Steakhouse and Cracker Barrell, who were excited by the opportunity to expand in Prince George's County. The EDC has already scheduled follow up meetings with these representatives within the next several weeks.
"I learned a lot in the meeting today about Prince George's County. It's very exciting," said Joseph Gibbs, Starbucks Store Development Manager, who met with County Executive Baker and his team. "A lot of opportunities are coming, especially with the Metro stops and the transit-oriented development that the county is planning. It's a great and exciting time for Prince George's County."
County Executive Baker brought decision makers from the County and the EDC to participate in the meetings in order to send a message to businesses that Prince George's County is open for business and ready to act quickly as a partner in their projects. These key personnel included Glenda Wilson, Chief of Staff, Nick Majett, Chief Administrative Officer, David Iannucci, Deputy Chief Administrative Officer for Economic Development, Jim Coleman, EDC President and CEO, Larry Hentz, EDC Business Development Director, Haitham Hijazi, Director of the Department of Permitting, Inspections and Enforcement, and Brad Frome, Deputy Chief Administrative Officer for Public Infrastructure.
County Council Chair Derrick L. Davis, County Council Vice-Chair Dannielle Glaros and County Council Member Karen Toles actively participated in the meetings, pitching the value of their districts and the County as a whole. EDC Board Chair Orlan Johnson and EDC Board Vice-Chair Marva Jo Camp also provided their support and expertise to business prospects in these high level meetings and throughout the conference.
"We're looking forward to expanding into Prince George's County. We got a lot of great information from the representatives of the county executive's office and the EDC," said Aisha Braveboy, Esq., Manager Government Affairs for Children's National Health System, who also met with the County's team. "It was helpful that they understood the importance of healthcare delivery and having access to healthcare and how critically important it is for us to partner with them. County Council Chair Derrick Davis totally gets it. He's well-versed in all of the incentives that the County offers companies like mine and he has the desire to work together. We look forward to continuing to serve Prince George's County, but now in a bigger way."
Attendance at the conference was a record-breaking 36,000 with 120 new exhibitors.
Many retail prospects were interested in the opportunities developing in the County's 'Emerging Corridor', an area represented by County Council Member Karen Toles, including Suitland and Iverson, where the County is investing $52 million in new infrastructure and road improvements. A new massive mixed-use community development is planned for the historic Suitland Federal Center, including 900 new residential units, 90,000 square-feet of new retail space, a 700-seat theater and performing arts space and a walkable promenade.
Maryland Department of Commerce Secretary Mike Gill visited the County's booth to offer support on behalf of Governor Larry Hogan. During an intensive strategy session led by County Council Chair Derrick L. Davis, the team discussed ways in which the County and State could work together to address key areas of economic development, including workforce training and transportation issues.
With 3,600 jobs coming online for the MGM Resort and Casino at National Harbor by December 2016 and the capacity for 10-15 more hotels to open in the County within the next 24 months, EDC Board Vice-Chair Marva Jo Camp coordinated a special tour of the Culinary Academy of Las Vegas, a training facility graduating thousands of Las Vegas hospitality servers annually. The tour was designed to share best practices in preparing a local workforce for customer service-oriented occupations and to explore the development of a similar training center in the County.
To view the new video released by the EDC at ICSC 2016 entitled 'It's Morning in Prince George's County' that celebrates the County's progress and the incredible opportunities available to retailers, developer and investors, visit the website at https://www.youtube.com/watch?v=VNZiBByGC54.
Prince George's County has scored many wins from past ICSC conferences, including Dave and Buster's, which opened at Ritchie" Station last month, Harris Teeter, Krispy Kreme and Nordstrom Rack.
The County's participation at this year's ICSC was sponsored by MGM National Harbor, Dave and Busters, Walton Development, The Peterson Companies, ARC Properties, Berman Enterprises, G.S. Proctor & Associates, Echo Realty, Iverson Mall, Petrie-Richardson, Diversified Lending, Forestville Plaza, NAI Michael Companies, Urban Atlantic, Wawa, Blueline Security Services & Blueline Video Surveillance, Royal Farms, Quantum Companies and Krispy Kreme.
Maryland's Highest Court Rules in Favor of De Facto Parentage for Same-Sex Couples
By PRESS OFFICER
Free State Justice
Annapolis, MD—In a case that impacts thousands of children in Maryland born into families headed by same-sex couples, the state's highest court today ruled unanimously in favor of recognizing the parent-child relationships of de facto parents who lack a biological or adoptive relationship with their children. FreeState Justice litigated the case on behalf of Michael Conover. Conover has been denied visitation with his son for four years because his relationship with the child, whom he raised from birth with his same-sex partner of nearly a decade, was not recognized by Maryland courts.
"With the Court's decision today, Maryland family law now recognizes the lived reality of LGBTQ families," said Conover's attorney, FreeState Justice deputy director and managing attorney Jer Welter. "This decision strongly affirms that children's relationships with their parents are entitled to legal protection—even if their parents are not parents by blood or adoption."
Michael Conover is a transgender man. Before his gender transition, Conover was in a committed same-sex relationship for nearly a decade with Brittany Eckel. In 2009, before marriage equality for same-sex couples was recognized in Maryland or any nearby jurisdiction, Conover and Eckel decided to have a child together by artificial insemination. They chose an anonymous sperm donor on the basis of physical resemblance to Conover, and when Eckel gave birth to their son Jaxon, the child was given Conover's last name. A few months later, Conover and Eckel married in nearby Washington D.C., where marriage between same-sex couples had become legally recognized. They parented Jaxon together for the first two years of his life, but later broke up. In their divorce case, Conover asked the court for visitation with their son, but Eckel claimed that they had no children together.
The trial court ruled that Conover is a legal stranger to Jaxon because he lacks a biological or adoptive relationship to the child. In August 2015, Maryland's intermediate appeals court, the Court of Special Appeals, upheld the trial court's decision. In today's decision, the Maryland Court of Appeals overruled the lower courts and recognized that a person who, like Conover, has been a "de facto parent" to a child—who has raised a child together with the child's other legal parent—has standing under Maryland law to have custody of or visitation with their child.
"I haven't seen my son in four years because the state of Maryland didn't recognize me as a parent," stated Michael Conover. "I am elated that the state's highest court has ruled that people like me should have our relationships with our children legally protected. This decision is a huge milestone for my family and for Maryland, and it gives me hope that I will get to see my son again very soon."
In the 36-page Court of Appeals opinion, written by Judge Sally Adkins, the court ruled that "de facto parenthood is a viable means to establish standing to contest custody or visitation." The Court overruled its own contrary decision in the 2008 case Janice M. v. Margaret K., which had rejected the de facto parenthood doctrine, calling the 2008 decision "clearly wrong" and stating that Janice M. "failed to effectively address problems typical of divorce by same-sex married couples." Instead, the court declared today: "A legal parent does not have a right to voluntarily cultivate their child's parental-type relationship with a third party and then seek to extinguish it."
The decision is available from the Court of Appeals' website and can be found at: www.mdcourts.gov/opinions/coa/2016/79a15.pdf
The case will now return to the Circuit Court for Washington County in Hagerstown, where Conover will seek visitation with his son as a legally recognized de facto parent.