October 1 - October 7, 2015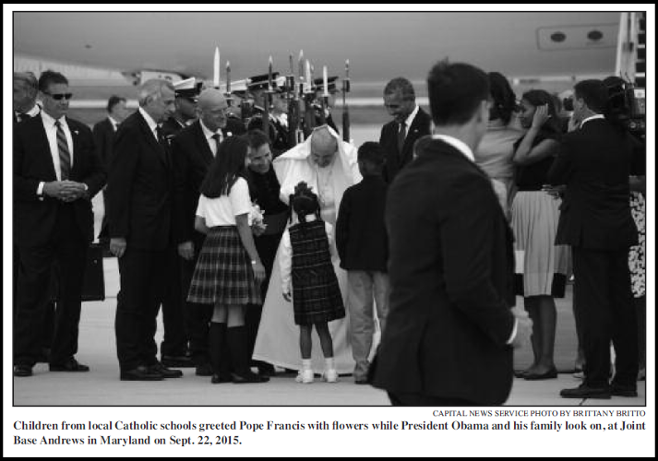 Pope Francis Arrives in the U.S. to a Big Welcome from Excited Crowds

By Brittany Britto
Capital News Service
JOINT BASE ANDREWS— Pope Francis arrived for his first visit to the United States Tuesday at 4 p.m. at Joint Base Andrews in Maryland, and was greeted with a lively welcome from President Barack Obama, first lady Michelle Obama, and their daughters, along with various priests and officials from the U.S. archdioceses, and the DeMatha Catholic High School band.
The crowd in the nearby stands cheered on, chanting "Ho Ho! Hey Hey! Welcome to the U.S.A.", while the pope, 78, walked down the stairs from the Alitalia aircraft and on to a red carpet.
Band members from the DeMatha Catholic High School in Hyattsville have been preparing for the Pope's arrival since late August, and greeted the spiritual leader with what percussion player Kevin Carruthers, 17, described as "fun tunes" including "Happy" by artist Pharrell Williams and "Clocks" by U.K. band Coldplay.
"It's very exciting," Carruthers said before the show. "It'll be the biggest performance of my life."
At the end of the red carpet, the pope shook hands with the crowd and accepted flowers from children who attend nearby Catholic schools.
With a tight schedule of only three days in Washington, the pontiff's first official stop is expected to be at the White House to meet again with Obama at 9:15 a.m. Wednesday.
For Diana Sales and her husband, Bob Sales, of Dayton, Maryland, welcoming the Pope was an experience that she described as "heavenly."
"It was more than I could have imagined," Sales said. "The best spiritual experience I ever had. What a lovely man."
The two will be traveling to the White House, with what they describe as "15,000 of (their) closest friends" to see the Pope Wednesday morning, when officials open the back lawn to visitors.
"He's for everyone," Diana Sales said. "He's for the people. He's bringing more Catholics back into the church, especially for the young people."
"In his Fiat," joked her husband Bob Sales, referring to the tiny Italian automobile that Pope Francis got into after his arrival.
Pope Francis' visit to the White House will be followed by a parade open to the public along 15th Street, Constitution Avenue and 17th Street; a midday prayer with U.S. bishops at St. Matthew's Cathedral; and a canonization of late 18th-century California missionary Junipero Serra while celebrating a Mass at the National Shrine of the Immaculate Conception.
Invited by House Speaker John Boehner, the Pope is also set to address Congress in a joint session on Thursday followed by a visit to St. Patrick's Catholic Church in the District.
Michael Steele, former Republican National Convention chairman and former lieutenant governor of Maryland, and a Catholic, said Pope Francis' visit to Congress is going to be one of the most fun events to watch.
"I think he'll have a lot to say to Congress," Steele said. "Some folks are already anticipating what he's going to say. I would advise them not to do that. I would advise them to just sit back and listen."
Steele said he also heard that some people were planning to boycott the Pope's visit, a concept he described as "crazy."
"Just take the moment and appreciate what the pope has to say to all of us, irrespective of your faith, your political orientation," Steele said. "His message transcends all of that."
Howard Hines of Reston, Virginia, who welcomed the pontiff's arrival with his wife, Bonnie, said that Pope Francis is unpredictable, something, he said, that could be dangerous for the pope.
"That's not a thing I like most about him … He speaks off the cuff a lot," Hines said. "But I like him because, despite all of his encouragement for the mercy of God, (Pope) Francis is a very orthodox pope. How could he be anything less?"
Before his late afternoon departure to New York, Pope Francis is expected to visit several Catholic churches and charities associated with the Archdiocese of Washington, including the St. Maria's Meals program.
Pope Francis is the fourth pope to visit the White House, with the last being Pope Benedict XVI in 2008, when former president George W. Bush was in office. Pope Paul VI visited in 1965 with President Lyndon Johnson. Pope John Paul II first visited the White House in 1979 with President Jimmy Carter, then in 1984 with President Ronald Reagan and finally in 1993 with President Bill Clinton.
AAA Mid-Atlantic warned D.C. residents and commuters within the D.C. metropolitan area to expect traffic to be
congested Tuesday through Thursday due to the Pope's
arrival, which is expected to cause delays on highways and on the Metrorail.
AAA also urged government employees, commuters and those living within the city to opt for other means of transportation, including biking and walking, and suggested teleworking for those who have the option.
National Excellence in Inclusion Award Goes to Department of Parks and Recreation

By Press Officer
MNCPPC
RIVERDALE, MD—Recreation inclusion services for people with disabilities in Prince George's County are bringing home national honors. The Maryland-National Capital Park and Planning Commission's Department of Parks and Recreation in Prince George's County today received a National Excellence in Inclusion Award from the National Recreation and Park Association (NRPA). The award was presented at the 2015 NRPA Annual Congress in Las Vegas, Nev.
This is the second time M-NCPPC's Special Programs Division has received this award, first winning in 2004 when the award was given by the National Institute of Recreation Inclusion.
"It is a tremendous honor to receive this award," said Ronnie Gathers, Director of M-NCPPC's Department of Parks and Recreation. "Our inclusion employees are being rightfully recognized for their 40 years of leading at the cutting edge of the industry in therapeutic recreation and inclusion services."
Each year, NRPA National Awards are presented to individuals and agencies across the U.S. to honor their efforts—both professional and personal—in the field of parks and recreation. There are 10 award categories in the NRPA's National Awards program. Recipients are selected from a pool of applicants by NRPA's National Awards and Scholarship Committee, and are chosen for excellence in a variety of topics, including professional and voluntary service, programming, leadership, research and public outreach.
The Excellence in Inclusion Award recognizes and honors an agency/organization that has rendered significant leadership efforts and advocacy in inclusive processes and practices. The agency/organization demonstrates and excels in inclusive programming by providing inclusive opportunities to people of diversity or with disabilities.
M-NCPPC first began offering therapeutic recreation programs in Prince George's County in 1974 and was a national leader in the industry. M-NCPPC's Department of Parks and Recreation established the program 16 years before it was mandated by the Americans with Disabilities Act (ADA), with support from the community, advocates and parents of children with disabilities.
The Special Programs Division's Therapeutic Recreation team ensures that all of the Department's employees, programs and facilities are equipped to serve people of any ability by hiring and training inclusion support staff, recruiting individuals with disabilities for employment, requiring ADA training for career staff, providing sign language interpretation, and dedicating staff for ADA programs and facility access.
Inclusion Services staff provide disability accommodations to facilitate opportunities for people with—and without—disabilities to participate in recreation and leisure activities together. These services may include the use of companions in a class or activity, support staff to enhance the staff-to-participant ratio, assistive listening devices and adapted equipment. The Department also provides specialized therapeutic recreation programs to meet the needs of people with disabilities who wish to participate in specialized programming.
Inclusion services may be requested at the time a customer registers for a program or class.
The Department of Parks and Recreation provides comprehensive park and recreation programs, facilities and services which respond to changing needs within our communities. The Department strives to preserve, enhance and protect our open spaces to enrich the quality of life for present and future generations in a safe and secure environment.
For more on the Department of Parks and Recreation, visit www.pgparks.com and stay connected on Facebook and Twitter. The Maryland-National Capital Park and Planning Commission, Department of Parks and Recreation encourages and supports the participation of individuals with disabilities in all programs and services.
Goggans Named BOXTOROW National Player of the Week


By Press Officer
Bowie State University
Fuquay-Varina, NC—Bowie State quarterback Matthew Goggans has been named BOXTOROW National Player of the Week. Goggans, a graduate student from Pine Grove, Calif., completed 23-of-42 passes for 313 yards with three touchdowns and no interceptions in the Bulldogs 35-32 victory over Merrimack.
Goggans was featured on boxtorow.com as BOXTOROW National Player of the Week and also appeared as a guest on the national sports talk show FROM THE PRESS BOX TO PRESS ROW with Donal Ware.
FROM THE PRESS BOX TO PRESS ROW airs on 38 radio stations around the country.
For stations that carry the show go to http://www.boxtorow.com/affiliates.php
Kayaking Journey Around Bay Aims to Inspire Environmental Stewardship

By Jacob Bell
Capital News Service
ANNAPOLIS, MD—Don Baugh and Tom Horton paddled their kayaks into the waters off the coast of Sandy Point State Park on Wednesday, launching their 500-mile traverse of Chesapeake Bay waterways. It's a journey they had taken once before, 10 years ago.
Though the journey's route remains largely the same—a 30-day circuit around the Delmarva Peninsula—Baugh, 61, and Horton, 70, will have company this time around, as they mentor two environmental leaders.
"What I took away 10 years ago was hope," Baugh said. "You read all the reports on the environment and you look ahead to all the challenges, and it's daunting. But when you spend 30 days in it, it gives you hope."
Baugh, the former vice president for education at the Chesapeake Bay Foundation (http://www.cbf.org), and Horton, an environment columnist of more than 40 years, hope the trip inspires the next generation of environmental stewards.
Among those are Alexandra Crooks, 24, and Stephen Eren, 26, two graduates of Virginia Tech's College of Natural Resources and Environment. Crooks has worked as a science and environmental educator over the past four years, and Eren worked as a backcountry ranger and a food scrap collector for a North Carolina composting company.
"I'm a hands-on learner, I've always been that way," Crooks said. "And I think the best way to learn, and the best way to start caring about something, is to full on experience it."
The kayaking team will mostly camp on beaches each night, with occasional stints in hotels and private homes. When on land, they will connect electronics to available power sources, though they have backup auxiliary chargers too, according to Susan O'Brien, a communications consultant for the trip. The team is also carrying food, and a crew following the mission will replenish that stock at various checkpoints along the way.
In addition to imparting hope, Baugh said, a goal is to have the future leaders gain a better understanding of how rapidly the bay is transforming.
"The bay has changed in 10 years," Horton said. "There are probably a few things better than 10 years ago; there are definitely some things that aren't as good."
While long-term trends are more positive, bay pollution between 2003 and 2013 decreased in just three of the nine sites monitored by the U.S. Geological Survey, according to a 2014 report. At those three sites, only nitrogen levels fell, whereas nitrogen, phosphorous and sediment levels either rose or didn't significantly change at the remaining six sites.
Unlike their original journey, Baugh and Horton will
be gathering data on Chesapeake Bay weather patterns, sea level rise and water quality, as well as taking photos of caught and released wildlife like fish and shrimp. They will then upload that information remotely throughout the trip to sources like Instagram, GLOBE (https://www.globe.gov)—
a NASA international water quality monitoring program—and the Upstream Alliance (http://upstreamalliance.org), a program Baugh created in 2015 to foster environmental interest in young people.
Once uploaded, the information will be available to interested parties worldwide. Eighth grade students in the science, technology, engineering and math program at Old Mill Middle School South in Millersville, for example, will monitor the course of the trip.
The students have also been studying the Ocean Research Project (http://oceanresearchproject.org), a Greenland-based mission that looks at how climate change affects that country's sea levels and glaciers, and will compare results from that mission to the data collected on the kayaking journey, according to Mary Hartman, the STEM department chair for Old Mill Middle School South.
"The beauty of it is that it's real life education for these kids," Baugh said. "It's in their backyard, not the Amazon."
The bay data, however, won't be easy to collect, Baugh added. Despite having helping hands from Crooks and Eren, as well as Upstream Alliance members Walter Brown and Mike Tannen, who will also make the journey, the team will have to balance running tests, uploading data, setting up camp, and kayaking 15-25 miles each day.
Baugh and Horton remain resolute that they are up for the challenges, both physical and educational, though.
"Don and I are not going to be carrying this ball for much longer," Horton said. "If we don't get younger people involved, hell, we're sunk."
Text2Them™ and Text 2 Stop It!™ Partners With Carahsoft to Combat Bullying, Drugs, Sexual Assaults and Suicides in Schools/Colleges
New Technology Allows Students to Use Anonymous Two-Way Text Messaging to Report Bullying, Campus Assaults, Drugs and Other Harmful Behavior
By Press Officer
Text2Them
Bowie, MD—Text2Them Inc. today announced that it has partnered with Carahsoft Technology Corp., the trusted government IT solutions provider, to make its patent-pending, two-way messaging technology solutions broadly available to the public sector market. By providing students with the ability to reach their school via anonymous two-way text messaging, Text2Them is combating the growing problems of bullying, campus assaults, drugs, and suicides in schools and colleges.
Under the partnership, Carahsoft has added Text2Them's
solutions, including its anti-bullying program named Text 2 Stop It, to the Maryland COTS Software Master Contract; the Virginia Information Technology Agency (VITA) contract; SEWP V federal contract; and The Cooperative Purchasing Network contract (TCPN) which provides access to state and local government entities as well as nonprofit organizations in all 50 states.
Text 2 Stop It uses the patent-pending, two-way texting technology to interview
students who wish to anonymously inform the school of bullying/cyberbullying, drugs, fights, sexual improprieties, and other unsafe activities. The actual transcript of the conversation is then sent to the school counselors/administrators trained to intervene and combat these events.
Students text with statements such as: "There are kids that I know that smoke weed at school" or "I need help to stop my friend from committing suicide." The Text2Them call center then replies, prompting the students to provide specifics such as time, date, location, names of perpetrators and witnesses to any particular event.
"Text 2 Stop It harnesses the power of two-way texting technology, anonymity, and the students themselves to reduce unsafe activity in and around schools," said Tiffany Goddard, Director of Citizen Engagement Solutions at Carahsoft. "We are pleased to add this proven solution to our portfolio and make it accessible to school systems throughout the country via our contracts and reseller ecosystem."
The Text 2 Stop It program, which has been in pilot deployment in schools in Queen Anne's, MD, is documented to have successfully exposed bullies, violence and drug dealers, and has also been used to connect students in suicide crisis to necessary resources.
"I really feel that since we implemented this program, we have stopped a number of incidences of bullying, and perhaps saved lives. How much is that worth?" said Brad Engle, Supervisor of Student Support Services for Queen Anne's County. In addition, the number of incidences being reported, during the second year of the program, are down by more than 30 percent.
"The pilot program exceeded anything we expected," said Alvin Butler, President of Text2Them. "In the six months of the pilot in five schools, the students reported 22 incidences of bullying, five incidences of drug use, six reports of student-planned suicides, e-cigarettes smoking, and numerous other reports. While we expected students to report bullying, the results revealed that only 45 percent of the reports were about bullying making the majority of anonymous text conversations about other serious issues within the schools."
For more information, view "Combat Unsafe Activities Occurring in Schools with Text 2 Stop It," an on-demand webinar sponsored by Text2Them and Carahsoft. The program features the head of student services at a Maryland county school system who is using the solution to gain the upper hand in the battle against negative student activity. For ordering information, visit www.carahsoft.com/text2them; or contact Carahsoft at (703) 230-7511; cegis@carahsoft.com;
Additional Resource:
ABC's in Focus
January 2015: In-depth story on success of Text 2 Stop It application at Maryland's Queen Anne's County Schools in 2013 and 2014 which resulted in a 33 percent drop in bullying. Disciplinary referrals have also declined and students have become more vigilant.
About Text2Them
While others have developed specific application uses such as Text-a-Tip, Text for Alerts, and Text to 911, etc., Text2Them has developed the first two-way text communication system that incorporates all these applications and more. Text2Them allows customers, clients and employees the ability to reach your organization and receive an auto reply, connect to a live operator and even have the text conversation transferred to another person or department within your agency. This is how your voice phone system works isn't it? Now your organization can also communicate by text.
The company has received the top honor of Most Disruptive Technology Award at the 2014
Innovative Solutions Consortium/Loudon County Public Safety Challenge as well as recognition from several print and media sources. We believe the time has come to move SMS to the forefront of public sector communications. Visit us at www.text2them.com for public safety and other applications.
Text 2 Stop It (www.text2stopit.org)
Text 2 Stop It is a not-for-profit corporation incorporated in the state of Maryland. The company plans to file as a 501c3. The company uses the two-way patent-pending technology, developed by Text2Them, to reach students via the method of technology that feel most comfortable using. Students are allowed to contact the "Text 2 Stop It Hotline" to report any harmful behavior in their schools. A transcript of the actual conversation with the student is then sent to the school counselors or others deemed and trained to intervene on behalf of the student, school and school safety.
Our goal is to implement Text 2 Stop It nationally so any student—anywhere in the country—can stay anonymous and get the help they need by simply texting BULLY to 68398 and explaining their situation. The resources already available are then deployed to make their school a better and safer place to learn. Visit www.text2stopit.org for more information or just text BULLY to 68398.
About Carahsoft
Carahsoft Technology Corp. is the trusted Government IT solutions provider. As a top-ranked GSA Schedule Contract holder, Carahsoft serves as the master government aggregator for many of its best-of-breed technology vendors, supporting an extensive ecosystem of software manufacturers, value-added resellers, system integrators, and consulting partners committed to helping government agencies select and implement the best solution at the best possible value.
The company's dedicated Solutions Divisions proactively market, sell and deliver Adobe, VMware, Symantec, EMC, F5 Networks, Open Source, HP, SAP, and Innovative and Intelligence products and services, among others. Carahsoft is consistently recognized by its partners as a top revenue producer, and is listed annually among the industry's fastest growing firms by CRN, Inc., Washington Technology, The Washington Post, Washington Business Journal, and SmartCEO. Visit us at www.carahsoft.com