July 2 - July 8, 2015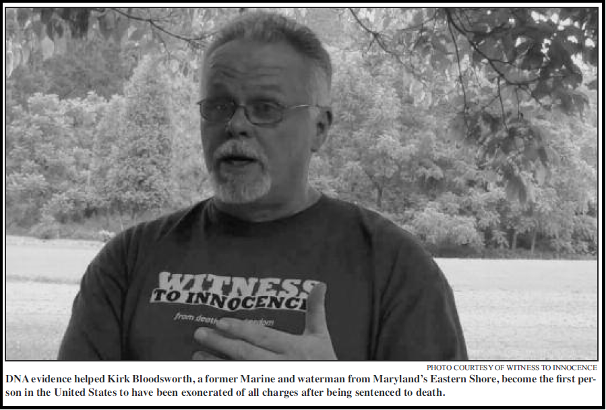 DNA Evidence Brings Hope, Truth - But Only If Tested; Some Maryland Jurisdictions Slow to Report Findings
By Deidre McPhillips
Capital News Service
ANNAPOLIS — Half of a cell can free a man sent to death row, but sometimes, that cell remains untouched, untested, and — in one case — forgotten in a closet for years.
Kirk Bloodsworth, a former Marine and waterman from Maryland's Eastern Shore, was on death row in 1984, convicted of the rape and murder of a 9-year-old girl. In 1993, after nine years in prison, Bloodsworth became the first person in the United States to have been exonerated of all charges after being sentenced to death.
Now, he walks free — because of DNA evidence and his own extraordinary efforts to get it tested.
Maryland now mandates that its police departments test, track and report DNA crime-scene evidence, but one year after a deadline, not all jurisdictions have sent the state their results. Of the two largest jurisdictions, one was more than a year late and the other still hadn't reported as of Tuesday afternoon.
Bloodsworth said it was fate that brought him "The Blooding," a book by Jason Wambaugh that details the account of the first time DNA evidence was used in a criminal case in England, through the prison's library exchange program. It inspired him to write a letter convincing the prosecutor to allow DNA evidence testing in his case.
The prosecutor told him that the evidence had been inadvertently destroyed, he said, but Bloodsworth thought that just because no one had seen it, did not mean it didn't exist.
Bloodsworth said he kept pushing and the evidence was eventually found in a cardboard box, sitting in the closet of Maryland Circuit Court Judge James T. Smith, who had reduced Bloodsworth's sentence to life in prison after a second appeal back in 1987. Once found, it was shipped off to California, home to one of two DNA labs in the country at the time.
It took a year for the results to come back, Bloodsworth said, a year of hopeful anticipation. And when the results came, he said, there was finally truth in his case — his DNA was not a match.
DNA evidence testing has seen great advancements since the '90s.
The average turnaround time for analysis of crime scene DNA evidence in Maryland was 110 days in 2011, according to a 2012 audit by the state's Office of Legislative Audits — much less than the year it took for Bloodworth's results to come back.
There were 3,239 cases with untested data in Maryland during a 2011 spot-check of 135 local law enforcement agencies, according to the 2012 audit.
Data from a 2013 DNA evidence collection and analysis was due in to the Governor's Office of Crime Control and Prevention for review by April 2014, but 33 of the state's 133 local law enforcement agencies did not submit their data to the state before the deadline, despite a legal mandate to do so. (There were two fewer Maryland law enforcement agencies in 2014 due to some agency restructuring at the local level.)
The data from 31 of the non-reporting local law enforcement agencies in 2014 would have a minor effect on overall state statistics, as those agencies collected zero or very few DNA evidence samples, according to a special report by the Office of Legislative Audits released in April.
But missing data from the other two — Baltimore City and Prince George's County — would "likely have a significant effect on the overall data," according to the special report.
In 2012, Baltimore City and Prince George's County Police Departments accounted for 80 percent of cases with untested DNA, with 1,349 and 1,244 untested cases, respectively.
This noncompliance frustrates Bloodsworth, who has become an advocate for the abolishment of the death penalty since his release.
"We need transparency and we need people to get their work done in regard to the criminal justice system. Scientists, prosecutors, police officers — they need to play by the rules," he said. "I take the criminal justice system seriously — I'll put it that way — and so should they. You can't skirt around the truth."
Any delay in testing DNA evidence — whether it be years sitting in a closet or months waiting for police departments to get through their overwhelming load of cases — is a threat to the justice system, Bloodsworth said.
According to a July 2013 report by the United States Government Accountability Office, about $442 million was given to state and local governments by The Department of Justice's National Institute of Justice to reduce the DNA evidence testing backlog from fiscal years 2008 through 2012.
Maryland is one of 14 states — including Virginia — that has enacted statewide reforms to reduce the backlog in rape kit testing, according to data collected by The Accountability Project, a group dedicated to ending the backlog of rape kit DNA testing. Nine others — including Pennsylvania — have proposed similar reforms.
Thomas J. Barnickel III, legislative auditor with the Department of Legislative Services, said the backlog of DNA evidence samples and the timeliness of the information analyzed is of historical concern for lawmakers in Maryland.
"This is information the legislators wanted, and it's in law to collect," he said.
A bill signed into law in 2008 requires all law enforcement agencies and the Department of State Police to report to the Governor's Office of Crime Control and Prevention bi-annually on the collection and analysis of DNA evidence from crime scenes. Data is to be reported on the numbers and types of cases for which crime scene DNA evidence samples were collected, the average turnaround time for analysis of the DNA evidence, and the number of outstanding cases that have DNA evidence samples submitted but not yet tested.
Maryland's Attorney General Brian E. Frosh was a state senator in 2008 and voted in favor of the bill that added the reporting requirement.
"Any breakdown in the system means delays in trials and delays in the resolution of cases — with serious consequences for those accused of crimes, as well as the victims of crimes," he said. "We must look for ways for local law enforcement to have the resources they need to do their jobs."
This breakdown was a lapse in communication, said Chris Shank, executive director of the Governor's Office of Crime Control and Prevention, the organization tasked with collecting the data.
The local law enforcement agencies submit their reports on crime scene DNA evidence collection through an online database, a process that has been reworked over the years to resolve various reporting errors and inconsistencies.
The DNA evidence data is due from the local law enforcement agencies to the Governor's Office of Crime Control and Prevention by April 1 of each even-numbered year by law. The Office of Legislative Audits then collects the data from the Governor's Office of Crime Control and Prevention, which, for this reporting cycle, happened in mid-October 2014. Shank took office in January 2015.
"There's no conspiracy here. It's all very simple. It was a lack of follow-up, and we are in the process of remedying that now," he said.
A spokesman for the Prince George's County Police Department said that the department did not receive a request for the information until April 16, 2015 — more than one year later than the data was due to the Governor's Office of Crime Control and Prevention and 10 days after the report was released by the Office of Legislative Audits. The Baltimore City Police Department could not be reached for comment.
The Baltimore City Police Department has recently
submitted their statistics to the Governor's Office of Crime Control and Prevention, and data from the Prince George's County Police Department is expected soon, said a spokeswoman for the Governor's
Office of Crime Control and Prevention.
Once complete results are compiled, the information will be posted to the Governor's Office of Crime Control and Prevention's website, Shank said Tuesday morning.
The 2015 legislative session of Maryland's General Assembly, which concluded this month, was riddled with bills related to DNA evidence.
Some — including one bill that would require the appropriate law enforcement agency to notify the victim of a crime or their representative of updates to a DNA profile in the case if requested, and another that expands the types of crimes that are eligible for postconviction DNA testing — were passed by the General Assembly and were signed by Gov. Larry Hogan Tuesday.
Another — a bill that would require additional testing to confirm a DNA match with a database entry before it is admissible in trial — did not.
For Gale Seaton, DNA evidence is about hope.
"It's tangible, physical evidence when all else fails," she said. "It's DNA — you can't refute DNA."
Seaton's daughter, Stacey, was murdered in Bowie in Prince George's County in 2005. But it wasn't until 2009 that the cigarette butt found next to Stacey's head was tested for DNA evidence.
Leaving DNA samples untested is a problem across the country, said Russell Butler, executive director and litigator for the Maryland Crime Victims Resource Center.
"Police are the ones investigating. Prosecutors are the ones litigating. If no one is pushing, they'll have other unsolved crimes and new cases to focus on. But for victims and survivors, knowledge is power. They can help their case get noticed," he said.
Seaton said investigators promised her an answer by the time of her daughter's funeral, but instead didn't recognize her name when she called.
When the police department called two months later to say there was nothing else they could do, Seaton said, she took it upon herself to keep the case moving.
A 2009 article in a local newspaper, The Bowie Blade, about the unsolved case grabbed the police department's attention, and they made an arrest within two weeks, Seaton said.
McDonald Abraham III was sentenced to 15 years in prison and five years of supervised probation in connection with the murder of Stacey Seaton, but it was not his DNA on the cigarette butt found near the scene of the crime. The DNA matched that of a man Abraham said he paid to kill Seaton. That man was found not guilty.
But, for Seaton, knowing was enough. The DNA evidence test results brought her a sense of peace, she said.
"My belief system was shattered after Stacey's death. I believed everything worked right, but I grew distrustful of the police — it almost killed me," she said. "Now I have to believe that everybody gets justice in the end — whether it's karma or God, I truly believe that there's justice."
Bloodsworth has also been able to feel a sense of relief.
Ten years after DNA evidence proved he wasn't guilty and nearly 20 years after the crime was committed, Bloodsworth learned that the true killer had been found. The DNA evidence that remained untouched until Bloodsworth's prompting — semen found on underwear at the scene of the crime — matched that of Kimberly Shay Ruffner, a known sexual criminal who had just been released from prison at the time of the 1984 murder. Ruffner pleaded guilty in a 2004 trial.
Bloodsworth now lives in Pennsylvania, where he enjoys a spending time with his girlfriend and silversmithing his own jewelry, a life afforded to him by what he calls luck.
"I read the book that came to me in the mail and had one of the best genetic scientists test my evidence. The only thing that separated me from freedom was half of one cell," he said. "That half of one cell cleared me of everything. That half of one cell caught the real killer."
Hoyer Delivers Remarks at PG County 2015 Housing Fair
By PRESS Officer
Office of Steny Hoyer
LANDOVER, MD — Congressman Steny H. Hoyer (MD-5) delivered remarks on June 13, 2015 at the Prince George's County Department of Housing and Community Development 2015 Housing Fair, entitled, "Prince George's County: A Great Place to Live." The housing fair was open to homeowners and those looking to purchase a home. Participants had an opportunity to attend a panel discussion with housing experts and meet with housing industry professionals such as mortgage lenders, realtors and housing counselors.
"There is nothing more fundamental to the American Dream than homeownership," said Congressman Steny Hoyer. "Here in Prince George's County, the state, federal, and local governments have partnered to help make the goal of homeownership more attainable. This is an exciting time for Prince George's County, and the relocation of the state Department of Housing and Community Development to New Carrollton in April is a sign of the attention we're getting as a county that's growing and on the move."
"Our housing recovery continues to move forward, but many people are still finding themselves underwater or struggling to afford payments," continued Congressman Hoyer. "Prince George's County was hit hard by the housing downturn with more than 50,000 homes going into foreclosure since 2007. We're doing much better today, but for those still facing difficulty, it does not feel like a recovery yet. I'm working hard to attract the new FBI Headquarters here, and I've made it a major priority to help show businesses the merit of moving here and creating good jobs here. Every day, more and more people are realizing that Prince George's County isn't just 'a great place to live,' but a great place to invest as well. I look forward to continuing to work with state officials and with my colleagues in the Maryland Congressional Delegation to ensure that homeowners and homebuyers seeking to put down roots here and stay in their communities have the tools necessary to do so."
Prince George's County's first Net-Zero Energy Home was also open today for attendees to view. The remodeled, century old home was designed to provide superior energy savings, water efficiency and a healthy living environment. The home is an example of how even the oldest homes in the county can be made more energy efficient and achieve savings for homeowners.
PG County Library Receives Grants for Early Literacy Events
Library Café events show parents how to prepare their children to learn to read
By Press Officer
PGCPS
LAUREL, MD.—Prince George's County Memorial Library System received two $500 grants supporting its Library Cafés, events designed to educate parents and caregivers about simple, everyday practices that promote early literacy skills. Upcoming Library Cafés will reach 80 families in high-need areas of Prince George's County.
The grants came from the Ezra Jack Keats Foundation and the Defending the
Early Years project. The Ezra Jack Keats Foundation, named after the children's book author, supports arts and literacy in public schools and libraries and recognizes new children's book authors. Similarly, Defending the Early Years seeks to rally educators to take action on policies that affect the education of young children.
"We're delighted to receive funding from two generous organizations that share our goal of developing early literacy skills in young children," said Kathleen Teaze, CEO of Prince George's County Memorial Library System. "Our Library Cafés work toward this goal, preparing children to read in elementary school and laying the foundation for success later in life."
Prince George's County librarians begin Library Café events with brief presentations showing parents and caregivers how to integrate talking, singing, reading, writing and drawing into everyday activities with their children. Refreshments are provided. Afterward, families cycle through five stations of simple, developmentally appropriate activities illustrating these skills. Each family receives a bag of early literacy resources, educational toys and a children's book following the event.
"Our hope is that each family will see that daily reading, nurturing interactions and playing are the most important activities that parents can provide for their children during their early years to prepare them for school and life," said Rachel Zukowski, youth services coordinator for Prince George's County Memorial Library System. Zukowski organizes the Library Café events with Pam Hamlin, family literacy specialist for the library system.
"Through the cafés, we hope that parents and caregivers will strengthen their relationships with each other and see the library as a part of their support system," Zukowski said.
Prince George's County Memorial Library System will hold Library Café events this fall.
For more information, visit www.pgcmls.info.
Prince George's County Memorial Library System provides materials and information for study and personal enrichment, offering strategies for lifelong learning through access to varied media and professional guidance. The library system consists of branches in 19 communities including Accokeek, Baden, Beltsville, Bladensburg, Bowie, Fairmount Heights, Glenarden, Greenbelt, Hillcrest Heights, Hyattsville, Largo-Kettering, Laurel, Mount Rainier, New Carrollton, Oxon Hill, South Bowie, Spauldings, Surratts-Clinton and Upper Marlboro. (www.pgcmls.info)
County Council, Overrides County Executive Veto
Override Avoids a 15.6 Percent Increase in Property Taxes in Fiscal Year 2016
By Press Officer
PG County Government
This evening the County Council voted to override the County Executive's budget veto, preventing a double-digit property tax increase. Residents and businesses have said this double-digit tax increase is unaffordable, and hurtful to our economic recovery.
The County Council, as the Legislative Branch of government, has the legislative authority to override the County Executive's veto of this lawfully enacted budget. Tonight, we have exercised our authority to do so, preserving the balance of new investment in education; affordability for working families and small businesses; and fiscal accountability for existing spending.
The County Executive, aided by the County Attorney, has raised the possibility of litigation. This is an effort to force this Council to impose a double-digit tax increase on working families. The stunning prospect of the County Executive essentially suing this Council, and thus the nearly 900,000 residents we represent, would be self-destructive, self-defeating and irresponsible, especially given the major economic opportunities this County is pursuing.
The instability at the top of our government demonstrated by such litigation could seriously imperil key opportunities for this County and its residents, including securing the FBI headquarters and building a new Regional Medical Center. The County Executive and County Attorney's interpretation of the law is wrong; would unconstitutionally erode our system of checks and balances; and give the County Executive the near unlimited power to raise taxes.
This Council will not allow that to happen. We are confident the budget we adopted represents the best plan for measured investment with fiscal accountability to move our County forward.
The members of this body take our responsibility as stewards of the taxpayers' money seriously, and we always seek to work prudently in the best interests of the County and its residents.
WSSC, Prince George's County Public Schools Launch New Fats, Oils and Grease Curriculum
Students Use Hands-On Approach to Learning About the Harmful Effects Fats, Oils and Grease Have on Sewer Systems
By Press Officer
WSSC
Laurel — WSSC and Prince George's County Public Schools (PGCPS) celebrated the launch of a countywide curriculum-approved Fats, Oils and Grease (FOG) lesson that teaches students about the sewer system and the harmful effects FOG can have when poured into the sewer pipes. County and WSSC officials gathered at Walker Mill Middle School on Friday, June 5 as 24 students took part in their first FOG science lesson.
PGCPS sixth graders will be taking an up-close look at the causes and consequences of FOG. The new lesson uses the five E's model for teaching — engagement, exploration, explanation, elaboration and evaluation. Through hands-on activities students explore the environmental impact of FOG and how solutions can help keep the Chesapeake Bay and waterways clean and sewer pipes free of FOG.
"This is an exciting opportunity that not only helps promote STEM education at a young age but also encourages and empowers kids to join the fight against FOG" said Wayne Ludwig, WSSC Fats, Oils and Grease Program Unit Coordinator. "Showing kids how their family's every day cooking can create contaminants that can clog pipes and potentially result in messy, stinky sewer backups and overflows can help reach adults and encourage them to can the grease instead of pouring it down the drain."
"The students' parents sent emails saying how they never knew they couldn't pour grease down the drain," said Nadine Gaujean, sixth grade teacher at Walker Mill Middle School. "Their kids told them how important it is to can the grease instead. They didn't know until they learned it from their kids."
The new FOG lesson is aligned to meet Maryland state standards and was approved by the PGCPS Board of Education in 2014. PGCPS teachers began rolling out the new lesson in February. WSSC and PGCPS worked side by side throughout development of the lesson curriculum, which included technical expertise and training from WSSC's FOG experts.
To learn more about WSSC's FOG program visit our Can the Grease page at wsscwater.com/canthegrease.
WSSC works with Prince George's and Montgomery County schools throughout the year. For schools interested in learning more about WSSC's school-specific programs and other opportunities visit our Education and Recreational Activities page or call the Communications Office at 301-206-8100.